A soldier preparing to deploy trains intensely. Coming home is a different story. Veterans who've spent months, perhaps years, bonded to their peers by a shared mission often return to find themselves alienated from their loved ones and their homeland and longing for the camaraderie and urgency of deployment. This Veteran's Day, an estimated 22 veterans will take their own lives.
What if we armed vets not just with the weapons for waging war but also with the tools for finding peace? Might we make a difference in the lives of those who return from the war zone? I believe we can--and should--and so do Lee Klinger Lesser and Chris Fortin. In 2007, they founded Honoring the Path of the Warrior (HPW), a program designed to facilitate a "positive transition from military to civilian life" for post-9/11 and Persian Gulf veterans.
"The isolation returning soldiers experience can have consequences for generations to come," says Lesser. Sometimes it's the quiet, unacknowledged, and largely private war after the war that undoes a soldier. That's what happened in 1992, I'm sure, when my best friend was killed by her boyfriend, a Marine Corps Desert Storm veteran.
HPW supports veterans in coming home by fostering connection--to community, to the mission and meaning of their civilian lives, and to their own senses. The tools and methodology of the program come from Lesser and Fortin's grounding in meditation and sensory awareness practices. The vets gather--often in gorgeous natural settings--and remember how to breathe and pay close attention to what is happening in their minds and bodies, without judgment. Some feel silly and self-conscious at first, but most enjoy the experience of returning to their bodies and draw upon it later in stressful situations. "Veterans helping each other is the most important," says Lesser, as is becoming an "ally for themselves" by learning to recognize difficult emotions and traumatic memories and respond with wisdom and compassion.
They also rock climb, river raft, and laugh a lot.
Air Force veteran Travis Groft basically grew up in the military, having served from 2001 to 2008. "I'm hard-wired for anxiety," says Groft. Four years ago, he picked up a flyer for a rock-climbing and meditation event held by HPW, intrigued by what seemed an unlikely combination. Now Groft sees how the awareness practices he's learned--whether concentrating on his next move on a wall or finding his breath in a circle in a yurt--can be applied in many different contexts. Initially Groft's wife, who's known him since childhood, was reluctant to let him spend entire weekend days away from the family. But she saw Groft calm down. Eventually she accompanied her husband to an HPW retreat and began to draw upon some of the awareness practices herself.
Vanessa Meade calls these practices "tools that work." An Army veteran who detained and transported Iraqi POW's during the Gulf War, Meade tells me that HPW changed her life by providing a supportive environment for exploring her own experience. In 2011, Meade attended a women-only veterans retreat at Tassajara, a Zen center in the mountains near Big Sur, designed to acknowledge the unique experiences of women in the military. "People still have the impression that women haven't served in combat," says Meade. The sensory awareness exercises uncovered long-held tension and invited newfound ease. Like many women veterans, Meade endured sexual assault in the military. "For so long I felt like I was renting my body. Now I'm a homeowner." Meade is so inspired by HPW's impact that she's started a program for women veterans in Anchorage, Alaska, where she now lives.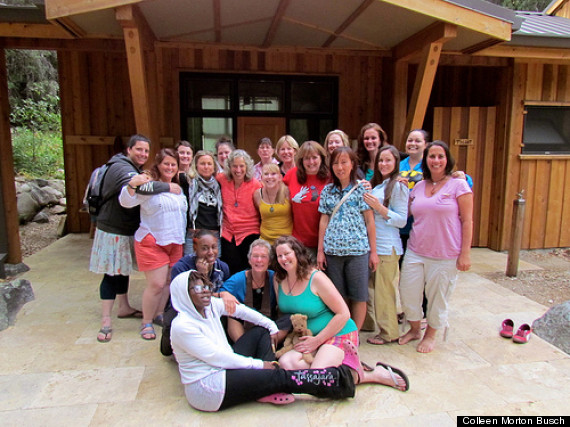 On Veteran's Day, there will be parades and ceremonies across the country paying tribute to the men and women who've served in the armed forces. These public gatherings--and their acknowledgement of courage and sacrifice--are important. But I wish that programs like Honoring the Path of the Warrior were available to every soldier, in every town in America. It's so important to remember that for many veterans, returning to everyday life is as difficult, perhaps more difficult, than active duty. This Veteran's Day, please remember the warriors still trying to find their way back home.
http://www.honoringthepath.org
http://www.californiareport.org/archive/R201310041630/d