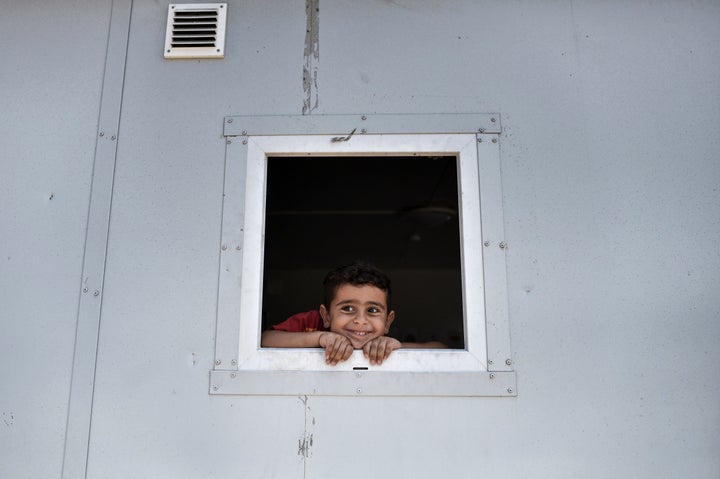 On July 30, 2016 we will be commemorating World Day Against Trafficking in Persons. As I reflect on how far we've come these past two years, I am also reminded of how far we still need to go, and how as a society, we have a collective responsibility to protect our most vulnerable – our next generation, our children.
When I think of what refugee children have experienced, what they must go through, and the things they have seen, it pains me. Children are supposed to be loved, protected, cared for by their families. They're supposed to grow up feeling safe, to look at things in wonder, to experience things for the first time and feel hope.
Despite having lived only a handful of years, these children have seen more than most adults – war torn lands, violence and bloodshed, things so awful that they would risk their lives, traveling hundreds of miles, frightened and alone, to escape their countries.
But danger is not just in the journey; it continues after they arrive in these countries that are supposed to be their refuge.
The Guardian reported that in 2015, the European Union registered almost 96,000 child and teenage refugees traveling alone, one-fifth of the total number of child refugees. And according to the European police agency Europol, more than 10,000 children who entered Europe over the last two years have disappeared. Ten children a week are reported missing in Sweden alone.
How does this happen? How do we lose them? Why can't we keep them safe?
Now, more than ever, we are facing a crisis as an alarming number of children are disappearing, being trafficked by the same people who are bringing them into these countries. We need to get past the politics of it all, and start focusing on what matters― the children, the ones who have lost everything, including their parents, and have found themselves in desperate situations making choices no child should have to make.
This brings back memories of my own childhood, being kidnapped by human traffickers and forcibly displaced to work as a child slave. The effects of this abuse still take a toll on me today. The memories never completely go away, but by the grace of God, I am able to move forward, to be a catalyst for change and with passion, fight to protect the children around the world through the Tronie Foundation.
On October 3, 2013, I had the privilege of addressing the United Nations General Assembly, gathered in New York City for their 68th session. My hope was to give a voice to millions of enslaved people throughout the world, to draw attention to their suffering, and highlight the importance of finding new ways for them to pursue their freedom.
One way to accomplish this was by designating July 30th as World Day Against Trafficking in Persons, so the world would be reminded of the desperate need to promote and protect the rights of victims of human trafficking. This designation marks a great milestone in our progress and the measurable impact of our collective work to integrate victims into the community, by providing services for physical, psychological and social recovery and rehabilitation.
On July 30, 2014, for the first World Day Against Trafficking in Persons, I travelled with my husband, Trong, to collaborate with the Ministry of Colombia, Marcela Loaiza Foundation, IOM and UNODC of Colombia. In 2015, in partnership with United Nations Office of Drug and Crime, we brought together the global community to help launch a new global social media campaign using the hash tag #igivehope to draw attention to this important World Day. We partnered with the social media campaign to help give back what's been stolen from millions of victims across the planet, to give other victims a voice globally.
The Vatican has also made this fight against human trafficking a priority. In March of 2016, I got to travel to the Vatican where I had the privilege to meet one of the Pontiff's most senior advisors, Bishop Marcelo Sanchez Sorondo, an Argentine who is the Chancellor of both the Ponitifical Academy of Sciences and the Pontifical Academy of Social Sciences, who says "Today, in order to eradicate once and for all this crime against humanity that is human trafficking, we must put aside all our ideologies and differences of cultural and religious traditions and act together to defend the dignity and freedom of each human being."
Despite these successes, we still have many challenges to overcome, especially in regards to our children. It's important that we strive to improve this world for our future generations, to create a place in which every person has the right to human dignity. These child refugees need protection; they are the next generation of leaders with the capability to change our world for the better. Let us celebrate our victories but know, there's still so much more we need to do. Together, let us take concrete actions that will have global impact and lead to permanent change.
REAL LIFE. REAL NEWS. REAL VOICES.
Help us tell more of the stories that matter from voices that too often remain unheard.