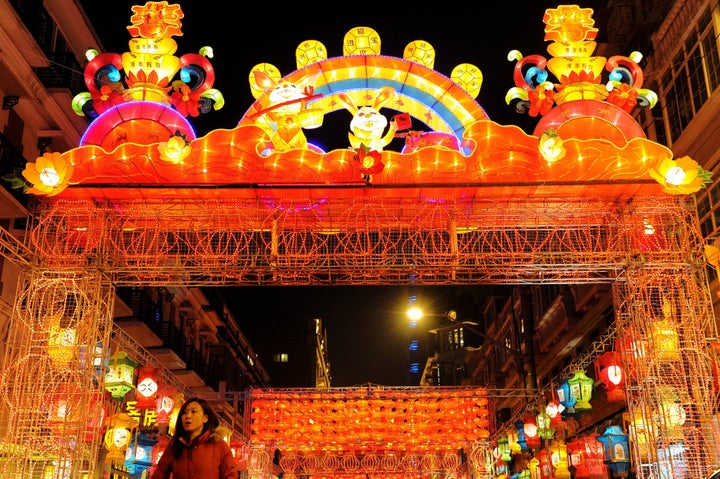 This post was co-authored by Warren Sheir, L.Ac..

Celebrations to usher in the Chinese New Year have begun. What better way to mark the occasion than with good, healthy food?
In East Asia, the color red is associated with luck and happiness, so it's no surprise that dishes featuring red ingredients--such as the small, russet-colored bean known as the azuki--are consumed as part of the 15 days of festivities beginning the year.
In Japan, azuki beans are the second-most-common legume after the soybean; in fact, "azuki" translates from the Japanese as "small bean." In addition to its propitious color, the beans are known by traditional Chinese medicine practitioners for their ability to "drain Dampness and clear Damp Heat" -- making them especially appropriate for anyone with fluid retention or puffy joints.
Our book, Ancient Wisdom, Modern Kitchen: Recipes from the East for Health Healing, and Long Life (Da Capo/Lifelong Books, 2010), includes a delicious holiday dish made with azuki beans and a variety of grains. Known as ogokbap in Korea, this fare is often eaten on the holiday that celebrates the first full moon after the first day of the New Year. Traditionally served with a variety of fruits and nuts and considered somewhat of a national health food in Korea, the dish symbolizes a rich harvest in the year to come, as well as the five good things in life--longevity, wealth, good health, children, and a peaceful death.
Those watching their budget will appreciate the fact that beans are an extremely cost-effective (as well as delicious and nutritious) source of protein. In general, saving money can dovetail with eating healthy food -- the key is starting from whole, natural ingredients and cooking for yourself, rather than relying on prepared food.
We consider this dish a healthy and happy way to start the New Year!
Festive Holiday Rice and Beans
(Makes 6 to 8 servings)
Ingredients
1/4 cup dried black soybeans
1/4 cup dried red beans
1/4 teaspoon salt
1/4 cup (60 grams) pearl barley or coix (also known as Job's tears, yi yi ren in Chinese, hato mugi in Japanese, uiiin in Korean)
1/4 cup millet
1 cup uncooked short-grain white rice
1/4 cup pine nuts
Directions
1.Rinse the black and red beans, then place them in a large saucepan. Cover with water and bring to a boil. Boil over high heat for 1 minute. Remove from the heat, cover, and let it sit for 1 hour to soften.
2.Drain the beans, rinse them, drain again, and place the 3 1/2 cups of fresh water and the salt in the pot. Bring the beans to a boil, uncovered, then lower the heat, cover, and simmer for 45 minutes.
3.Stir the barley into the pot and cook the mixture, covered, for 10 minutes.
4.In the meantime, in a separate bowl, place the rice in water to soak.
5.After the barley has cooked for its 10 minutes, stir in the millet and cook, covered, for another 20 minutes.
6.Drain the rice, then add the rice to the pot and cook for about 25 minutes, covered, or until the mixture is tender. Add more water during this time if necessary (there should usually be 1/4 to 1/2 inch of water over the rice; if you add more water, bring the water to a boil before lowering the heat to a simmer).
7.Place the pine nuts in a dry skillet over medium-high heat and toast until golden and fragrant, 3 to 5 minutes. Sprinkle the pine nuts over the rice as a garnish before serving.
Themes and Variations
The exact combination of grains in this dish vary from region to region, although the rice is a constant. If you are a fan of brown rice (as we are), check out our book, Ancient Wisdom, Modern Kitchen for a variation of this dish with short-grain brown rice. We will also be posting this recipe on our blog .
Especially Good For
According to traditional Chinese medicine, this mixture of ingredients "strengthens the Spleen and Kidney" and counteracts "Spleen deficiency," making it especially good for anyone who wants to build sustained energy, help memory, retard hair loss, or address insomnia.
Warren Sheir is the Chair of the Department of Oriental Medicine, Pacific College of Oriental Medicine, San Diego.
Mika Ono is the author of Ancient Wisdom, Modern Kitchen: Recipes from the East.

Related