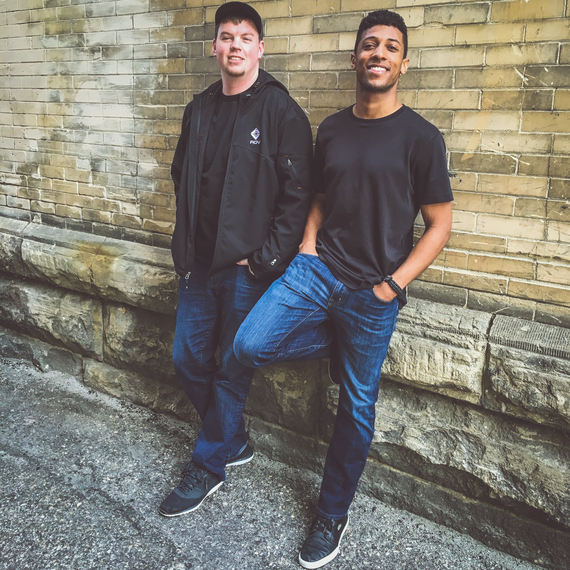 Travis Leslie and Prince McClinton, the co-founders of Art of Visuals.
"Did you know these guys were from Boise?"
It was a question I overheard more than once at the Art of Visuals' magazine launch party on the evening of January 7th in San Francisco. Attendees seemed quite curious about co-founders Travis Leslie and Prince McClinton, the duo behind AOV. Travis and Prince may be from small-town Idaho, but they packed the house at Monroe, the sophisticated North Beach lounge where they held their first-ever in-person gathering.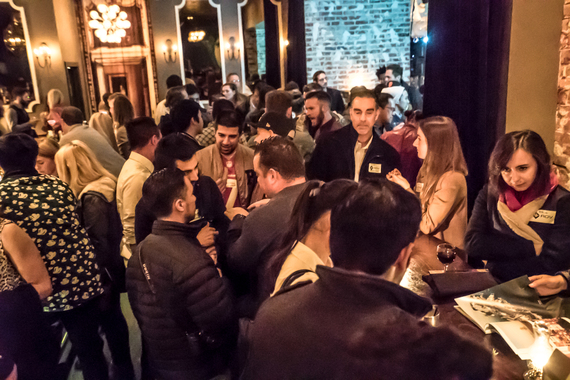 The crowd hits capacity at the Art of Visuals magazine launch party at Monroe, photo by @_ghost_xxii_.
Turns out they weren't the only two from out of state. While many of the 200 guests trickled in from around the Bay Area, others flew in from across the country or drove up from LA. One young man traveled six hours with his mom to attend, only to discover it was a 21-and-older event. Travis and Prince took the time to meet him outside and hook him up with one of their limited edition magazines.
Just recently DailyTekk a popular online startup publication, ranked AOV number eight among the top 100 Instagram accounts of 2016. This put them ahead of well-known billion-dollar companies like GoPro and RedBull.
But what started as just an Instagram account has grown to something much bigger. Aside from a quarterly magazine, AOV sells gear (apparel, camera straps and gear) and Lightroom presets or trendy "looks" or filters to apply to digital photos. There's also an app in development that will connect photographers around the world, help them discover new locations to shoot and organize photo walks.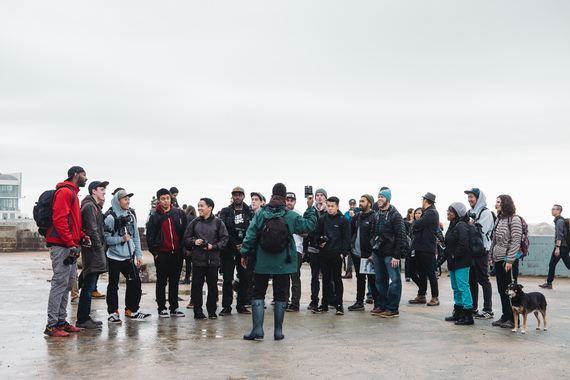 Photographers gather around at AOV's recent photo walk at the Sutro Baths in SF, photo by @markymethod.
The sold-out party helped reinforce the success of two young friends who had taken their love of photography, exploring and community and turned it into a calling for their peers, as well as an expanding visual arts lifestyle brand.

"Being able to gather 200 people in-person gives us positive feedback," says Prince. "It tells us we're on the right path."
"I've followed a lot of these photographers (via Instagram) for years. It's like I know them," said one guest. "Getting to meet them in person and explore our mutual love for photography is a real treat."
The elegant room was buzzing with energy. People crowded together in small groups, flipping through the high-quality 72-page magazine, which is designed like a coffee table book with lots of dreamy images and minimal text.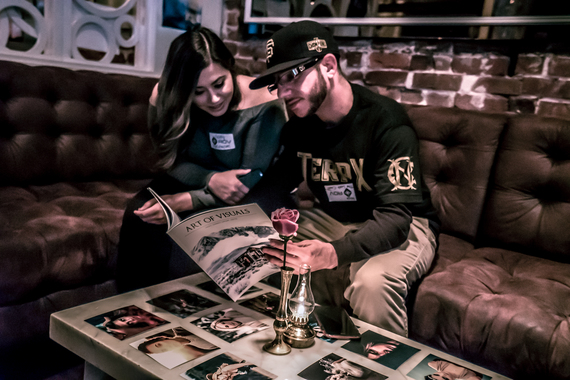 A couple checks out the magazine at the launch party, photo by @_ghost_xxii_.
Unlike traditional magazines, all of the images come from Instagram. Their hash tags (#artofvisuals and #aov) have more than two million tags combined just a year after AOV created the account.
Travis hand-selects the images for both the Instagram account and the magazine. The magazine's first issue displays the work of 106 artists, with a focus on seven artists, each of whom is featured in a full-page spread.
"To see these guys take the art from Instagram and bring it to print is really cool," one attendee said to me. "It's very current."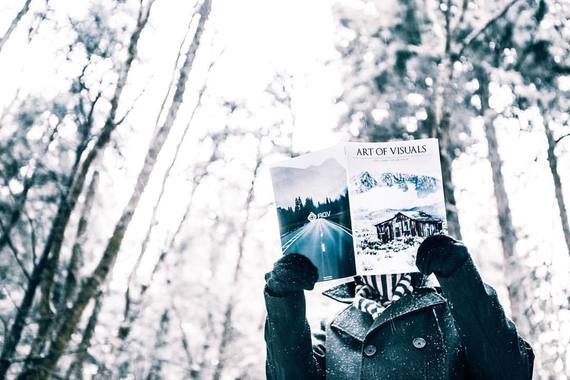 Art of Visuals magazine issue 01, photo by @dripping_balls.
"We wanted to create something our community could be proud of. Something they could physically touch and hold, and show to friends and family," Prince explains.
The print magazine, with a cover price of 17 dollars, sold out, all 200 copies, in under an hour. The digital magazine is still available for free download on the AOV website.
At the end of the party, even the 20 copies that had been laid out for display were gone.
"We'll take it as a compliment that people walked off with them!" Travis laughs.
Future issues will be twice as long and feature 200 artists each.
"We want to honor the accomplished artists in our community by displaying their work in our independent magazine," Prince explains. "We're providing a place for people to gain exposure that they might not get elsewhere."
Want to be featured in one of their upcoming issues?
"The best advice I have is to keep shooting and to create your own style. Don't get caught up in what everyone else is doing," says Travis. "We feature anyone and everyone. The beautiful thing about photography is what you see through the lens is completely different from what someone else sees through the lens, so capture what you see and make it your own."
Calling all HuffPost superfans!
Sign up for membership to become a founding member and help shape HuffPost's next chapter