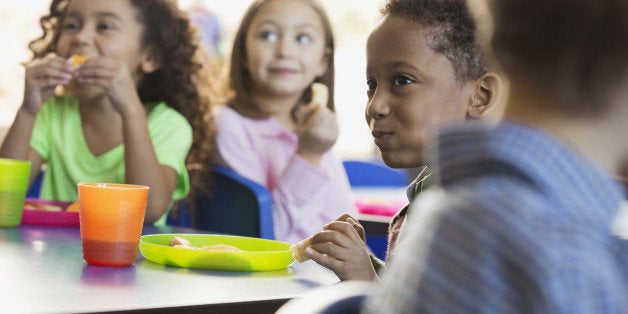 Children are the next generation of critical thinkers and do-gooders of the world. Unfortunately, many kids are living in poverty or below, spending nights alone while some parents work two or three jobs to survive and in extreme cases some are even homeless. These children need a platform to know that their voice is important.
Sharing a meal is a great way to connect and can be an entry point to discussing important life issues in a relaxed and comfortable environment. This is exactly what Chef Bryce Fluellen aims to do with his "KIDS AT THE TABLE" program. By gathering with children for a meal, he's making an impact and changing lives.
Food insecurity impacts more children in the United States than many people realize. We constantly hear about starving children in other countries, but there are youth suffering right here in our own backyard. According to No Kid Hungry, 16 million kids in America aren't getting the food they need. Chef Bryce has seen this first hand and wants to make a difference in the lives of these children.
After sitting down with the youth in under-served areas over the last few years, Chef Bryce was met with a harsh reality. Children and healthy meals don't meet regularly. He would often ask the teens, "What do you eat for dinner?" A common response was, "Chef Bryce, my siblings and I usually just grab whatever (peanut butter and jelly, chips, soda, etc.) because my parents work late."
That's when the idea struck. If Chef Bryce could find a way to bring children to the table, he could truly change their lives. The dinner table is a great space for encouraging open discussions. Sharing a meal encourages bonding and understanding. It's the perfect setting for open ears and open minds. There's no better place or time to gain a true understanding of the issues kids are facing at school and in the community.
If youth all over the country came together over a healthy and delicious dinner, they would come away with impacted stomachs and minds. This is exactly the reason Chef Bryce is on a mission to bring kids to the table. In fact, he's starting a national movement.
"Breaking bread together is a fundamental and universal ritual that connects all people everywhere and across history. It's an everyday activity, and yet ancient and ancestral. In this way, food is an amazing entry point for discussing societal issues because it is familiar and unifying for diverse communities." Clare Fox, Executive Director, LA Food Policy Council
KIDS AT THE TABLE will launch the first pop-up dinner for Youth at South Los Angeles Middle School in November, 2015. Chef Bryce will sit down with 40 children who have been chosen by the principal based on academics, citizenship and leadership skills. After the kick-off in Los Angeles, the movement will continue in Chicago, Washington, D.C., Oakland and Philadelphia.
As Chef Bryce travels around the country meeting children from all walks of life, he hopes to better understand the obstacles these kids deal with on a daily basis. He will be the ears these kids need when it comes to everyday issues like lack of healthy food, bullying, neighborhood violence, limited financial resources and more.
The KIDS AT THE TABLE movement will encourage kids to enjoy nutritious meals. It will also provide a place for children to find their voice, to grow and discover a healthier way of life. By impacting the youth of today, we can build a better future. By bringing kids to the table, we can change lives and have a better tomorrow.
REAL LIFE. REAL NEWS. REAL VOICES.
Help us tell more of the stories that matter from voices that too often remain unheard.