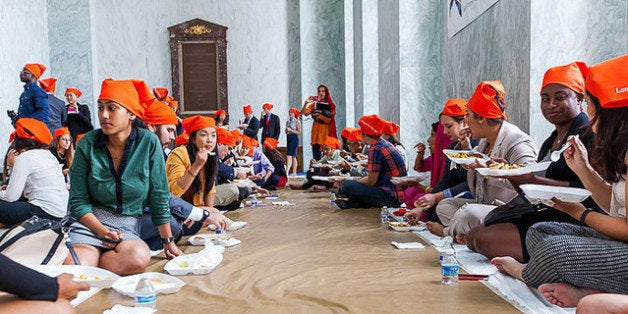 For as long as I can remember, my Sunday mornings have been spent handing out warm rotis during the Langar service at my home Gurdwara, a Sikh place of worship, in Pittsburgh, Pennsylvania. Growing up, I watched Jewish community members learn how to say the greeting "Sat Sri Akal" while breaking bread with our gurdwaras' caretakers; I overheard a doctor in our community offer a job to the secretary sitting next to him on the floor during Langar, and during every Langar, I felt the sense of unity that prevails amongst all who enter a Langar hall. I experienced this same feeling of solidarity as I watched some of our nation's most powerful legislators join with interns, staffers and community members to eat during a Langar on Capitol Hill, co-hosted by my class of SALDEF (the Sikh American Legal Defense and Education Fund)'s SikhLEAD Internship program and Congressman Mike Honda's office.
From its start, Langar has served as an anti-segregation movement in its purest form. When the founder of Sikhi, Guru Nanak Dev Ji, established Langar, it was a revolutionary way to reject the caste system that prevailed at the time. Langar mandated that any gender, any caste, and any person of any faith would sit and eat with others who are different than them. At its very core, Langar is also a way of feeding people. A Sikh woman, Mata Khivi ji, institutionalized the practice and in Sikh scripture is praised for her ability to give comfort and is known for her determination to make and distribute Langar to all, including those who would not otherwise have food.
When I learned of the Emanuel AME Church shooting in Charleston earlier this summer, a terrible sense of deja vu overtook me. As a Sikh, I was pained to see people targeted for their race in their house of worship. It has been less than three years since the shooting of Sikh Americans in Oak Creek. As Americans, what does this say about us?
These acts of hate elucidate to the painful gaps between groups, gaps that are rooted in ignorance and oppression; and it reminds us of the need for Langar. Langar is a forum to bridge the gaps between us and challenge the roots of hate, just as it did in Guru Nanak and Mata Khivi's time 500 years ago. It was an honor to bring this message to Capitol Hill through a Sikh tradition I have practiced every week of my life in the United States.
Bani Kaur Randhawa is studying political science and economics at Northwestern University, and is a member of SALDEF's SikhLEAD 2015 Internship Class. A native of Pittsburgh, Pennsylvania, she was an intern in the office of Senator Bob Casey (D-PA) during the Summer of 2015. Her writing reflects her opinions alone.
Calling all HuffPost superfans!
Sign up for membership to become a founding member and help shape HuffPost's next chapter