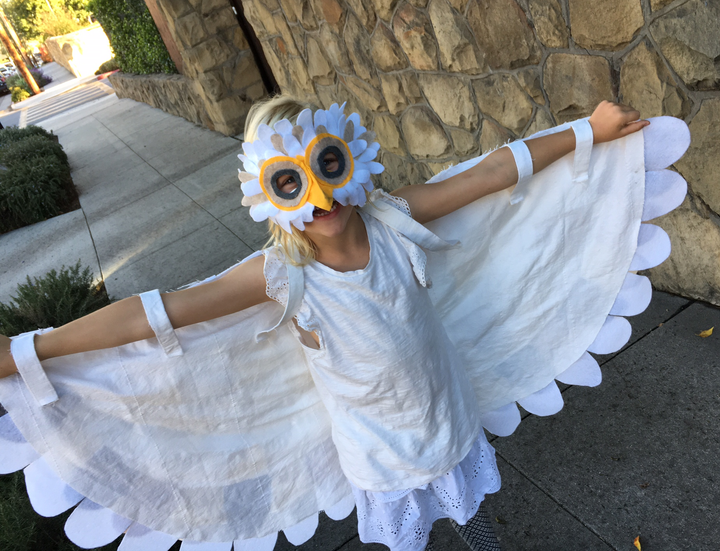 The house still quiet, I hear her little footsteps coming down the stairs. I take a deep breath. I have been waiting.
"I have some bad news, Honey Bunny. Trump won."
She crumples into my lap. "Why, Mama?"
"He won because there are so many scared, angry, sad people in our country."
At 6 ¾ years old, My Girl understands this language of hurt.
"I feel a little bit scared, angry and sad today too," I say.
My Girl looks up at me with swimming pool eyes and waits. She waits for me to fill in the blanks, to explain why. I bite down on the angry words that want to tumble from my lips. This is our moment to rise and to decide. Our moment to start our rising together, under my daughter's fuzzy blanket on the couch, before her two big brothers wake up for school.
My Girl's brothers will be sad and mad too. But this morning, it feels important that I first choose the right words with my daughter. My daughter who proudly watched me vote for the first woman president the day before and who wore her "I Voted" sticker to bed.
Story Bird, a fierce girl named after her fierce, great-great-Grandmother, bows her head into my chest. My only daughter starts to fold up, smaller and smaller.
No! My Girl will not get smaller.
"Look at me, Baby. We are going to do something today. I declare it Opposite Day." Story Bird loves "Opposite Day." She declares Opposite Day when she wants to eat dessert for dinner or wear rain boots in the scorching sun.
"Today, we start at the only place we ever can. We start with ourselves. We start with our family. We start by loving, encouraging, including, and listening. We will stretch extra hard to understand others. We will stretch so much it will hurt places in our hearts that have been closed too long."
"My Girl, what are you going to do today?"
She thinks. She scrunches up her eyebrows, sits a little taller, and announces, "I'm going to play with Chloe. She's not in my class. No one plays with her, so I'm going to find her at recess and play with Chloe. That's what I'm going to do."
My Girl is 6 ¾, but she knows exactly how to stretch bigger and wider than many adults.
This is not our first conversation about inclusiveness or helping others. At the dinner table we regularly talk with our children about kindness, the power of words, leadership and respect. We give them opportunities to practice with their siblings, friends and community - allowance jars for charities of their choice, occasional Saturdays at the Food Bank and city clean-ups. It's not enough. This is not our first conversation, but it is the first day to focus our efforts in the hopes that our little acts of kindness will add up to something bigger.
Playing with the kid sitting alone on the playground feels urgent and important.
I tell my daughter this, "Today I am going to stretch to help, choose, understand, and encourage. And then I'm going to keep helping, choosing, understanding, and encouraging every day after that."
1) HELP: I'm going to help a family today. A family that looks, speaks and prays differently from us. I will make a donation to the Red Cross to help a Syrian refugee family.
2) CHOOSE: I'm going to refrain from posting anything negative on social media. Because enough is enough.
3) UNDERSTAND: As the Landscape Designer on my job site, I'm going to learn the names of all the workers with my embarrassingly, rusty Spanish.
4) ENCOURAGE: I am going to tell at least three female friends how I appreciate them and how they inspire me.
"Look at me." I wrap My Girl in my arms. "Love is still the most powerful force in the galaxy, but we have work to do. Story Bird, we have work to do and we start today."