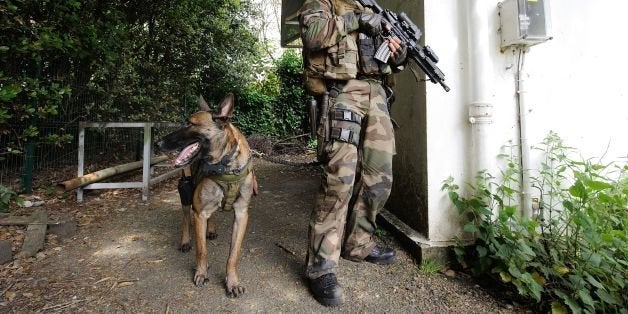 Alex used his uncanny sense of smell to find improvised explosive devices in the Zahri district of Kandahar. Archie engaged in a gun battle against Taliban militants as part of the US Army 67th Engineer Detachment. And Altos was injured during combat operations in Afghanistan.
These three heroes were among the thousands of canines who served on the front lines in the wars in Iraq and Afghanistan. They sniffed out IEDs and bombs. They came under enemy fire. And they searched small nooks in buildings to make sure they were safe for their human partners. In doing all these essential services, and many more, these dogs saved countless thousands of American soldiers' lives. But, unlike their human soldiers who returned home after their tours of service, these courageous canines were left in country because there was no official protocol or the means to bring them back to the US. That is, until this past week.
Last Wednesday, President Obama signed the National Defense Authorization Act. Thanks to the tireless efforts of key members of Congress, the military, and American Humane Association, it included provisions that were long overdue, ones that ensure military dogs are returned home to the US at the end of their service.

The story of what this means and why it matters is an important one. Military working dogs have been a part of the U.S. armed forces for almost 100 years, saving American lives in combat from World War I all the way through the recent wars in Iraq and Afghanistan. With all the current conflicts, dogs serving overseas with the men and women of the military are playing a more important role than ever.

What they do is truly amazing. Their jobs range from standing guard, capturing enemy combatants and detecting explosives. It's estimated that with their ability to smell and detect these explosive devices, each military dog saves the lives of as many 200 of service members.

These dogs are hard at work 24/7 protecting members of our armed forces, defending them as they defend us, and at times, sacrificing their lives so that their human handlers can live. One dog named Cairo was even part of the Navy Seal team that killed Osama bin Laden. For far too long, these heroes on the other end of the leash were left behind in war zones after their service. Simply put, that is no way to treat these four legged heroes.

As a longtime advocate on behalf of all military heroes, two legged and four legged, this situation was one I knew I had to lend my voice to; it was one where I knew I could make a difference. The more I learned of what was happening, the more upset I became; and the more upset I became, the more I became determined to work with American Humane Association to lobby our elected officials and make people aware of the problem, and more importantly to change the law.

This wasn't always the problem it is today. Dogs who served in World War II did come home following their service but during the Vietnam War dogs were classified as "expendable equipment" and were left behind or euthanized by our own military. In 2014 the National Defense Authorization Act contained language indicating that these dogs may transfer home but it didn't make the transfer mandatory. This one word "may" is what we needed to change.

To me the first step is always public awareness. So the issue became a key component on the Hero Dog Awards on Hallmark Channel. Soldiers and their dogs were showcased during the program to let people know how American Humane paid already for the transportation home of 21 military dogs and reunited them with their handlers. We also made people cognizant that a significant number of the men and women who serve have come home suffering from post traumatic stress, and for those who had to leave their canine companions behind, the pain was even worse. With each meeting with our warriors who have returned home, we learned that these dogs are often their best friends, a sort of loving huggable therapist who can ease the transition back to civilian life. Being separated is bad enough. But even worse, those military members who formed strong bonds with dogs they served with were being forced to spend their own money to bring the animals home.

How appropriate it was then that the day before Thanksgiving those of us who fought so long and so hard to change this situation really had something for which to give thanks. From this date on -- after months and months of working with those in our nation's capital who cared --military dogs like Alex, Archie, and Altos will always be brought back to U.S. soil and their handlers and their families be given first chance at adoption. And that is a great way to treat all our heroes, two- and four-legged!