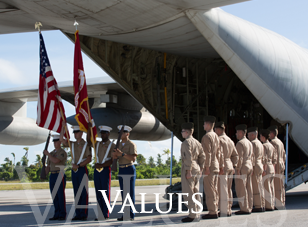 Part of the spirit, the culture and the values of the U.S. military is the creed that you don't leave anyone behind--whether captured, injured or dead.
Prior to 2015, three agencies shared in the mission to provide "the fullest possible accounting for our missing personnel to their families and the nation": The Defense Prisoner of War Missing Personnel Office, the Joint Prisoner of War/Missing in Action Accounting Command and the Life Sciences Equipment Laboratory.
Some of the admirable efforts by these agencies to find and bring home the remains of our fallen heroes from the Vietnam War, the Iraq and Afghanistan wars and from other recent conflicts were discussed here.
According to the Department of Defense (DoD), more than 83,000 Americans remain missing from WWII, the Korean War, the Vietnam War, the Cold War, and the Gulf Wars/other conflicts. Over 41,000 of the missing are presumed lost at sea (i.e. ship losses, known aircraft water losses, etc.).
In 2015 DoD formally created one agency responsible for the recovery and accounting of missing service members from past conflicts, the Defense POW/MIA Accounting Agency or DPAA.
As reflected by DPAA news releases, hardly a week goes by that a soldier, sailor, Marine or airman is not "accounted for." Yet, although DPAA teams identify more than 70 of the missing each year, at that rate it will take 500 years to find all of the 35,000 whom the Pentagon classifies as potentially "recoverable."

But whether it takes 65 years to find a fallen hero -- as it did to find the pilot of an ill-fated B-26 Marauder bomber that crashed in a cow pasture in Germany during World War II -- or the 18 years it took to to bring home the remains of Navy Captain Scott Speicher -- whose F/A-18 Hornet was downed over Iraq during the early hours of the first Gulf War -- the work to "provide the fullest possible accounting for our missing personnel to their families and the nation" goes on indefatigably and incessantly.
Take the case of F-16 pilot Maj. Troy Gilbert, who died in November 2006 in Iraq when his aircraft crashed while firing on enemy forces who had pinned down the crew of a shot-down AH-6 Little Bird helicopter along with the coalition forces that had been called in to support the crew.
Major Gilbert is credited with saving the lives of U.S. service members and coalition allies.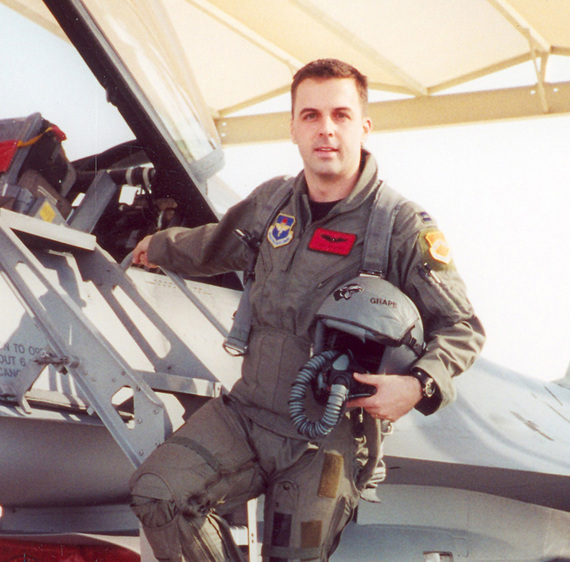 Maj. Troy Gilbert stands on the ladder of an F-16 at Luke Air Force Base, Ariz. (Courtesy photo/Gilbert family)
Following the accident, U.S. forces recovered DNA which provided enough information to positively identify Gilbert. His funeral, with full military honors, followed Dec. 11, 2006 at Arlington National Cemetery. In September 2012, some additional, but very limited, remains were recovered and interred during a second service Dec. 11, 2013.

Then, on Aug. 28, an Iraqi tribal leader approached a U.S. military advisor near al Taqaddam, Iraq, and produced what he claimed to be evidence of the remains of a U.S. military pilot who had crashed in Iraq during Operation Iraqi Freedom. The Iraqi said he was a representative of his tribe, which had the remains and the flight gear the pilot was wearing when he went down.

The tribal leader turned over the evidence to the U.S. advisor who immediately provided it to U.S. experts for testing at the Armed Forces Medical Examiner System at Dover Air Force Base, Delaware. AFMES confirmed the evidence Sept. 7 through DNA testing.

With this verification, U.S. military advisors in Iraq reengaged the tribal leader who subsequently turned over the remains, including a U.S. flight suit, flight jacket and parachute harness.

Gilbert's remains, promptly prepared for return to the U.S. for testing, arrived Oct. 3 at Dover AFB. Airmen at Dover conducted a dignified transfer upon arrival at the base, which was attended by Gilbert's family, base officials and senior Air Force leaders, to include the Secretary of the Air Force Deborah Lee James, Goldfein, Rand, and Chief Master Sergeant of the Air Force James Cody.

AFMES confirmed Oct. 4 through dental examination and DNA testing that all remains received were those of Maj. Gilbert. His lost remains had been recovered and fully repatriated.

[::]

Now, finally, a decade later, Gilbert has returned to the country he so valiantly served. At the request of his family, his remains will be interred at Arlington National Cemetery in the coming months along with the remains originally recovered in 2006 and 2012.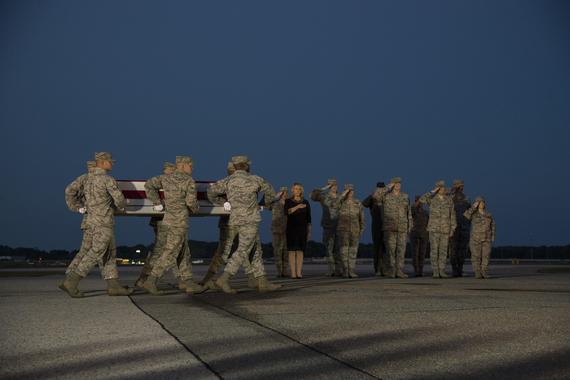 An Air Force carry team carries the remains of Maj. Troy Gilbert as the official party renders honors during a dignified transfer Oct. 3, 2016, at Dover Air Force Base, Del. (U.S. Air Force Photo by Senior Airman Aaron J. Jenne)

Maj. Gilbert was survived by his wife Ginger Gilbert Ravella, sons Boston and Greyson, and daughters Isabella, Aspen and Annalise.
Gilbert Ravella thanked those responsible for bringing her husband home:

...I want to thank not only the brave Special Operations Forces that ultimately found Troy's body but also each and every single Airman, Soldier, Sailor and Marine who searched or supported the recovery mission during these last 10 years...As each of them put on the uniform and gave their best efforts, not fully knowing if they made a difference, I can assure them that they laid the stepping stones which led to this final victory. Justice was served.
Secretary of the Air Force Deborah Lee James also praised "the unwavering commitment of those who endeavored to bring the fallen fighter pilot back to U.S. soil":

We are grateful to all those within the U.S. military, the U.S. government and beyond who never gave up and worked so hard to help return this American hero home to his final resting place...As an Air Force, we are absolutely committed to leaving no Airman behind and to honoring the memory of warriors like Maj. Gilbert who have made the ultimate sacrifice in service to our nation.

Read the full report on Major Gilbert here.
Watch a video on DPAA below.
In October 2006, Staff Sgt. Ahmed K. Altaie was kidnapped after leaving the Green Zone in Baghdad and on February 25, 2012, DoD confirmed that it had positively identified the remains of Altae and added "Altae was the final missing soldier and casualty to be recovered from the Operation Iraqi Freedom/Operation New Dawn mission."
True. But the fact that our military kept searching and pressing in the case of Maj. Gilbert -- even after that "statistic" was published -- is additional proof that the U.S. military doesn't leave anyone behind.
Lead photo: Courtesy DPAA
Calling all HuffPost superfans!
Sign up for membership to become a founding member and help shape HuffPost's next chapter