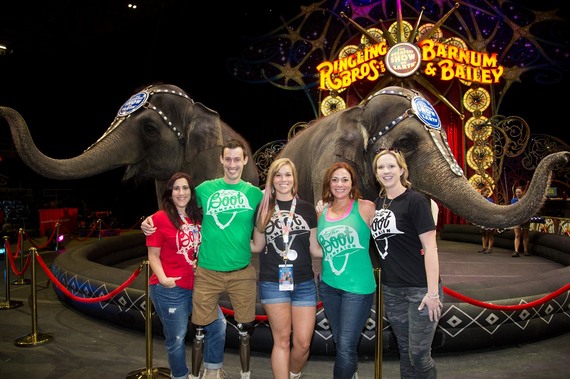 My first experience with the USO was during my brief hiatus from The Greatest Show On Earth. I was embarking on a career in theater, film, television -- really any place that would hire me. Initially, I assumed it would be just another in a string of simple gigs to keep me afloat until my next break came along. At this point I was a few years removed from my duties as Ringmaster of Ringling Bros. and Barnum & Bailey with its security of steady employment and exposure coveted by many working artists.
It was a very humbling season to say the least, to go from capacity arenas to navigating the audition grind. In my mind, that's what I thought about my audition for the USO -- that it was just another part of the grind. Little did I realize it would refocus how I looked at my craft. Little did I realize how it would cause me to reclaim joy for the simple art of performing. Admittedly, I have been spoiled. Since the age of 13, as a member of the famed Boys Choir of Harlem, I'd known the thrill of performing for heads of state. I'd also shared the stage with legendary artists across the performing arts spectrum on the world's most revered concert stages. Not very long after graduating college, I began this thrilling tenure with The Greatest Show On Earth. However, much to my surprise, nothing -- not arenas of thousands, not the company of dignitaries nor performing alongside icons -- could prepare me for the exhilaration of performing for our valiant men and women in uniform and their families.
My time with the USO was brief, but it was enormously impactful. No matter the size or prestige of the event, the feeling was the same: gratitude! I know of few joys as a performer that are greater than sharing one's talents with the brave men and women who essentially make it possible for me to enjoy the liberty to perform. As a performing artist, you will never meet a more captivated and generous audience.
Not very long after I began performing with the USO I would be summoned back to The Greatest Show On Earth, joining Ringling Bros. and Barnum & Bailey and its long tradition both entertaining and serving the many communities visited. The work includes visiting children's hospitals, giving anti-bullying lectures at schools, educating the public during one of our animal scout clinics, sponsoring food drives, partnering with organizations such as "Special Spaces" and, of course, honoring the men and women of the United States military and their families.
Ringling Bros. and Barnum & Bailey has enjoyed an enduring relationship with the U.S. military. In fact, the U.S. Army studied the efficiency and logistics of loading and unloading the Ringling Bros. circus train in 1906 prior to World War I.
Most recently, during our engagement in San Antonio, TX at the Freeman Coliseum, we hosted Boot Campaign, an organization committed to promoting patriotism and awareness of the unique challenges service men and women encounter during and after active duty.
Enter Marine Sergeant Johnny "Joey" Jones, a veteran of campaigns in Afghanistan. The first thing you might notice upon meeting Sergeant Jones is his radiant disposition coupled with his thousand-watt smile. His effortless charm and humor belies his warrior spirit -- a spirit that brought him through the darkest hours of his young life. While serving honorably as an EOD Technician, the then 23-year old soldier would lose both his legs to an IED explosion, which also claimed the lives of his comrades and friends, Gunnery Sergeant Floyd Holley and Corporal Daniel Greer. For over two years Jones would bravely suffer through a monumental recovery at Walter Reade Medical Center. The young Staff Sargent has since turned this harrowing event, which took so much from him, into a mission of service. The REAL Hero Ambassador serves as Executive Director of Marketing for Boot Campaign. He is an ideal spokesman for the plight of our brave military men and women and their families, as well as a proponent for authentic patriotism.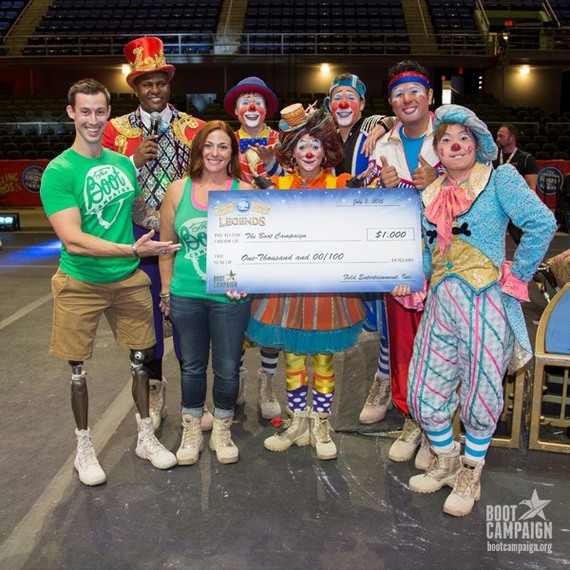 We welcomed Boot Campaign and their families to revel in a sample of Ringling Bros. and Barnum & Bailey Presents LEGENDS, which featured the brilliant Alexander Lacey displaying some of his gorgeous big cats and how they are trained and cared for, members of our legendary Clown Alley, the music of the Ringling Bros. and Barnum & Bailey Band, Hans & Mariya Klose with their delightfully talented canines and two of the biggest stars of all, Bonnie & Kelly Ann of our Asian elephant herd. Of course, we couldn't simply leave them with a mere sample of The Greatest Show On Earth. Thanks to our sponsor Chick-Fil-A, Boot Campaign and their families were able to attend the full performance.
I found myself being entertained as I watched these fine men and women, who have braved so much -- become dazzled and awestruck by the wonderful world of the circus. I couldn't have asked for a more excited and curious audience. Their gratitude left me utterly humbled, as it was so very genuine. As the festivities came to a close, Sgt. Johnny "Joey" Jones-- this honorable and courageous marine who'd endured so much and is now committed to giving as much of himself to his fellow comrades and their families as he can -- continued to thank me and my fellow performers over and over again. He detailed how much the event meant to him and those who joined us that day. It was deeply felt and real, but I couldn't help myself. I kindly interrupted the Staff Sargent and reminded him that in fact, it was he and all of his comrades and their families whom we should be thanking. After all, they're the heroes that make it all possible.
Popular in the Community