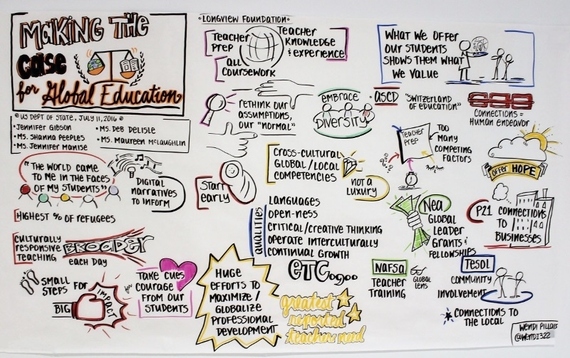 "I thought I was culturally aware... until I went to Brazil," jokes Ms. Anne Artz, a veteran science educator from San Diego, California who teaches in a minority-majority school serving children from 27 countries. But after traveling abroad as part of the Teachers for Global Classrooms program, she says, "It changed how I perceived my students and how I teach in the classroom."
Ms. Artz was one of more than 150 K-12 educators and others who attended the inaugural Global Teaching Dialogue at the U.S. Department of State in July. Participating teachers and education organizations made the case for programs that infuse world perspectives into school curricula. Speakers consistently described their overseas experiences as transformational and praised the ability of international education to develop students into critical thinkers, creative problems solvers, and flexible communicators.
Each year over 400 American and international teachers travel abroad to learn from their peers, share their own knowledge, and experience other cultures through programs sponsored by the U.S. Department of State, and still more travel through other governmental and private programs. The State Department estimates that upon their return these 400 educators reach over 65,000 students in just one year and on average 900,000 students over the course of their careers.
"Teachers are critical to the State Department's public diplomacy," stated Ms. Evan Ryan, Assistant Secretary of State for the Bureau of Educational and Cultural Affairs, who highlighted the interconnected roles teachers play as educators, leaders, and citizen diplomats.

"I don't want to just bring the world to my classroom but bring my classroom to the rest of the world," said Ms. Jennice McCafferty Wright, an educator from Columbia, Missouri, who traveled to India on the Teachers for Global Classrooms program. Since returning home, Ms. Wright has enrolled in a doctoral program and is integrating global perspectives into her work with prospective teachers.
But before her fellowship began, "I didn't even have a passport," she confesses.
Now Ms. Wright speaks with great conviction about the value of international engagement to help students explore what global citizenship means and to challenge negative stereotypes they may have about other cultures, both overseas and within the U.S. She wasn't the only teacher who noted how American classrooms are more diverse than ever.
"The world came to me in the faces of refugee students," said Ms. Shanna Peeples, the 2015 National Teacher of the Year. She described the steep learning curve for her school in Amarillo, Texas, when people began to arrive from Iraq, Laos, Myanmar, Somalia, Thailand, Vietnam, and elsewhere.
"We had no infrastructure for refugees at our school," she said. But her community eventually rallied, using digital narratives, music, and photo essays to help youth understand one another despite linguistic barriers. The school also involved special education students as language experts to help the new arrivals improve their English.
While emphasizing the importance of compassion and cooperation, she notes, "We all know that families aren't perfect -- siblings bicker -- but teaching how to appropriately work through conflict is an invaluable skill."
She examined strategies teachers in New Zealand use to improve the achievement of Māori and Pasifika students. She has since created a professional development program, Successful Mindsets for Educating Students of Color, to share these methods with American teachers in order to address the achievement gap between white students and students of color.
This ability to work within and across diverse groups is also highly valued by the business sector, says Dr. Helen Soulé, Executive Director of the Partnership for 21st Century Learning, who attended the event.
"Even those who do not interact on a regular basis with colleagues outside the U.S. must be able to effectively communicate and collaborate with people from different national, linguistic, and cultural backgrounds," she said.
Participants were unanimous in stressing that global education isn't about one subject or an individual class but needs to be fully integrated across all subjects, including math, science, and the arts. They gave examples of schools creating an international garden and science classes collaborating online in order to share research results with students in other countries.
"This is beyond the realm of social studies," stated Ms. Wright. "I've never met a standard I couldn't globalize in some way."
REAL LIFE. REAL NEWS. REAL VOICES.
Help us tell more of the stories that matter from voices that too often remain unheard.