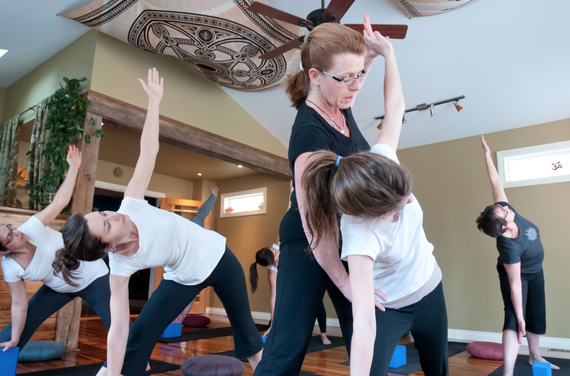 Image courtesy of Stephen Wild: Perri van Rossem, founder of Living Yoga Studios, leads a studio class.
This is an interview with Perri van Rossem, who began teaching yoga as a volunteer in 2005 at Collins Bay Medium Security Institution in Kingston, Ontario; she has been teaching there ever since. In addition, she coordinates yoga programs being offered in three other institutions. Says Perri, "I am trying to build a greater profile for this work in our community of yoga teachers. It is not an easy sell, I don't mind telling you."
Rob: What originally motivated you to bring yoga into federal prisons in Ontario?
Living in Kingston, Ontario, where we have six federal prisons, we are constantly aware of our incarcerated population. My husband works as a parole officer in The Correctional Services of Canada. As such, he works directly with this population in all security levels at various stages of their rehabilitation. The one common theme that continues to appear in his efforts to help develop rehabilitative plans, is that regardless of education, career training, and behavioral programming, if a person is fundamentally unable to deal with stressful situations, be self-reflective, and connect with their own ability to change, he or she will not change.
The great majority of our federal inmates have suffered abuse at some level, and healing the spirit does not come through vocational training, increased education, or even psychological and psychiatric counseling alone. This healing begins by looking within. When an inmate is released into our communities we want for them to be healthier people, in body, mind, and spirit. To return our inmates into society with tools that allow them to successfully manage the challenges they face reintegrating into society is a gift that all of society benefits from. Knowing that yoga and meditation enable this type of fundamental healing and change, my husband and I have been committed to bringing these practices into our correctional facilities for over 20 years.
What is the importance of mindfulness for developing impulse control? How does this help life inside a prison?
Life inside a prison is not conducive to self-reflection, developing kindness, compassion, patience, or self-awareness. There is constant fear, noise, and chaos. Life in prison, especially in the higher-security institutions, is more about survival than healing or learning. Healing requires a slowing-down, learning requires a calm mind. Tending to our inner world to create these states of calm and quiet inner reflection is a necessary step in learning that, when we react, we make a choice. Recognizing we can choose to act differently implies that we know what we are doing. This level of self-awareness is a challenge for every one of us; couple that with the extremely chaotic conditions of life in prison, and you have a recipe for failure. Teaching techniques to develop self-awareness, and providing tools for learning how to overcome self-limiting impulsive behavior, enable change.

Everyone can benefit from the practices of yoga and meditation; yoga is not an exercise system for the body alone. Practicing yoga and meditation develops the mind. It enhances concentration, mental focus, and awareness, thereby reducing physical, mental, and emotional stress. When we learn that we have the ability to stay calm, and know how to do so in the middle of chaos, impulsive reactivity becomes thoughtful response.
I'm interested in knowing why we should be spending money on providing yoga to prisoners?
When these practices are made available under the guidance of an appropriately trained teacher on a regular basis, a student can learn how and what to practice in the way that is suitable and beneficial for her or him. Not all yoga practices and disciplines are appropriate for all people. A consistent and patient practice of yoga requires the guidance of a teacher who has the knowledge to recommend practices suitable for the individual.
If our incarcerated population is to learn how to live inside and outside of prison in a way that enables growth and development, we need to provide quality and consistent programming that is appropriate to its needs. The cost of bringing these programs into prisons is inexpensive compared to the costs we are all paying now for the incarcerated population. It is critical that we as a society demand that yoga and mindfulness programs be offered as a core component of rehabilitative correctional plans.
Investment in such programs will enable consistent availability and quality of programs delivered by instructors dedicated and committed to do this specialized work, to meet the needs of this population, for the long term.
Has the application and effectiveness of your program been evaluated? Is there an evidence base in particular?
There is ample research, from all over the world, that indicates the positive affect of yoga and meditation on stress reduction and related issues. The International Association of Yoga Therapists (IAYT) has just celebrated its 25th anniversary, and is a leader in research into the therapeutic benefits of yoga. To this date, there are no known evidence-based Canadian research findings indicating the benefits of yoga and meditation for our incarcerated population, but similar studies have been done in other countries, and can be found through the IAYT.
On a personal note, the anecdotal evidence, which is plentiful, is what inspires me to keep sharing my knowledge, time, and efforts with this group of students. In my years of teaching there have been many conversations with chaplains, parole officers, and inmates themselves attesting to the benefits of yoga and meditation practice. It has often been said that the men are so much more relaxed, less argumentative, less angry, and able to sleep better. One student who attended at least five of the eight-week sessions also developed a daily practice in his cell. He knew that yoga and meditation was helping to change his inner life, which would enable him to change how he integrated back into the community outside of prison.
What is the greatest challenge in mindfulness classes becoming a regular feature of prisons?
The greatest challenge to providing quality learning experiences is consistency in programming. Consistency in teaching, as well as finding teachers with the level of experience and willingness to share with this community, is not an easy thing to pull together. If the programs could be offered as a part of CSC core programming -- in other words, available during the day and not considered extra-curricular -- it may be easier to recruit teachers who are usually teaching in the evenings and on weekends.
What advice would you give to anyone who would like to volunteer teaching a weekly class at a prison?
My advice is in the form of benefits of this work that I experience, in the hope that others will take up the work: the rewards I experience by serving this population are beyond description. From my perspective this is a safe environment whose participants are among the most grateful, enthusiastic, and eager students I have ever taught. When a student says to me "this is the best part of my week, I look forward to being here so much, it helps me more than anything else that I do," I am humbled, my heart expands, and I know I am making a difference.
What should prison administrators know about your yoga programs?
Administrators and policy makers need to know that this program teaches the whole person, from within, a new way of being in the world, which extends to how they interact in the world and with themselves. Once they understand this, perhaps yoga and meditation will become an integral part of a holistic rehabilitative correctional intervention. I strongly believe that yoga and meditation can produce reduced recidivism rates, and increased success of reintegration. When the full range and value of the effectiveness of these practices are understood then the relatively inexpensive costs associated with providing them, not merely as an extra-curricular activity, but as a core component of a rehabilitative correctional plan, could be considered as a positive cost that benefits all of society.
Are you a yoga instructor giving back to underserved populations? E-mail Executive Director Rob Schware if you're interested in being interviewed for this series.
Support HuffPost
The Stakes Have Never Been Higher
Related
Popular in the Community