This is an interview with Laura Plumb, who began her career in London, working with The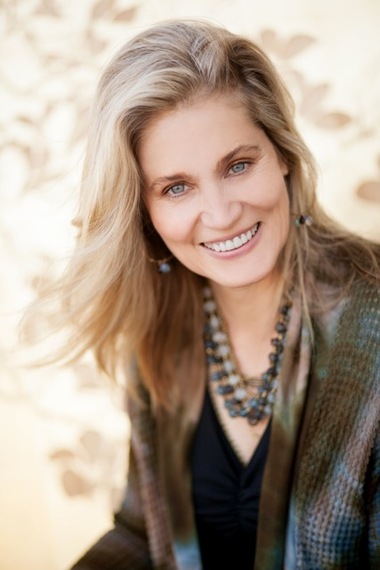 Discovery Channel Europe. At Discovery she was quickly drawn to programming on indigenous cultures, complementary medicine, and healing traditions. She later moved to California, producing documentaries and non-fiction television on shamanism, women of faith, and health and wellness. Working for years in the fields of health and human potential, Laura is a Vedic Healer, Ayurvedic Practitioner, Yoga Teacher and co-founder of the Deep Yoga School of Healing Arts with husband Bhava Ram.
Rob: What inspired you to teach yoga?
When I researched and produced a series called "In Good Faith," about women of vastly unique and varied backgrounds who had each overcome immense challenges to create powerfully meaningful lives, it was clear they all had one thing in common. Whether it was faith in God, or faith in humanity, or faith in the power of community, each woman had a tremendous life-giving, life-affirming faith that empowered them into lives of service. They became leaders beloved in their communities - not because of their intent to lead, but because of their intent to serve. From these women, I learned the power of faith, and the necessity of selfless service.
Soon after, I met my husband Bhava Ram at a meditation center, and immediately we knew we had been brought together to serve. Together, we founded Deep Yoga, and began devoting our lives to sharing the body-mind-spirit medicine of the Vedas, the source from which Yoga arises.
After moving to San Diego to live with my husband, I didn't know anyone but him. So I created a social life for myself by starting volunteer yoga programs at foundations that touched my heart: Shakti Rising, a residential recovery center for young women; CoronadoSAFE, supporting families and children; Rachel's Place, for homeless women; The Foundation for Women, growing a healthier world through micro-loans.
Soon, we were asked if we could create yoga programs for other organizations including Outdoor Outreach, La Maestra Community Health, San Ysidro Health Clinics, Harmonium Family Services, and the Braille Institute. By providing these services to such a broad spectrum, we learned two critical things: 1) people want Yoga, and 2) Yoga works.
As we began training yoga teachers, we wanted first and foremost to teach them to live yoga, to be yoga. So we created a "Mastery of Life through Yoga" training. An essential element in these trainings is dynamic participation in Seva (volunteer service). With all of this, Deep Yoga Seva emerged, and continues to grow as a partnership with community leaders delivering yoga classes, education, and therapy throughout our county.
What originally motivated you to do this work, and what continues to motivate you? How, if at all, has that motivation changed over time?
I have been a victim of emotional, verbal, physical, and sexual abuse. Sometimes I feel like I was mute for the first forty years of my life. Yoga gave me a way to speak, a language, and a voice. Now, I just want to sing - and to sing with others, raising our voices in harmony to wrap the world in sacred song, in hope, prayer, possibility.
Our voices matter. When we stand together, practice together, breathe and chant together, we feel the power of life coursing through us, connecting us as one. We remember that we belong - to life, to this holy earth, to one another. It is energizing to be part of such empowerment and positive change.
Is there a standout moment from your work with the Braille Institute?
When I first taught teenagers at the Braille Institute, I knew I needed to adapt my teaching style. I couldn't rely on visual cues, so I had to be very precise and clear with the instruction. I had no idea what to expect. Pushing through my apprehension, I arrived to a group of distracted and dismissive teen-age boys. No one seemed interested--until we began. As we opened class, one of the boys asked, "Aren't we going to OM?" So we did, and the most delightful chorus of spontaneous joy rose up, so we did it again and again. We ended up singing OM all through class, and it was one of the most moving experiences of my life. I have never seen such radiant faces, such a deep and immediate connection, such a potent capacity for listening and feeling that sound. At the end of class, following those OMs into silence, and remaining in that stillness with these remarkable young people, was one of the deepest connection I've ever felt. It was a living moment of what Antoine de St. Exupery wrote, "It is only with the heart that one can see rightly; what is essential is invisible to the eye."
What did you know about homeless women and women in recovery before you began teaching? What were some of the assumptions you had about this population, and how have those assumptions changed?
What did I know about homelessness? That it must be scary. So when we practice Yoga together, if the women are too agitated, we just sit up and sing. They love that.
What did I know about recovery? That we are all seeking recovery on some level. So when a student is activated, we circle round, acknowledge the pain, breathe together in silence. Usually, something starts to soften.
What does anyone know about another's experience? Every loss, trauma, worry, abuse is unique to the individual. Yet, when you allow yourself to be a learner more than a teacher, the moment will always guide you, and a heart connection can be made.
What are two distinct ways that your teaching style differs from the way you might teach in a studio, and what are the reasons for these differences?
Whether we are in the studio or teaching in other organizations, we always try to meet people where they are. Being fully present, with compassion, is essential. I don't believe there are any set rules, aside from pure authenticity and unshakeable faith in the process.
You could say that our style of teaching responds to the needs of the individual, and the needs of the moment. In that sense, variations arise not based on location or population, but as a factor of life itself. After all, Yoga should help us live better. If it is going to do that, it must be responsive, naturally adaptive, and unconditionally embracing.
What advice would you give to anyone who is going to teach the variety of people you work with?
My advice is to first do your own work. You have to able to be fully present, rooted in your own deep ground of being. The people I have worked with can detect inauthenticity before you even even say hello. Some will test you, and they can prod you. Trauma, poverty, and pain take no prisoners. But you don't need to be a brave warrior. You just need to be present and authentic. In fact, you need to drop your armor--leave your shields at home. Go with an empty mind and a full heart. In Spanish they say, "Vaya con dios." Go with God. Go. And go with love.
What are some of your ideas about, or hopes for, the future of "service yoga" in America in the next decade?
Once, upon my return from India, a wealthy client told me, "Laura, I know you want to be there, helping the children. But we have just as much need in this country. It may be less visible here, but it is every bit as great, maybe greater."
He was talking about himself, and he was talking about all of us. It's true: there is great need. My hope is that everyone gets the real gift of yoga: it's a great opportunity to serve, to move beyond yourself, to meet the need, and to make a difference in this world.
If you teach, teach as Seva. You don't have to start or join a non-profit. You can teach Yoga on a street corner or in a park. When you do, teach with presence. Teach with heart. Teach with the fullness of what this mind-body-spirit science has to offer. People everywhere want Yoga. People everywhere can benefit from Yoga. Yoga can meet the need, because Yoga works.
Are you a yoga instructor giving back to underserved populations? E-mail Executive Director Rob Schware if you're interested in being interviewed for this series.
Related
Popular in the Community