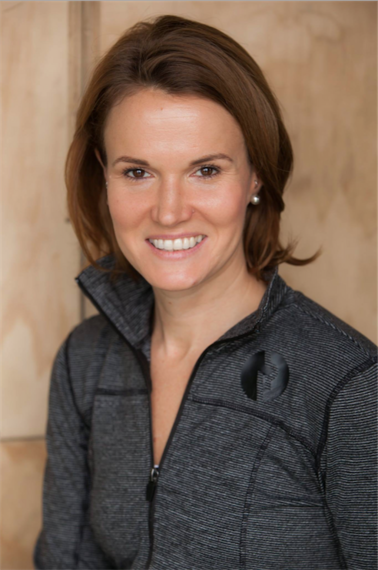 This is an interview with Jennifer Wright, who offers Mindful Yoga Therapy (MYT) training to Veterans and their families. She started with eight Veterans, ranging from OEF/OIF to Vietnam War Vets. One of those Vets introduced her to The Joseph House, a treatment-based shelter for Veterans in transition where she has worked the last two years. Around the same time, she received an invitation from the much-loved local judge to work with the Veterans of the Hamilton County Municipal-Veterans Treatment Court. She offers the MYT practices in the courtroom, prior to the docket. Attendance is now mandatory, and is considered one of the three self-help meetings required each week.
Since then, Interact for Health expanded the program through grant funds to capture data that supports the benefits of MYT when combined with behavioral treatment. MYT in Cincinnati has evolved to a mandatory complementary alternative medicine (CAM) intervention in both the Men's and Women's residential treatment programs at Veterans Administration Medical Center.
Rob: What originally motivated you to do this work and what continues to motivate you? How, if at all, has that motivation changed over time?
Jennifer: My sister-in-law and both of my brothers are Marines. I'm motivated to support the people that committed to our country and constitution; yet I have Jennie, Mark, Mike, other family members and friends in my heart as I interact with active duty and Veterans of all ages.

My yoga journey started long ago, when I started practicing in a post-9/11 environment while living in the DC area. I share the practices that helped and continue to help me process and manage my own stress.
My 12-year DOD career was spent working at DARPA, the science arm for the Pentagon; and also at military laboratories. I have my own experience, and although never active duty, I can relate to transitioning out of a lifestyle (not just a career) and redefining the self: figuring out what is next. I worked Human Performance Optimization programs for a long time, and I still do. I do so now using a trauma-informed protocol that is designed to enable the individual to practice coping skills and complement the hard work of treatment, transition & recovery. I still take my job very seriously - just now I wear comfier clothes and the work is more immediate and directly impactful!
Is there a standout moment from your work with the veteran population?
There are several notable moments, and a few stand out to me for their beautiful simplicity.
One of the men I worked with ended up at VA hospital where he had all day to monitor his BP and HR. He put his yoga practice to the test and had the added benefit of immediate feedback through the physiological monitoring. He used his breath practices to impact his outcome - to manage his pain, anxiety and anger during the whole process. He shared how he had a chance to discuss his coping skills with the medical staff. As he shared his real-world experience, I felt privileged to observe a proud and empowered man.
Another Veteran was pretty banged up. Some of his injuries were visible, although mostly not. The first session, he arrived to class with a stern face and dark glasses to protect his sensitive eyes from any light. He is a tall and solid man. Due to multiple traumas, sitting, standing and moving with comfort was rarely accessible to him on any given day. Although he had difficulty getting to the ground, he was determined to relax on the floor during the resting practices along with everyone else and he wanted to get there with minimal assistance. Communication was challenged so I used an analogy to land like a C-130 rather than a Harrier. Grace and safety was communicated; I was able to assist him to the ground. Once settled in with yoga props, he would give a big thumbs up and release a big smile or sigh. It was especially amazing to watch him over the eight weeks throughout the hard work with his speech therapist, clinical psychologists and of course, MYT. He would arrive to MYT with a grin, his arms spread out and make the noise of a large, cargo plane - ready to land and to relax.
What did you know about veterans you are working with before you began teaching? What were some of the assumptions you had about this population and how have those assumptions changed?
I went into working with Veterans feeling comfortable and in my element. Now, working Mindful Yoga Therapy with such a wide range of individuals reinforced how hard-headed some people can be...after all, people are people. Working with and witnessing people work their MYT program along side their recovery, therapy, or behavioral treatment has reinforced my understanding of humans, and especially military members as supremely resilient.
I went in thinking that damage to the brain was permanent. My VA mentors, colleagues, education and new discoveries prove otherwise.
What is unique about the Mindful Yoga Therapy for Veterans program as applied to Veterans Court?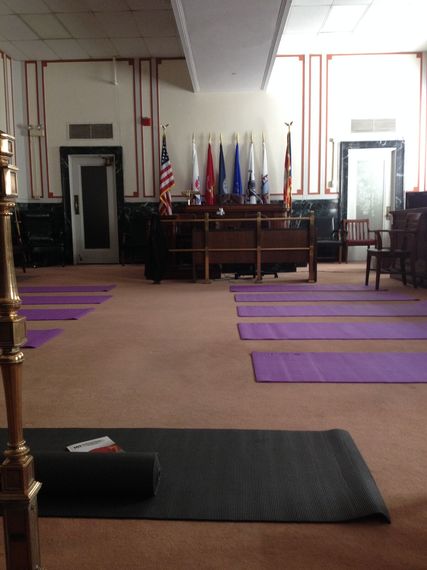 After getting over the initial chuckle of yoga mats in the courtroom, Hamilton County Vet Court is a unique and interactive environment. It starts with the motivating and compassionate judge, coupled with the well trained, kindhearted VA Veterans Justice Outreach, Court Clinic, Prosecutors and Public Defenders. Combine that with fun and relatable peer mentors, it is unlike anything I've experienced or seen in a traditional courtroom. Hamilton County Vet Court is treatment-based, and creates a comfortable and safe environment where supports (employment, transportation, wellness activities and others) are the foundation to sobriety and treatment.
We hold MYT prior to the docket. Feedback suggests that the pre-docket practice brings calm to the individuals and reduces anxiety. I observe it, and I receive the feedback that we create a visibly calmer courtroom.
What has been the greatest challenge in your teaching experience and what tools have you developed for addressing that challenge?
To me, the greatest challenge is working with men and women carrying sexual trauma. I lean on the advanced MYT trauma-informed protocol, my training and my experience. Trauma is held in the nervous system, and survival is sometimes rooted in living outside of the self. Since yoga is an invitation back into the body through self-awareness and self-acceptance, it is crucial to create a safe environment with the use of supportive language, postures and practices.
It is my observation that some people are not ready to come back into the body. The reminder to me is to stay positive and to be a ray of light for if and when the individual is ready. The more effective way is to invite the individual to show up and breathe, as the breath is the foundation for everything that we do. In MYT we offer many variations and a goal is to empower people to work to his or her appropriate level.
What advice would you give to anyone who is going to teach in the population you work with?
Trauma is trauma, and whether it is combat or non-combat related, a trauma-informed approach is necessary; and when implemented correctly, it works.
If there is interest in working with Veterans, especially in a clinical setting, embrace the beginner;s mind, empty your cup and get smart by training-up on a trauma-informed protocol like MYT. Stay healthy personally by staying grounded and use other self-care techniques to not take on "stuff." Work your own practice!
What are some of your ideas about or hopes for the future of "service yoga" in America in the next decade?
There is a real need to support more Veterans and their families. Offering MYT practices (breath work, meditation, yoga postures, Yoga Nidra and gratitude) to active duty service members supports the research that shows how people armed with resiliency skills can experience and process trauma with self-soothing techniques and thus decrease the conversion to chronic stress and/or re-experiencing.
I am committed to continuing the MYT protocol in the clinical setting so that we can better understand the positive outcomes, especially when implemented in conjunction with Cognitive Processing Therapy. With the support of the Interact for Health grant funds, we are gaining traction towards the recognition as an evidenced-based intervention. It is my hope that we are moving towards full adoption within the DOD and VA.
War is not black and white. As the military and its agents return from war, there is a lot of "gray" to process. We owe it to the men and women to provide a whole range of skills to aid in the transition.
Editor: Alice Trembour
Photo: Headshot courtesy of Paul Dirk Photography
REAL LIFE. REAL NEWS. REAL VOICES.
Help us tell more of the stories that matter from voices that too often remain unheard.