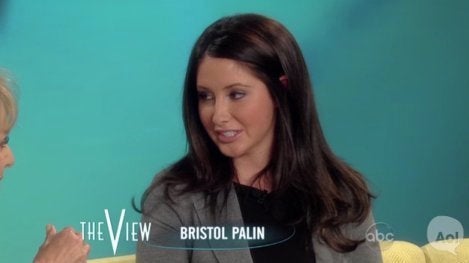 During an appearance on ABC's "The View" on Thursday, Bristol Palin was asked by Barbara Walters about her suggestion that Levi Johnston, her ex-boyfriend and father of her son, stole her virginity.
Walters presented the question in the context of what Palin says about having sex for the first time in her recently released memoir Not Afraid of Life: My Journey So Far.
"I'm not accusing him of date rape or anything with that," said the 20-year-old daughter of former Alaska governor Sarah Palin. "I just use that analogy of losing your virginity. That's why it's called losing your virginity."
She later added, "If I wasn't drunk, no that night wouldn't have happened."
The AP relays background on the matter:
Bristol Palin writes in her new book of losing her virginity to boyfriend Levi Johnston on a camping trip after getting drunk for the first time on too many wine coolers.

She awoke in her tent, alone, with no memories of what had happened as Johnston "talked with his friends on the other side of the canvas." She had vowed to wait until marriage. And she had lied to her parents about where she was going.

Asked about her mother's political ambitions for 2012, Palin wouldn't let any details slip.
REAL LIFE. REAL NEWS. REAL VOICES.
Help us tell more of the stories that matter from voices that too often remain unheard.