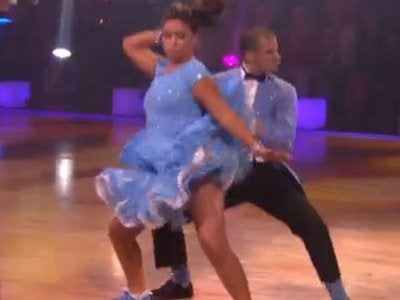 Bristol Palin finished a respectable third in the 11th season of ABC's Dancing With the Stars Tuesday night, falling behind fellow finalists Disney Channel star Kyle Massey and Dirty Dancing star Jennifer Grey.
Bristol's success on the show -- she beat out professional entertainers like Brandy, Florence Henderson and David Hasselhoff to make the finals -- was marked by controversy and a few bizarre overreactions, including reported death threats, a fake anthrax attack, and an incident destined to become urban legend in which a Wisconsin man suffering from bipolar disorder shot his TV and engaged in a 15-hour standoff with police after becoming enraged over the Alaska dancer's performance.
I've been following Bristol's progress on the show, from her debut cha cha through to the end. While our homegrown Alaska girl hasn't always been the queen of the dance floor, there's no doubt she's grown as a performer -- and taken her lumps along the way.
Bristol Palin was never expected to be a serious contender, surrounded as she was by a field of professional entertainers. As weeks went by and Bristol stayed (and more accomplished dancers went home), more and more people worked themselves up into a crazy lather over Bristol's continued presence on the show. Some of them are diehard DWTS fans who resent what they see as an incursion into their previously quiet little corner of reality television. Others just really, really, really don't like Bristol's mom. And then there are the Bristol fans who have reported spending hours on the internet voting for Bristol hundreds of times from various e-mail addresses (an effort ABC insists is in vain because over-the-limit votes from individual IP addresses aren't counted). What with the untold gazillions who don't seem to realize that DWTS is not, in fact, a referendum on the Obama presidency or a precursor to the 2012 election (in which, I'm told, each American will be allowed to vote only one time, and not via text message) and the pissed-off celebrity dance show fans, things were crazy even before reports of fake anthrax and death threats.
Although the voting "scandal" didn't really erupt until a few weeks into the competition, Bristol's appearance on the show has drawn some criticism from the beginning -- as just about anything tagged with the Palin family name seems to. Some have complained that Bristol isn't a "star" and therefore shouldn't have been cast in the first place (because, of course, the coveted Mirror Ball Trophy is right up there with the Palme d'Or, career-wise). I suppose it all depends on what definition we're operating under. If, by "star," we mean someone who's become famous for excelling in some sort of artistic, athletic or intellectual pursuit, they're probably correct that Bristol isn't a "star." If that's our working definition of "star," though, that rules out a whole lot of past DWTS contestants, including reality television stars Mike "The Situation" Sorrentino (Jersey Shore); Trista Sutter (The Bachelor, The Bachelorette, Trista & Ryan's Wedding); Melissa Rycroft (Dallas Cowboys Cheerleaders: Making the Team, The Bachelor); Jake Pavelka (The Bachelor, The Bachelorette); and Kate Gosselin (Jon & Kate + 8, Kate + 8).
Clearly, if "star" implies some measure of significant professional accomplishment, the show perhaps ought more properly be called "Dancing With the Famous People." But that's not terribly catchy.
Popular in the Community