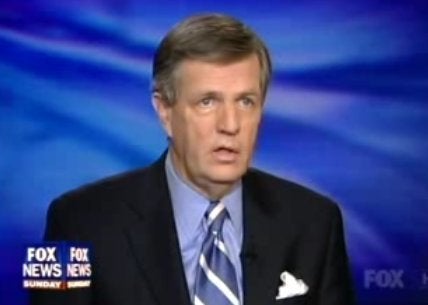 Fox News' Brit Hume gave Tiger Woods some personal advice Sunday morning, telling the scandal-plagued (and Buddhist) golfer to 'turn to Christianity' to make a full recovery.
On "Fox News Sunday," Hume — the former leader of Fox News' political reporting and host of "Special Report" who now serves as an analyst for the network — said that Woods' recovery "depends on his faith."
"The extent to which he can recover seems to me depends on his faith," Hume said. "He is said to be a Buddhist. I don't think that faith offers the kind of forgiveness and redemption that is offered by the Christian faith. My message to Tiger would, 'Tiger, turn to the Christian faith and you can make a total recovery and be a great example to the world."
"I practice meditation," he said. "That is something that I do, that my mum taught me over the years. We also have a thing we do every year, where we go to temple together. In the Buddhist religion you have to work for it yourself, internally, in order to achieve anything in life and set up the next life. It is all about what you do and you get out of it what you put into it."
Related
Popular in the Community