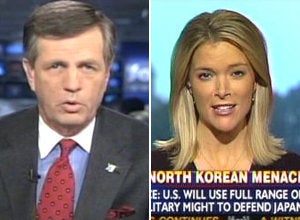 What makes [Megyn] Kelly unusual is the sheer speed of her ascent. "She has learned television news very quickly," says Bill Hemmer, her co-anchor. "She cares about the news, she studies it, and she has a wicked sense of humor. There is a chemistry that's required, this Fred-and-Ginger dance you have to perform every day on the fly."
Kelly, who grew up in an Albany, N.Y., suburb, was practicing law in Chicago -- securities law, contract disputes and the like -- when she took some journalism classes and served an internship at the NBC station in town. After moving to Washington in 2003, she reduced her legal load and persuaded WJLA, the ABC affiliate, to give her reporting assignments a couple of days a week.
Within a year, Kelly sent Fox a tape, which immediately impressed Brit Hume, the Washington managing editor, and his wife Kim, then the bureau chief.
"Here is this woman who was strikingly attractive but has tremendous air presence and a very strong voice," Hume says. "We were knocked out. It was screamingly obvious that this was someone with tremendous potential."
Support HuffPost
The Stakes Have Never Been Higher
Related
Popular in the Community