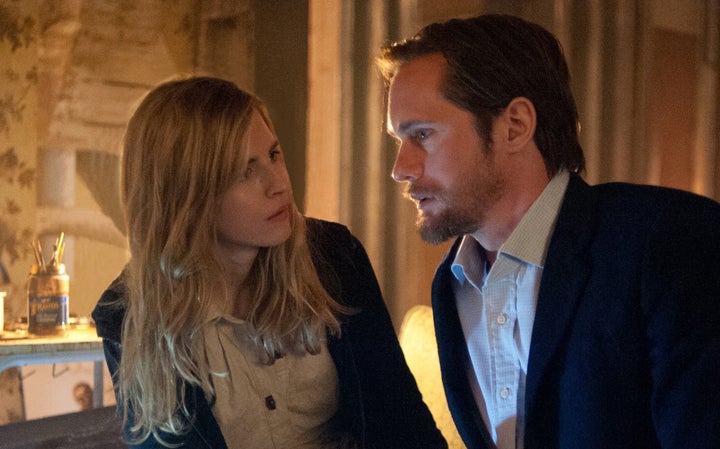 At a key moment in "The East," the film's protagonist, a corporate spy tasked with infiltrating an eco-terrorist cell, reaches into a wastebasket, pulls a half-eaten apple out of it and defiantly takes a bite.
It's a strangely shocking act to witness on a movie screen -- and certainly more unexpected than, say, ripping one's shirt off or blowing someone away with an Uzi. But, as it turns out, Brit Marling -- who co-wrote the film and plays the corporate spy in question -- has plenty of real-life experience eating from trash receptacles.
She and her co-writer and director on "The East," Zal Batmanglij, spent the summer of 2009 traveling around the country, spending as little as possible and getting much of their food from the dumpsters behind supermarkets.
"We had been doing day jobs [in Los Angeles] and writing scripts at night or in the early morning, and then we were really fascinated by Buy Nothing days," Batmanglij, 31, told The Huffington Post in an interview that took place, appropriately enough, in a back stairwell on Main Street in Park City, Utah, during the Sundance Film Festival.
"You can't put gas in your car that day, you can't buy groceries, you can't buy a postage stamp," Marling, 29, explained. "It changes the way you think about things."
Inspired by these experiments, Batmanglij and Marling decided to attempt a Buy Nothing summer. "We took out whatever money we had and hit the road," Batmanglij recalled. "And, you know, there is a whole culture, or underculture, across America where people are living like this. People are living as 'freegans,' which means they dumpster-dive. And at first the idea of dumpster-diving sounds crazy, but when you think about it, it's like, Whole Foods and Trader Joe's and all these grocery stores throw out all this good bread and vegetables that are packaged. And they have to throw them out because of the sell-by date."
"You start to think of the dumpster, as just a blue box behind every store that has free food," Marling added. "Why would you go to the front of the Whole Foods and buy it if you can go to the back and pick the lock on the blue box and take the food for free?"
Because that would be theft? Not so, said Batmanglij. "It's not stealing, because that food is being thrown away. And this is what's so cool: The lock messes with the system. Because they have to put a lock on there so people go to the store and buy it. Because our whole system collapses if people can just get free food. And you see all these people who are poor and starving and you think to yourself, like, why aren't we feeding these people? There is all this excess food."
The anti-corporate eco-warriors depicted in "The East," which premiered at Sundance on Sunday and will be released this year by Fox Searchlight, are admirable to a point. These are people who have seen through the comforting fictions that numb most of us to the horrors of pollution and pharmaceutical poisonings, but the rage they experience as a result -- and their commitment to eye-for-an-eye justice -- makes them a danger to themselves and others.
Marling and Batmanglij's experience among real-life "travelers" helps give the film authenticity, but they're quick to point out that it is ultimately a work of fiction -- one rooted as deeply in their love for thrillers like "The Bourne Identity" or "Michael Clayton" as it is in their real-life experiences.
In reality, Marling and Batmanglij -- who previously teamed up for the 2011 Sundance entry "The Sound of My Voice" -- seem to have nothing but wide-eyed admiration for the people they met during their summer off the grid. "You learned how to hop trains, but you also learned how to take things that are given away to the service industry back for yourself," Marling said. "In many of these collectives, you'll learn: How do you fix your bike? In fact, how do you build it from scratch? If you have a car, how do you convert it to biodiesel? How do you learn homeopathic remedies from weeds you can forage from dumpsters?"
Since travelers don't tend to carry around iPods or buy too many movie tickets, they rely on themselves for entertainment, too. "Everything becomes about talking with people, making music for each other," Marling said. "We once rode into a city with hundreds of other bikers and played a city-wide capture the flag. Afterward, it was pouring rain, everyone's taking off their clothes and swimming in the fountain, and then riding back on their bikes in the rain. The feeling you had by the end of it was that this group of people was so awake, and so connected with each other, and so happy, and not in a simple way. They didn't seem to have as much of the depression, alienation, anxiety -- things that are so common to modern life now."
In the film, Marling's character falls for the charismatic leader of the cell, played by "True Blood" heartthrob Alexander Skarsgard. So I had to ask: did she and Batmanglij encounter any real-life travelers as attractive as the ones in their movie?
"There are some very handsome anarchists," Marling said, laughing.
"And beautiful," added Batmanglij.
That settles it. If anyone needs me, I'll be the guy with his legs sticking out of the dumpster behind Dean & DeLuca's.
Before You Go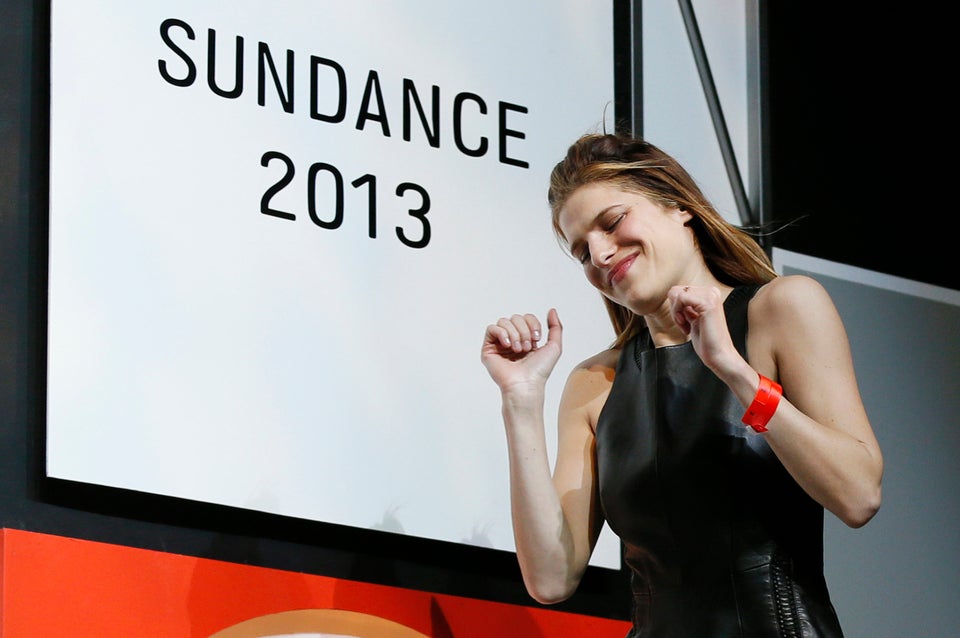 Sundance Film Festival 2013
Popular in the Community