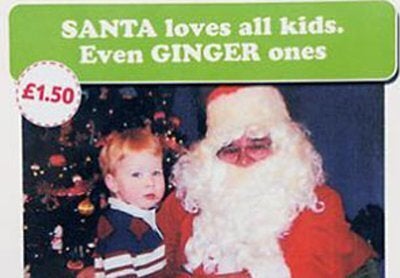 What do companies in Britain have against redheads?
The Independent is reporting today that Britain's Advertising Standards Authority has banned an ad by Virgin Media because of complaints that it portrayed those with red hair as potentially less than desirable. The ad, for a TV-show called "Dating in the Dark," read: "How do you spot a ginger in the dark?... Looks or personality, who wins?"
In explaining its decision, the ASA said that it banned the ad because it suggested that "people with ginger hair were unattractive," which was "likely to be seen as prejudicial."
Virgin Media, meanwhile, argued that the ad campaign was meant to "challenge people's perceptions of attractiveness and encourage decisions based on personality as well as looks," according to the Guardian.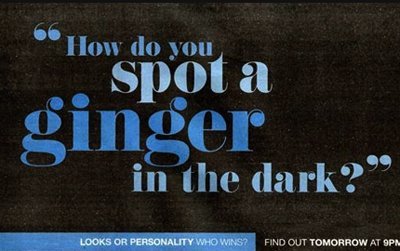 This announcement follows on the heels of the British supermarket giant Tesco apologizing for carrying a Christmas card in its stores after customers complained that it (you guessed it) made fun of redheads.
The card, which shows a young red-headed boy sitting on Santa's knee, reads: "SANTA loves all kids. Even GINGER ones."
As one woman told the Telegraph: "It's discrimination, pure and simple. I have shown it to a lot of friends and they are all disgusted by it. I just don't find it funny at all."
A Tesco spokesman said that the company was "sorry if this card caused any upset."
Related
Popular in the Community