It's been a wild year in British politics, to say the least. On June 23, 2016, Brits stunned the world when they voted in a Brexit referendum to become the first European Union member in history to withdraw from the bloc. Just 51.9 percent favored leaving, creating a divide that remains largely unchanged ― despite months of political hysteria and fallout.
Former Home Secretary Theresa May replaced Cameron in July after all her opponents withdrew from the sudden race. The new leader ― who initially opposed Brexit but quickly found herself leading the departure ― promised not to call a snap vote ahead of Britain's general election scheduled for 2020. Then, in April, she did call the short-notice snap vote for June 8 ― Brits' /www.huffingtonpost.co.uk/2015/05/06/election-night-live-2015_n_7220564.html"}}" data-beacon-parsed="true">third /www.huffingtonpost.co.uk/entry/brexit-map-uk-eu-referendum-2016_uk_576cf29fe4b0232d331db2b6"}}" data-beacon-parsed="true">major /www.huffingtonpost.co.uk/news/general-election-2017/"}}" data-beacon-parsed="true">plebiscite in little more than two years.
Polls predicted an easy victory for May's Conservative Party, which was poised to benefit from the political gamble by expanding its parliamentary majority ahead of critical Brexit dealings with the EU. Instead, the Tories lost 13 seats in yet another shocking turn of events, leaving the United Kingdom with a hung parliament and weakened negotiating stance.
Desperate to retain her party's power, May scrambled to join forces with an unlikely ally: Northern Ireland's tiny, ultra-religious Democratic Unionist Party. Together, the two parties hold 328 seats in Parliament ― just above the 326 needed to ensure a majority. DUP members will serve as a lifeline for May's government, but they have a history of controversial, draconian policies and could leverage their own conditions for loyalty.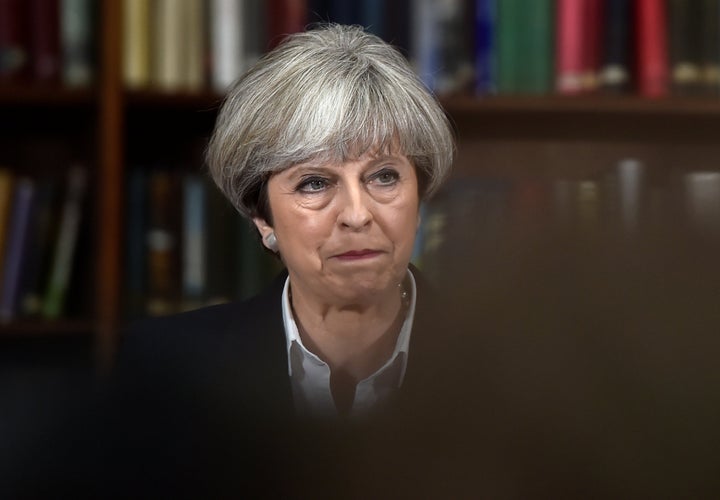 In March, British terrorist Khalid Masood drove a vehicle through a crowd of pedestrians on London's Westminster Bridge before stabbing an unarmed officer, resulting in five deaths. In May, a suicide bomber killed 22 people at a concert in Manchester. In June, a group of men plowed a van into a crowd of people on London Bridge before stabbing others in the area, killing eight. On Monday, a driver struck and killed a Muslim worshiper at a mosque in London's Finsbury Park.
She is also trying to work out a favorable divorce deal ahead of Britain's impending departure through talks with EU leaders, which began this week, as calls for her resignation grow louder. Nearly two-thirds of Conservative party members hoped she would step down, according to a survey released shortly after their "humiliating victory."
But polling data collected by U.K.-based research firm YouGov reveals that the past year's political setbacks and turbulence seem to have had little effect on public opinion surrounding Brexit. The country has remained "split down the middle" with minimal fluctuation as to whether withdrawing from the EU was the right or wrong choice, YouGov founding director Joe Twyman told HuffPost.
Brexit has been confirmed and negotiations have started, but little has actually happened.

Joe Twyman, founder of YouGov
The numbers' consistency, he speculates, is due to the fact that "very little has changed."
"Brexit has been confirmed and negotiations have started, but little has actually happened," he said. "We're still in the European Union, we're still subject to the European Union's laws and regulations, and will be for at least another year and a half. For the average person on the street, it has had zero impact on them so far."
Britain has just under two years to prepare and complete its divorce dealings before it must officially forgo its EU membership. Much remains unknown as the country wades toward unprecedented territory, but the uncertainty and potentially looming consequences are not yet having a direct or major effect on most people's lives, Twyman explained.
"There's been a lot of discussion of [voting] regret ― and yes, everyone can point to someone they know, a friend of a friend, who has changed their mind following the referendum ― but actually that's taken place in tiny numbers," he added. "The overall story remains the same."
Although nearly half the nation voted against Brexit last June and still believes it was the wrong decision, 70 percent of Brits now feel the separation must be enacted in light of the referendum results, according to YouGov's latest data.
Public confidence in May's abilities to secure a Brexit deal that is good for Britain, on the other hand, has fallen considerably since the snap election, from 48 percent in March to just 37 percent last week. However, the majority of Brits still approve of the negotiating targets she established earlier this year.
The prime minister's favorability rating plummeted from +10 in April to -34 in mid-June. Her electoral rival, opposition leader Jeremy Corbyn, has risen from -42 in April to zero, meaning that just as many people now view him favorably as those who view him unfavorably.
But even May's disastrous election bid and frenzied alliance with the DUP hasn't had much of an effect on public support for or against Brexit, Twyman noted.
"Most people just aren't paying attention," he said. "The minutiae of the EU negotiations are an obsession for the Conservative Party and of interest to people in the Westminster bubble, but for the broad public, they just don't care."
The U.K.'s many terrorist attacks, some of which were carried out by foreign nationals, have also done little to sway Brits' Brexit views, Twyman said. For those who are against immigration, which was a key factor for voters in the referendum, terrorist attacks reinforce their support for tighter border controls, he explained. "If you're for immigration, you see this as not relevant."
Public perception is likely to change eventually, because the circumstances are bound to change eventually ― the real question is about timing, Twyman concluded. 
"Depending on how the negotiations go and depending on what compromises need to take place, it's inevitable that it will change at some stage. We just don't know when," he said. "There's been posturing and there's been positioning, but actually things have pretty much stayed the same, and so as a result the views have stayed the same."
REAL LIFE. REAL NEWS. REAL VOICES.
Help us tell more of the stories that matter from voices that too often remain unheard.
BEFORE YOU GO
PHOTO GALLERY
Brexit Wins