Thousands of years ago, perhaps right as dinner was being served, a fire tore through a series of homes built on stilts above a river in what is today East Anglia, England.
The families fled, leaving everything behind as their homes collapsed into the river. 
That long-ago tragedy has been a boon for researchers today. The water of the river put out the blaze, and the ruins were covered in silt as they sank into the riverbed, leading to what is now the best-preserved Bronze Age site in Britain.
This image shows the remains of one of the buildings. The wooden posts lined up on the right side formed a palisade while the posts in the center were the supports. The ones scattered about formed the roof and walls: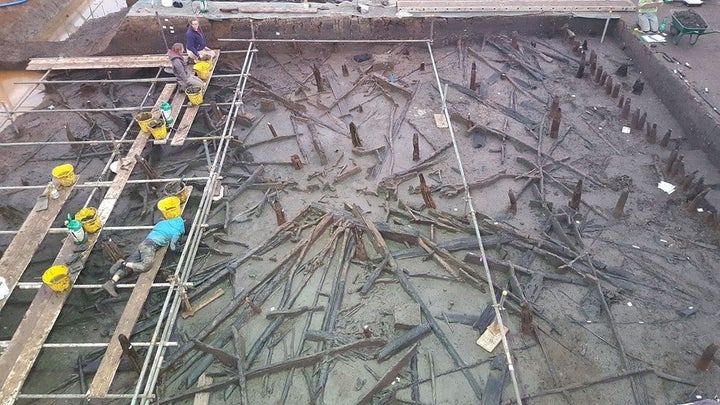 The remains, located at what is today an active quarry called Must Farm in Peterborough, are so well-preserved that it's being compared to another ancient tragedy that has become a time capsule: Pompeii. 
So far, archaeologists at the "Peterborough Pompeii" have uncovered jewelry, glass beads, textiles made from lime tree bark and jars -- some of which contain the remains of meals served 3,000 years ago.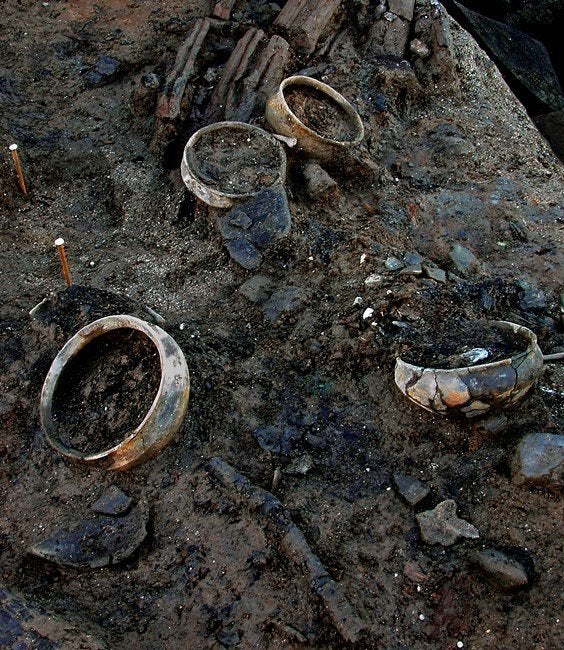 They've even found footprints in the site, preserved in mud. 
"Usually at a Later Bronze Age period site, you get pits, post-holes and maybe one or two really exciting metal finds," David Gibson, archaeological manager at Cambridge Archaeological Unit, said in the news release. "Convincing people that such places were once thriving settlements takes some imagination."
"So much more has been preserved -- we can actually see everyday life during the Bronze Age in the round," Gibson said. "It's prehistoric archaeology in 3D with an unsurpassed finds assemblage both in terms of range and quantity."
Here's one of nine log boats that is so well preserved it looks as if it could be used today: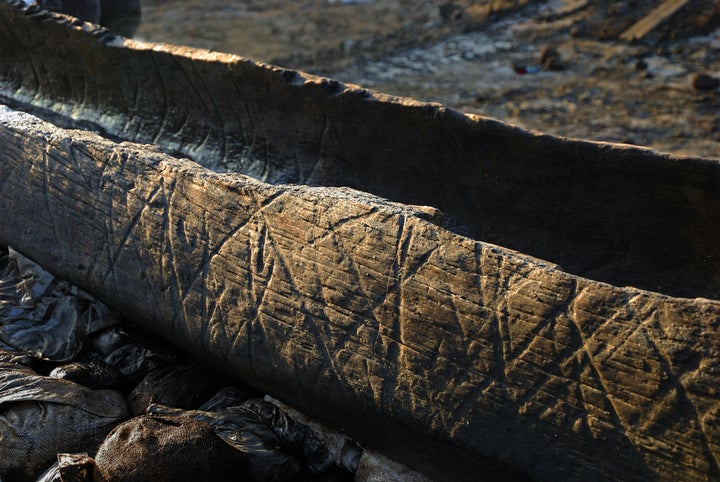 Peterborough Today reports that a human skull has been found, but it's unclear whether the person was killed in the fire or if the remains were kept in the home, either as a trophy from a defeated enemy or a deceased loved one as a form of ancestor worship. 
"Must Farm is the first large-scale investigation of the deeply buried sediments of the fens and we uncover the perfectly preserved remains of prehistoric settlement," Mark Knight, site director of the excavation, said in the release. "Everything suggests the site is not a one-off but in fact presents a template of an undiscovered community that thrived 3,000 years ago 'beneath' Britain's largest wetland."
PHOTO GALLERY
Archaeological Artifact Discoveries Of 2015
Calling all HuffPost superfans!
Sign up for membership to become a founding member and help shape HuffPost's next chapter