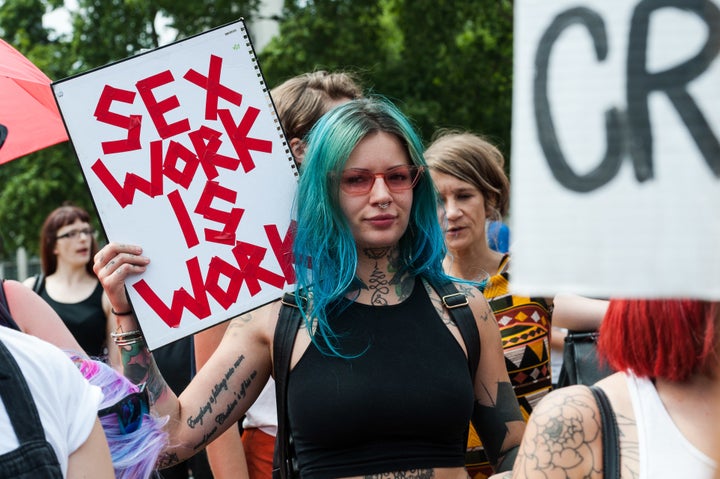 British sex workers and sex worker activists rallied at Parliament in London on Wednesday afternoon to protest a new proposal to ban sex work-related websites. Critics say that the proposal mimics legislation enacted in the U.S. in April, which has dramatically worsened work conditions for voluntary sex workers across the country.
Similar to America's FOSTA-SESTA legislation, the British proposal aims to combat sex trafficking but would effectively shutter websites where people solicit sex. It has wide support across party lines. Sarah Champion, a Labour member of Parliament who represents Rotheram, England, proposed the legislation in response to a May report from a cross-party political group that said several sex work-related websites, including AdultWork and Vivastreet, profited from sex trafficking. U.S. legislators employed similar rhetoric last spring, such as when Sen. Rob Portman (R-Ohio) said websites like Backpage and Craigslist Personals were responsible for sex trafficking.
"Across the U.K., men are paying to sexually exploit vulnerable women and girls that they have 'shopped' for online," Champion said. "We need to join the dots ― between prostitution, modern slavery, trafficking and child sexual exploitation."
Champion brought the topic to Westminster Hall, where British MPs urged the government to introduce formal legislation.
Several hundred protesters spent Wednesday afternoon in central London urging the public and Parliament not to be misled by common anti-trafficking rhetoric, which is what many say happened in the case of FOSTA-SESTA.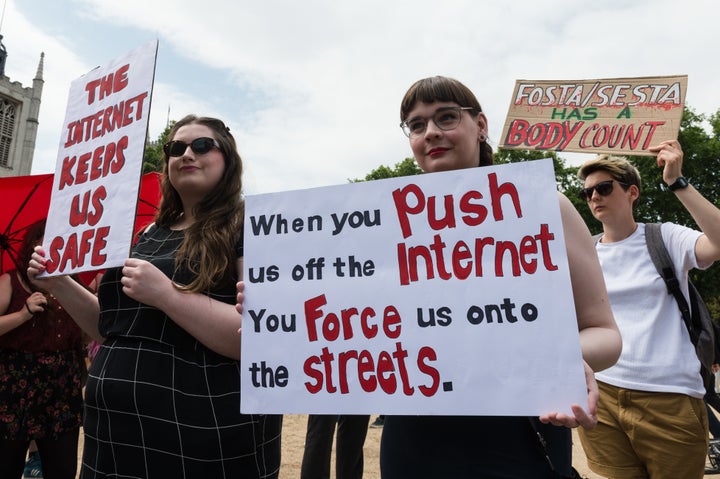 "It's extraordinary that people who call themselves feminists are promoting the exact same legal model which the Trump administration has used against sex workers," Jen, a sex worker and activist with Sex Worker Advocacy and Resistance Movement (SWARM), said in a statement on Wednesday. "We know already that FOSTA-SESTA is endangering vulnerable women and forcing them into the hands of managers and abusive partners."
Champion's proposal would not do much to combat sex trafficking, said Victoria Bateman, a professor of economics at Cambridge University who has written extensively about sex work and contemporary feminism.
"If we really want to tackle sex trafficking, there is a very simple way of doing so: Let voluntary sex workers sell sex without being penalized by laws that make it increasingly difficult for them to do so," she told HuffPost on Thursday.
"If a proper market is able to function, those who want to satisfy their demand for sex will be able to do so by engaging in exchanges with voluntary sex workers."
Some British sex worker organizations called out legislators, like Champion, for supporting the Nordic Model, in which sex workers are not criminalized but their clients are. Most sex workers are actually opposed to it.
At the Wednesday rally, sex workers emphasized that without online resources they are pushed further underground and into dangerous settings.
"The ability of voluntary sex workers to use the internet allows them to screen clients and share information about clients, reducing the risks associated with sex work," Bateman said.
"The question for policymakers in regard to sex work is simple: Do they want sex workers to face higher risks and to be pushed into poverty, or lower risks and better pay?"
Avery Edison, a trans artist and comedian who also occasionally profits from selling her nudes online, called out Champion for refusing to engage with the protesters.
CORRECTION: A previous version of this article implied that sex workers support the Nordic Model. It has been updated to accurately reflect their views.
Support HuffPost
The Stakes Have Never Been Higher
Popular in the Community