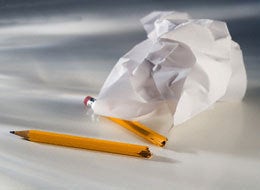 British poet laureate Andrew Motion is planning to resign next year. And while he has long professed his desire to leave the lifetime appointment early, he is more anxious than ever to get back to living without the laurels. Motion, it seems, has developed a nasty case of writer's block and describes his time as poet laureate as having been "very, very damaging" to his work. "I dried up completely about five years ago," he told the British newspaper The Guardian, "and can't write anything except to commission."
What's so tough about being the British poet laureate? Unlike the American version, the British laureate carries the burden of some archaic traditions. The post is very old--we're talking Ben Johnson (1572-1637) old, and--by tradition--it doesn't pay well. When Motion took up the post, his compensation was just £70 and a "butt of sack"--the latter being a barrel of Spanish wine. During his tenure, Motion managed to raise his honorarium to £5,000 (?!) a year and a crate of "sack." I have to say, I'd prefer the barrel--it sounds like a cool thing to keep in the basement.
But the laureate's biggest challenge is, no doubt, the tradition of writing poems for the royal family. Inspired or not, Motion regularly has to churn out verse for royal weddings, funerals, and other special occasions. What's worse, he feels that his poems go unappreciated: "The Queen never gives me an opinion on my work for her," he told The Guardian. Britain's finest poets, not surprisingly, aren't lining up for the task. Wendy Cope meant to praise Motion in saying, "He managed to write all the royal poems without making a fool of himself." I'm not sure I'm in agreement. Take a look at this one Motion wrote "in rap form" for Prince William's 21st birthday.
Better stand back
Here's an age attack,
But the second in line
Is dealing with it fine.
It's a threshold, a gateway,
A landmark birthday;
It's a turning of the page,
A coming of age.
It's a day to celebrate,
A destiny, a fate;
It's a taking to the wing,
A future thing.
Better stand back
Here's an age attack,
But the second in line
Is dealing with it fine.
It's a sign of what's to come,
A start, and then some;
It's a difference growing,
A younger sort of knowing.
It's a childhood gone,
A step towards the crown;
It's a trigger of change,
A stretching of the range.
Better stand back
Here's an age attack,
But the second in line
Is dealing with it fine.
Cringing? So was everyone in the BBC's comments section:
I think the rap poem thing was really bad. Prince William looked really confused.--Hattie, England
Diabolical--Becky, England
The greatest argument for the abolition of the monarchy yet.--Clive, London
Good one, Clive. Cope thinks Britain should consider abolishing the poet laureate position. A more likely outcome would be for Britain to adopt the American model in which we get a new laureate every two years and the requirement is only to promote - and not write (or rap) - poetry.
If they want to maintain some of the tradition, I don't think anyone would mind keeping the Spanish wine.