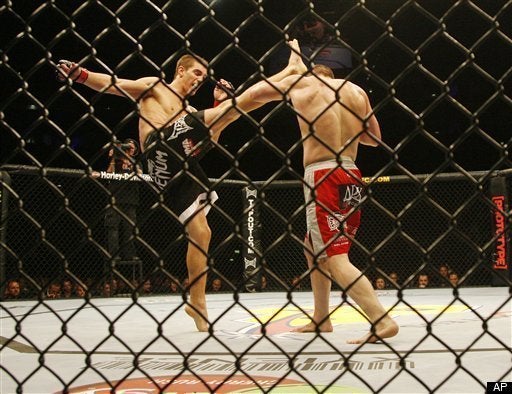 If the likes of Ian Freeman marked the first wave, and Michael Bisping spearheaded the second, then Liverpool's Paul Sass may just represent the latest line of British mixed martial artists. The 22-year-old from Liverpool, England, makes his official UFC debut this Saturday (October 16) at UFC 120 and -- get this -- is hoping for a ground battle. Not only that, he wants to win by submission.
Hearing such a revelation from the mouth of a British fighter is akin to discovering Bob Dylan wants to trade his acoustic guitar for a sampler. So the stereotype goes, British fighters are supposed to stand and bang in fights. Meat and potatoes. Fish and chips. They are simple beings, with heavy hands and a heavy striking disposition. They suffer nosebleeds when taken down and, though gallantly fighting off the inevitable, meet their doom with a triple tap.
Unable to call on the same collegiate wrestling background enjoyed by their American peers, British mixed martial artists have often run into trouble when pitted against superior grapplers. There have, of course, been exceptions to the rule, but, on the whole, the template is out there. Brits are deemed potent for as long as they can remain upright.
On October 16 in London, one fresh-faced Brit will neglect the expected striking pose and look to drag his foe to the floor as swiftly as possible. Paul Sass is like no other Brit.
"I'm just the complete opposite to everybody else, I guess," laughs the lightweight newcomer. "I've always been a little bit different.
"I'm a ground fighter that loves to look for submissions. My stand up game has come on 100% since I started doing mixed martial arts, and I now feel more well rounded than I've ever been. I usually see how the first couple of minutes of a fight are going, and if I'm getting my way with the stand-up, I can keep it there and win the fight. If not, I'll get the fight to the floor and go for submissions. Submissions are my thing."
Yes, you heard it right. Submissions are Sass's thing. If given the choice, he'd rather rip off an arm than clean a clock. While domestic fighting peers offer ample servings of both -- striking and grappling -- Sass excels in the latter. So what went wrong?
"I started off doing the ground game and jiu-jitsu, and then moved on to striking afterwards," adds Sass. "A lot of people in Britain have done it the other way round. I just happened to find my feet on the floor first, and that's why I love jiu-jitsu so much.
"I did pure grappling for a couple of years, concentrated on nothing else, and then moved more towards striking as my career progressed. I always go into my fights with the intention of getting it to the ground and winning by submission. I don't think that mindset will change."
This isn't just pre-event, UFC-laced hyperbole, either. Sass has the stats and the submissions to back up the bizarre reputation. An expert with the triangle choke, Sass's dedication to his USP has landed him a world submission record and a stunningly impressive career resume. Not only is the Liverpudlian unbeaten in ten, he's also won nine of those fights via submission. Perhaps more staggering is the fact Sass has scored seven of his ten victories by triangle choke. Moreover, the first seven fights of his career were ultimately decided by that submission method. Remember, this youngster's British, not Brazilian.
"I never went in looking for any of those triangles -- they just happened naturally," explains Paul, who meets Mark Holst on Saturday night in London. "I saw the opportunity for a triangle and took it. In a couple of those fights I'd actually gone for another submission first -- say, an arm-bar or a kimura -- and then eventually settled on the triangle, as that was the better option.
"It was almost like destiny that I was going to win fights by that method. The first time I ever took part in a grappling class I managed to pull off two triangles. The move hadn't even really been taught to me properly at that stage. I think it's just a natural submission for me."
Don't be surprised if similar sentiments are uttered by many of the next wave of British mixed martial artists. At only 22 years of age, Sass is part of an exciting new batch of mixed martial artists gradually rising to the premier league of their sport. He has grown and matured alongside the burgeoning sport and knows no different or better. He hasn't been extracted from another combat sport or nurtured via traditional martial arts. Paul Sass is a fresh product of mixed martial arts. He's one of the new guys. Learn to love him -- there's many more where he came from.
One year older, but no less talented is Brighton's John Hathaway, a welterweight with sights also set on victory at UFC 120. The 23-year-old fighter, once a standout rugby league prospect, has notched four UFC wins to date and is buoyed by the recent critical response to his May victory over Diego Sanchez.
Former title challenger Sanchez was thrown around like unwanted litter for three rounds by Hathaway, as the London Shootfighters product upset the odds with a decision win. Victory aside, it was the manner in which Hathaway claimed Sanchez's scalp that stunned so many. Utilizing every inch of his larger frame, Hathaway stuffed numerous takedown attempts, pushed Sanchez backwards and outlasted a man famed for his endurance and work ethic. He dominated every aspect of the game -- yes, grappling and wrestling included.
Like the aforementioned Sass, talented Hathaway knows nothing different. He's a pure and honest creation of the sport he now plies his trade in.
On Saturday night in London he faces veteran Mike Pyle, another man who has been around longer and seen far more than the young prodigy. In truth, experience might be the only thing this next generation of British scrappers lack. Though boasting a history of fighters through the centuries, this third wave of talent might represent Great Britain's first genuine, by-the-book definition of 21st century mixed martial artists. Watch out, world.

Popular in the Community