It's official: Britain has just two years to complete negotiations with the European Union until it must withdraw from the bloc through a "Brexit."
Prime Minister Theresa May made history Tuesday evening as she penned a divorce letter from the U.K. to the EU, setting Britain on an unprecedented course to forgo its decades-long membership in Europe's political and economic union.
Sir Tim Barrow, the British ambassador to the EU, personally delivered the landmark letter to Brussels leaders on Wednesday morning, officially launching the separation process by invoking Article 50 ― the EU law that permits any member state to voluntarily pull out "in accordance with its own constitutional requirements."
European Council President Donald Tusk confirmed he received the letter, saying that, "There is no reason to pretend this is a happy day."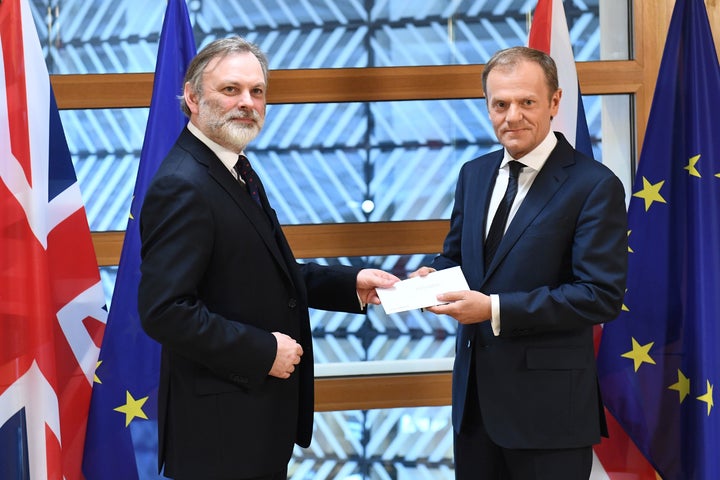 Brits made the stunning decision to leave the EU during an independence referendum last June, when 51.9 percent voted "Out." By the end of March 2019, the U.K. will become the first state to leave the union in its 60-year history.
While addressing members of parliament on Wednesday, May reaffirmed her commitment to building a stronger and fairer Britain with a global outlook.
"As we face the opportunities ahead of us on this momentous journey, our shared values, interests and ambitions can ― and must ― bring us together," she said. "We all want to live in a truly global Britain that gets out and builds relationships with old friends and new allies around the world."
"I chose to believe in Britain, and believe that our best days are ahead," she added.
May rose to power shortly after former prime minister David Cameron stepped down in the midst of Brexit fallout. She was initially opposed to Brexit, but is now tasked with spearheading the impending departure. Her administration faces extraordinary challenges over the next couple years as negotiations with the EU unfold, and the stakes are critically high.
Westminster must now race to develop a new strategy of self-governance while recasting relationships and trade deals with the EU and other major partners before the two-year deadline arrives. It will also have to fight to defend the evolving rights of its citizens and decide the fates of EU nationals living in the U.K.
Furthermore, May's government will have to establish the parameters of the "hard Brexit" it has committed to ― meaning Brits will lose access to the European single market, which refers to the EU as one territory without internal borders. They will also have to bid farewell to "free movement" — one of the EU's fundamental principles that allows its citizens to live and work in other member states without obtaining special permits.
British negotiators are certainly hoping for smooth talks with the EU, but could face resistance and tough terms from Brussels leaders trying to discourage other members from leaving. The final Brexit deal will require approval from a "qualified majority" of EU member states, and can be vetoed by the European Parliament.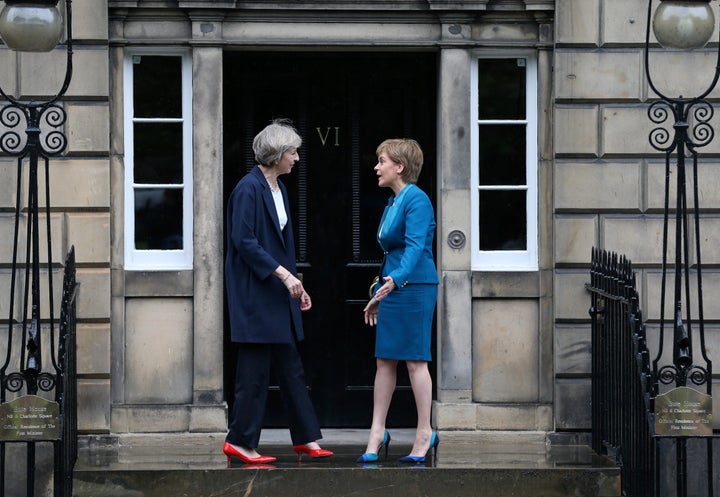 Beyond bargaining with the remaining 27 members of the EU, Britain is also dealing with intensifying inner turmoil: Dismayed by Britain's decision to leave the bloc, the Scottish government is now pushing for a new independence referendum of its own to leave the U.K.
Scottish lawmakers have backed First Minister Nicola Sturgeon's bid for the proposed secession vote, but it cannot take place without Westminster's permission. To the ire of Sturgeon and her Scottish National Party, May has refused to approve the referendum until after Brexit takes effect in 2019, asserting that "now is not the time" and Brits "should be working together, not pulling apart."
May is working to wrap up Brexit negotiations within 18 months, leaving six months for ratification.
"When I sit around the negotiating table in the months ahead, I will represent every person in the whole United Kingdom," she said on Wednesday. "We are one great union of people and nations with a proud history and a bright future. And, now that the decision has been made to leave the EU, it is time to come together."
Calling all HuffPost superfans!
Sign up for membership to become a founding member and help shape HuffPost's next chapter
BEFORE YOU GO
PHOTO GALLERY
Brexit Wins