Well this is...innovative.
British Airways has come up with a unique way to judge the satisfaction of its customers -- the "happiness blanket."
The blanket works by using neuro-sensors to asses levels of relaxation and stress. Sensor data is transmitted to the blanket by Bluetooth and is displayed via fiber-optic LEDs woven into the wool blanket. When a person is stressed or anxious, the LEDs glow red. When the passenger is relaxed and happy, the blanket lights turn blue.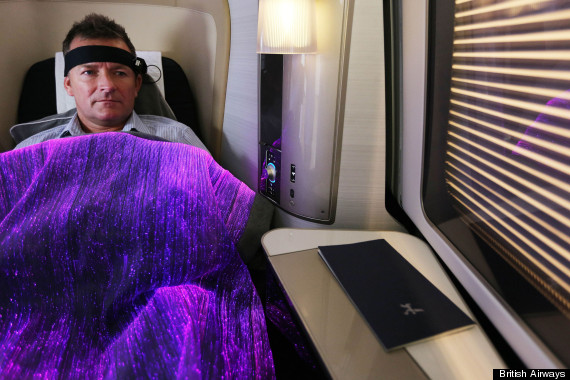 The blanket was tested on a group of volunteers onboard a Dreamliner en route to New York from Heathrow, according to the Daily Mail.
The findings? A video (below) released by British Airways concludes that at first when a traveler is settling in there are "fluctuations in mood," but -- surprise, surprise -- when the traveler consumes food or a drink or can "sink into deep, undisturbed sleep," they experience relaxation and contentment.
"Using technology like the British Airways 'happiness blanket' is another way for us to investigate how our customers' relaxation and sleep is affected by everything onboard, from the amount of light in the cabin, when they eat, to what in-flight entertainment they watch and their position in the seat," Frank van der Post, a British Airways managing director, said in a press release.
Learn more about the "happiness blanket" in the video below.