On Wednesday night, New York's art and fashion worlds descend upon Diane Von Furstenberg's flagship store and gallery in the Meatpacking District for the opening night of Natasha Law and Lucy Soni's collaborative show, Licking Out of the Same Bowl.
Curated by art consultant Blair Voltz Clarke, who has won a reputation for unveiling emerging artists in unexpected-yet-chic venues, the event unites high fashion and art on one playing field. A doyenne of fashion herself, Diane Von Furstenberg is quite the art and antiques devotee. So this event promises to be an exciting mix of fashion and art lovers alike.
This is the first joint-show for Law and Soni, who both boast loyal followings. Yet their approach to art is very different, while finding common ground as they explore masses of color. The two London-based friends even have studios down the street from each other, and often meet for tea to chat about art, work, love, family and life.
Fortunate to own an arresting Natasha Law painting myself, I adore her sensual imagery. In my living room she employs household gloss paint on aluminum to create a gorgeous torso image of a woman practically dripping out of her slip. When guests come over it's always a hot topic.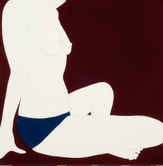 For Soni, the medium is acrylic paint on canvas and works via contrasts. She uses her own daughter's childlike scribbles, for example, as a symbol to explore the abstract, unearthing links between childhood expression and the work of a trained artist.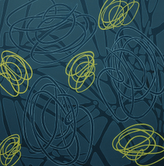 If We Were Clouds, I'd Jump on You
I'm curious to see how these wonder women are going to blend their aesthetics. The works in this show pull from an agreed-upon palette, yet offer up entirely different compositions. Law's paintings are large, flat, figurative, personal and always emotive; Soni's are abstract, bringing different qualities that contrast well together.
"We wanted the show to be about friendship and working together," Law says, hence the title Licking Out of the Same Bowl. And interestingly, the artists didn't look at each other's work prior to arriving at the show, adding an element of surprise and intrigue.
Viewing the works on 14th Street will surely generate some buzz about the multifaceted lives of women -- as artists, friends, mothers, and naturally goddesses. I hope Gloria Steinem is in town to see this artistic celebration of femininity and the joy of color.
The exhibition continues through June 1 at DVF store on 440 West 14th Street.