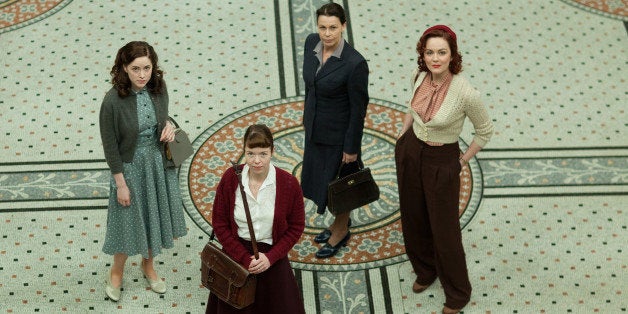 If the first thing you think of when someone mentions British television is 'Downton Abbey,' I get it. I do. I'm someone who watched the new season 5 trailer approximately 47 times and traveled two hours to an exhibition of costumes from the show.
But if 'Downton Abbey' is all you know of British TV, you're missing out. Big time. There's an entire genre -- Vulture calls it British Women Getting It Done -- where women take matters into their own hands to solve crimes, save lives and sometimes, God forbid, knock a few strands of hair out of place.
These ladies aren't your mother's Miss Marple.
Sarah Lancashire's Sergeant Catherine Cawood rolls with the punches and takes more than a few as she hunts down a kidnapper in this brutally brilliant West Yorkshire drama. With nary a gun in sight, confrontations between police and bad guys are unsparingly raw; after some criticized the violence, creator Sally Wainwright took a stand: "If you get your head smacked against the wall, you bleed. It's life." ('Downton Abbey' connection: an unrecognizable Siobhan Finneran -- scheming lady's maid O'Brien -- as Catherine's sister, Clare.)
Whether giving orders to a roomful of Belfast policemen or telling off a journalist, Gillian Anderson as DSI Stella Gibson is always the calmest, coolest person on the scene without raising her voice or letting even a wee splatter of blood mar her now-famous silk shirts. Gibson's 'drop the mic' moment comes when she tells a serial killer his actions are "just misogyny: age-old violence against women."
While not technically detectives, these four female codebreakers-turned-super-sleuths team up to catch a serial murderer in 1952 London, outwitting both the cunning killer and the all-male police force with skills like logic, puzzle solving and pattern recognition.
Before Helen Mirren was an Academy Award-winning Queen, she was Jane Tennison. Tennison had her demons, including a fight with alcoholism and a battle against sexist colleagues, but throughout 'Prime Suspect''s seven-season run, she kicked butt, took names and was unapologetically the HBIC.
Is your favorite take-charge lady detective missing? Leave recommendations in the comments section or Tweet me.
Calling all HuffPost superfans!
Sign up for membership to become a founding member and help shape HuffPost's next chapter