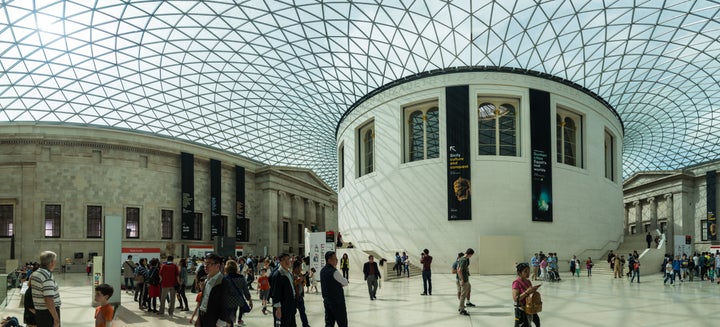 A social media campaign to get people interacting with museum curators has revealed one museum curator's bias against Asian culture and history.
And those who noticed the tweet are calling the museum out.
The British Museum on Wednesday participated in #AskACurator, a Twitter hashtag generated to let people submit questions to exhibit curators about their work. Using the hashtag, the Maas Museum in Sydney, Australia, asked the London-based museum how it makes labels for exhibits "accessible to a wider range of people?"
A curator identified as "Jane, Keeper of Asia" responded by saying their curators write labels based on the topics they specialize in, which are then edited by an Interpretation department.
The British Museum aims "to be understandable by 16 year olds," Jane explained. Then she provided "confusing" Asian names as an example ― a move that made a lot of Asian people uncomfortable.
"Sometimes Asian names can be confusing, so we have to be careful about using too many," Jane wrote. "We are limited by the lengths of labels. Dynasties & gods have different names in various Asian languages," she continued. "We want to focus on the stories." 
Many people were concerned with the British Museum's response and called the curators out for limiting the number of Asian names they use just because they thought Asian names were confusing.
The museum later apologized for the initial response and clarified Jane's point by saying she was speaking only to objects that have multiple Asian names. But the reasoning she used for doing so is a bit problematic.
While that practice of using the least-confusing Asian name might make the curators' jobs more convenient, it holds Asian history back from reaching wider audiences. This is especially concerning when done in a place dedicated for people to learn about the world's diverse history.
Moreover, the assumption that Asian words would turn off young people prevents young people from learning about Asian culture ― and it shows that the museum's main target audience is likely non-Asian or non-minority groups. The practice also reinforces a norm that already exists in many western societies: Asian culture is exotic, abnormal and not worth learning if it's too difficult to comprehend.
Despite the backlash, some people defended the museum's handling of Asian names, arguing that the space restrictions are difficult to work around.
Responding to the outrage from Jane the curator's tweet, the British Museum issued an apology in a series of statements that further explained the point Jane was trying to make.
The museum clarified Jane's initial response by saying she was talking specifically about "label-writing" ― which has limited space for letters ― and including "multiple names" for a single feature.
"The challenge with label-writing is not about whether people are able to understand or pronounce unfamiliar names, it is a question of whether we give multiple names to the same place/period/person in one label," the museum said.
In another statement, the British Museum maintained that their labels tell the "object's story" and "essential information" about it.
"We are not always able to reflect the complexity of different names [for example] periods, rulers, gods in different languages and cultures on labels," the museum wrote, adding that in-depth information is provided in other museum programs and digital content.
The debate over the British Museum's labeling practices continues to wage on over Twitter.
But amid all the outrage and arguing, one thing is for certain: The tweet has sparked a much-needed discussion about how museum curators — the gatekeepers of history — treat the histories of minority groups.
Calling all HuffPost superfans!
Sign up for membership to become a founding member and help shape HuffPost's next chapter
BEFORE YOU GO
PHOTO GALLERY
China's Monuments Superimposed On Images Of Daily Life