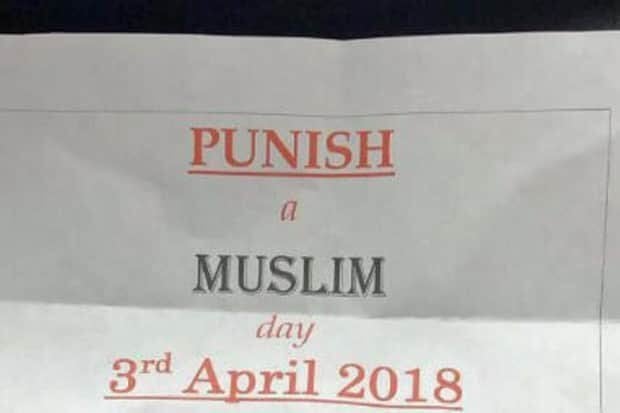 British Muslim communities remained both vigilant and defiant on Tuesday in response to an anonymous letter campaign that designated April 3 as "Punish A Muslim Day."
British counterterrorism police are investigating the letters and have not yet identified who is responsible for them. London's Metropolitan Police Service told the Evening Standard on Tuesday that there is "no credible information" to suggest that the hate crimes the letters encourage will actually take place.
Still, some British Muslims cautioned their communities to take safety precautions on Tuesday while traveling. Some Muslim women encouraged those who wear hijab to swap out the religious headscarves for beanie hats.  Others urged fellow Muslims to refuse to change their normal routine in response to the Islamophobic threat. 
National Muslim organizations shared safety tips with followers on social media and in person. Tell Mama U.K., an organization that tracks anti-Muslim hate crimes, partnered with British Transport Police and Metropolitan Police to set up temporary information centers at various London train stations. 
British Muslims also responded by promoting acts of love and kindness to counteract the "Punish A Muslim Day" letter's message of hate. 
Jamilla Hekmoun, a 24-year-old researcher from London, has been organizing a list of volunteers from around the U.K. who are willing to walk with or stay on the phone with Muslims who feel unsafe on Tuesday. Hekmoun told HuffPost that over 100 volunteers, most of them Muslim, signed up to help. She said that by around 8 p.m. local time on Tuesday, she and a friend who has helped organize the group received around 20 calls from Muslims who felt uneasy while walking on the street. She anticipated more calls as the night advanced.
"Even if we had just helped one person to feel safe it would have been worth it as everyone deserves to feel safe," Hekmoun told HuffPost in an email. "Our goal was to make people in our community feel safe and we're glad we were able to help."
The 'Love A Muslim' Day campaign, created by British Muslim activist Shahab Adris, encouraged interfaith allies to support their Muslim neighbors on April 3. Adris mimicked the "Punish A Muslim Day" letter's points-based system, but replaced the acts of violence with acts of kindness ― buying coffee for Muslims, for example, or pledging to fast with Muslims during Ramadan. 
On Tuesday, the advocacy group Muslim Engagement And Development, which Adris is involved in, set up five Love A Muslim Day events in cities across the U.K. to help encourage unity. 
An FBI spokesperson said in a statement that the agency is aware of flyers in multiple U.S. cities that call for acts of hate against Muslims. 
"The FBI remains committed to protecting rights for all Americans and will investigate any criminal act that may constitute a federal crime or pose a threat to national security," the spokesperson said.
American Muslims expressed their concerns about the day online and shared stories of resilience.
Obeidallah said the anti-Muslim rhetoric spouted by politicians like President Donald Trump has caused American Muslims to worry about Islamophobic harassment on a daily basis. 
"If April 3 was the only day that Muslims in America had to worry about being 'punished,' I would be overjoyed," he wrote in an article for The Daily Beast. "The reality, however, is far different. To varying degrees, every day is "punish a Muslim" day in Donald Trump's America."
Shoulder to Shoulder, a coalition of 34 religious denominations united against Islamophobia, released a statement pledging interfaith solidarity with America's Muslims.
"Hate has no home in the United States, and no one should fear for their safety because of how they look, where they come from, or how they pray," the coalition stated.
This story has been updated with comment from the FBI.
America does not do a good job of tracking incidents of hate and bias. We need your help to create a database of such incidents across the country, so we all know what's going on. Tell us your story.
Calling all HuffPost superfans!
Sign up for membership to become a founding member and help shape HuffPost's next chapter
BEFORE YOU GO
PHOTO GALLERY
Must-Read Books By Muslim Authors