With eight months to go before kickoff at London's Wembley Stadium, the first flag of the Washington-Cincinnati international football game has already been thrown. According to ESPN's Mike Wise, members of the British Parliament penned a letter to NFL commissioner Roger Goodell three weeks ago, "pressur[ing]" the league to either nix the slur from the former team's name or send a different franchise to play in front of the British crowd. 
"We were shocked to learn the derivation of the term 'R*dskin,' pertaining as it does to the historic abuse of native Americans," the Labour Party's Ruth Smeeth and Ian Austin wrote Goodell, according to ESPN. "The exportation of this racial slur to the UK this autumn, when the Washington team is due to play, directly contravenes the values that many in Britain have worked so hard to instill." 
With the Feb. 2 letter, Smeeth and Austin have joined a growing chorus of domestic and international voices calling for the league to step in and take a stance against the discriminatory moniker. And even while the NFL, through spokesman Brian McCarthy, effectively shrugged off any responsibility in this latest transatlantic faux pas, Smeeth warned the league that ignoring this issue would end up backfiring and hurting the NFL in the place it cares about most: its public image.
Citing the taxpayer-funded nature of the BBC -- the network that's scheduled to air the game -- Smeeth threw an additional shrewd, calculating punch at the NFL in a recent interview with Wise.
"[If] we believe it's a racial slur, then that means problems for the BBC in terms of coverage of the event," Smeeth explained. "There is going to come a pressure point. The last thing the NFL wants -- after putting so much behind its brand in the UK -- is a good number of us to begin putting pressure on the BBC in terms of what they're showing and how they're showing it. This is not the image the NFL wants portrayed in the UK."
As the stadium itself has its own "anti-racism charter," the "issue" of hosting Washington's team is now reportedly being discussed and debated within Wembley's internal channels.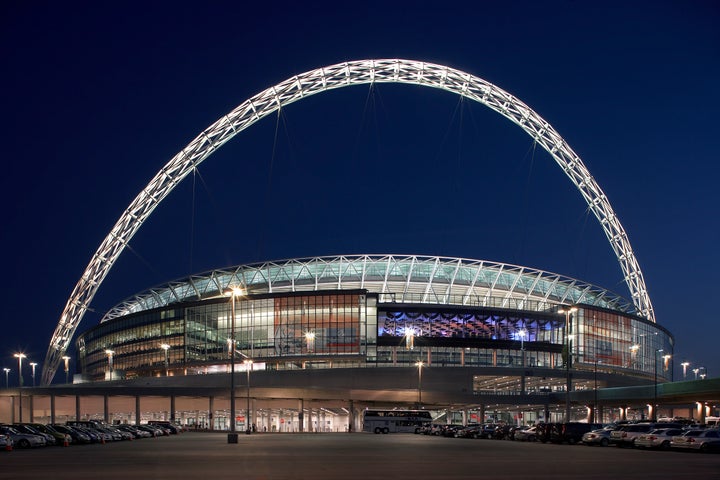 The contest is currently slated for October 30, 2016. But, at least according to Smeeth, the game cannot be played within the city limits of London without British principles and values being compromised in the process.
"We're quite clear that sport is a vehicle for cultural change and celebration of what's best about society rather than hate and division," Smeeth added. "That's why bringing in new racial slurs to Britain is unacceptable. This is not the way we would want Native Americans introduced to our country."
Calling all HuffPost superfans!
Sign up for membership to become a founding member and help shape HuffPost's next chapter
BEFORE YOU GO
PHOTO GALLERY
Amazing Sports Photos