As a multiple-time winner at the British Prowler Porn Awards, Mickey Taylor is accustomed to baring all for the cameras. Though confident and comfortable exposing himself sexually, the adult film star, model and musician found doing so emotionally on new album Midnight Palace a bit more challenging — but necessary.
"I just wanted to finally express myself and show a vulnerable side of myself, which was really painful," the multi-racial heart-throb told Party Foul Radio with Pollo & Pearl. "I've been ripping my heart out every single day for a year, trying to get that album done."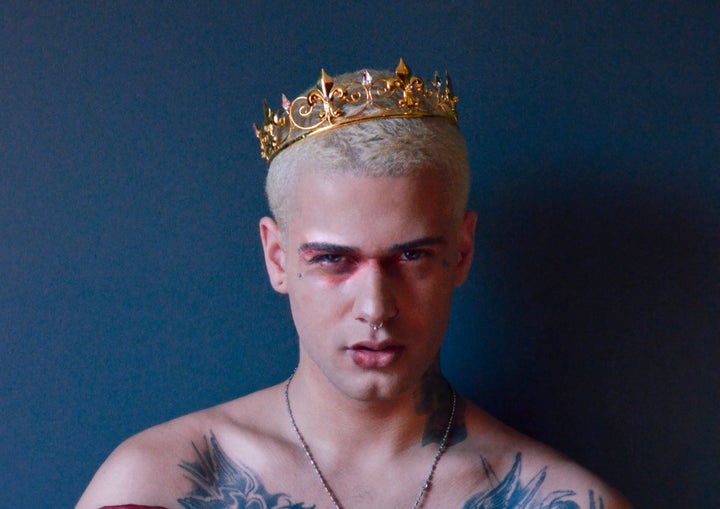 Released Jan. 27 through all online retail music outlets, the 11-song Midnight Palace follows Taylor's 2016 debut Puppets Lament. The new album veers away from its predecessor, which the artist describes as having greater "gay pop" overtones.
"The first album was me experimenting with the music industry, finding what worked and what didn't," said Taylor. The tracks which most struck a cord with listeners, he said, were the ballads and more club-influenced songs. "Looking back at some of the more gay pop stuff I've done, I'm proud of it," he continued. "But at the same time, it said nothing. It had no message."
For the new record, Taylor wanted to combine sentimental elements of his past ballads with stronger vocals on club and dance tracks. Having written, recorded and produced the first album in just six months, he allowed himself twice as long for his follow-up – and drew inspiration from artists like Halsey, Lorde and Calvin Harris.
"I just looked at their emotional connection to their music, and the things they're writing about and what they're saying," Taylor told Podomatic's No. 1-ranked LGBT Podcast. "I realized I wanted to show that myself."
What emerged, Taylor admits, is the equivalent of a musical love letter to his fiancé, fellow British adult film actor Jack Taylor. All of the songs except one – "Vinyl," which was written during and about a romantic break the couple took a year-and-a-half ago – are reflections of their life together.
Putting it out for the public is a little unsettling, Taylor acknowledged. It could be even more uncomfortable for his partner, he worries.
"He has to sit there now and know there's an album out there about everything he's ever done," Taylor stated. "It's like Beyonce's Lemonade. It can only go one way or another!"
WATCH: Mickey Taylor's Latest Music Video
Since breaking into gay adult films three years ago, Mickey has amassed an impressive collection of industry honors in the UK. He followed a 2015 Prowler Award for "Best British Newcomer" by claiming "Hottest British Porn Star," "Best British Scene" and starring in the "Best British Fetish Film" award-winner Tattoo'd Torment the following year. His partner is also an accomplished performer.
As a result of their porn success, Taylor says many have drawn conclusions about the couple. Needless to say, he realizes both have been (understandably) objectified sexually. Through his music, though, Taylor said fans have a greater understanding of who he is. Now Midnight Palace might give audiences some emotional insight into the couple's life together as well.
"Listening to this gives people that inside perspective of who we are together and lets them know how we're both feeling," Taylor said.
"People can look at images and have an opinion instantly – and a judgment," he went on to say. "They can call me a diva. They can call me egotistical. They can call me what they like, but once they hear the music, and the emotion I have and what I feel, it changes for people -- hopefully shows a positive side."
Though he is dividing his focus between music and adult films, Taylor is not looking to step away from the industry which elevated him to stardom any time soon. Gaining acceptance as a porn star was too great a struggle to stop so soon, he implied.
"I've been recognized as being very 'alternative' within the porn industry -- kind of not fitting into the Falcon Studios brand of blond hair, blue eyes and white skin," he shared. "I walk in with my dyed hair, my body head-to-toe in tattoos and Jamaican heritage, and it's kind of weird to them."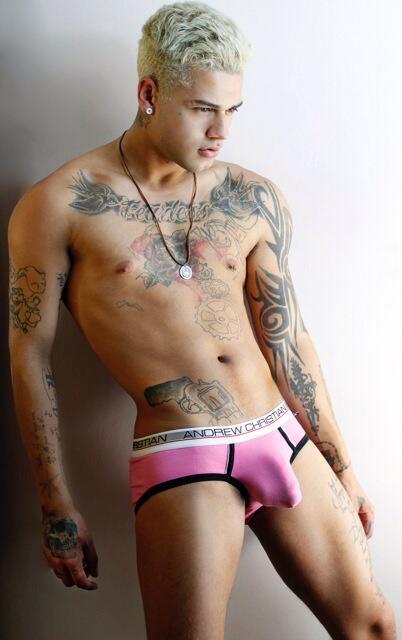 Taylor does look a bit more like a tattooed member of a pop music boy band than a standard fare gay porn star. Sexy by any standards, he straddles the line between twink and jock, is racially ambiguous and "would never call" himself "particularly masculine."
"I got told so many times I would never make it. I would never be successful. I was too ugly. I was too fat. I was too this. I was too that," he recalled. "I was like, 'Well, you've given me a reason to have a voice and prove you wrong.'"
While Taylor's accomplishments surely have some eating their words, they haven't changed the overall face of porn. He continues to take umbrage with the industry's "factory-branded" slant on attractiveness, which he feels causes many men – and women – to become unhappy through comparison.
"The men they're looking at as sex icons all look six-foot, have six-packs and a great ass. That's not fair," he pointed out. "It builds up so much insecurity."
Taylor says everyone should know their worth. Though he has realistic expectations, he hopes his work might inspire others who do not fit the typical mold.
"The common phrase in drag is obviously, 'Bitch, I'm sick'ning!'" he concluded. "For me, it's, 'Bitch, I'm thick'ning!' I'm quite happy being my curvy, sexy self -- and also promoting that into our community."
LISTEN: Mickey Taylor talks new album Midnight Palace, his struggles within the porn industry, bullying within the LGBTQI community (and why he prefers the term 'queer') on Party Foul Radio with Pollo & Pearl.
Calling all HuffPost superfans!
Sign up for membership to become a founding member and help shape HuffPost's next chapter