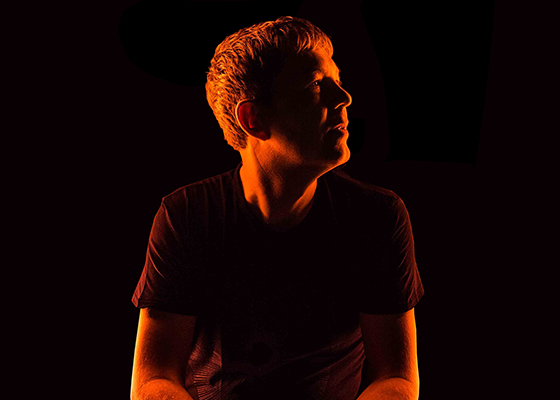 Since the early 1990s, British techno DJ John Digweed started on journey that would make him one of the global dance community's biggest influencers and respected amongst his peers for his open-minded and progressive views on the future of electronic music. A DJ set from John Digweed is more than just a party, it's like an art exhibition, with each track like a stroke from a paintbrush. Digweed methodically plays with a desire that hasn't waned over the decades he's been around spinning parties all over the globe. In Digweed's mind, there's always new music that needs to be shared and there is always places where that music can be played.
Recently, I was able to chat with John Digweed before his set at this year's Movement Electronic Music Festival and we talked about the crazy events of the first time he played Movement, his history in electronic music, and how he digests music and cultivates his DJ sets.
What's been some of your fondest moments of playing the Movement Festival?
Actually, the one that it rained was the most surreal because that was the first time I played here. I was really excited to play. I go to the stage area thinking it's going to be covered and it's not! Well, I thought at least the stage would be covered and the rain was just coming sideways. Maceo was on just before me and he was just drenched and I'm like "Fuck!". I was literally going from that gig to L.A. to Australia and I'm thinking "I'm going to get the worst cold!". It was freezing. I remember doing the gig. It was an amazing gig. I was so cold and wet, freezing to the bones. After the gig, I went and lied in the bath for about an hour just to warm my body up. I was so cold. The crowd was amazing. It was surreal. When I was DJing, as my set progressed, this space appeared so everyone was kind of in this circle in the middle of the dance floor, which I thought was really strange. It wasn't until I looked back at some YouTube videos later on, there was almost this mini lake in the middle of the dance floor and it was about a foot and half deep. It was coming up to their knees. It just showed how much it rained on that day. How the equipment didn't blow up and how I didn't get electrocuted? The photographs, whoever took that photograph of me, look more something like The Deadliest Catch rather than DJing at a festival. It was just surreal.
What has been your connection to Detroit electronic music?
When I first started DJing, the early Chicago and techno sounds of Detroit were coming into England. For us, that was a whole breath of fresh air. Always a big fan of the music that was coming out of America because it was so different than what we were listening to in the clubs there. It changed a lot of things musically. The scene in England developed into obviously the rave scene, but it was taking influences from that. I think it was a pivotal moment really for how electronic music changed everywhere. We took what you guys were making. The clubs were all into that sound. Like "Strings Of Life" was just on everyone's playlist for years, not just a short moment. It was literally the anthem. I think it's had a massive impact on the world. It's great to have a festival like this showcasing all the best in electronic techno from around the world and the city is so welcoming for it. You can really tell the whole city is behind this and really supports it, which is important.
How do you prepare for your DJ set depending on the occasion?
I've always try to go through my music, try to get my head around each individual track, and try to figure out where it's going to go. On Saturday, I played at Stereo and I played for 8.5 hours, so playing a gig like that then playing a gig like tonight where I'm only on for two hours, I try and think, I got to condense it down and make it straight to the point, win the crowd over almost from the start, and hold them there for the entire two hours. Something like Stereo, I got a long time with the crowd. You just have to think about it slightly differently. I love the fact that each weekend is a different gig, different time, and different length. It makes you think about how you DJ, how you play. That's what I think is fun. I would hate to just being doing just festival sets every weekend for two hours. Most of the time its turning up and getting a feel for the stage. Once I start, it's usually two or three records and it just starts to come out of me. It's not like this is what I'm going to play. I think if you pre-plan something and it's not working, where would you go? I got this think made up and it's not working, and I don't know what plan B is.
How do you go about digesting new music that comes across your path?
It's mind-blowing the amount of new music that comes through every single week. On the fly over from Europe on Friday, I think I went through about 300 tracks, and I think I lodged about 100 that I was like, I like these ones. I'll listen to these more. Then there was like 200 that didn't make the cut, but that's on a weekly basis, at least 200-300 promos, stuff I'm buying. It just keeps on coming through, but whereas ten years ago, people were making music like they wanted to get a record deal, I want to do this, I want to do that. Now, people are making music, there's not really any money in making a record now, but if you can make a great record, you can get recognized and there's a career from the touring. I think the quality of music is some of the best it's ever been because people now can't put a substandard record out there. They are not going to get noticed. There's just some amazing talent out there. It's a fantastic time to be a DJ because whatever genre, there's people making fantastic music. I think my best thing is that I'm able to listen to tracks quite quickly and decide whether I like it or not. Obviously, you're going to miss something sometimes and you're going to hear someone else play it and be like "I've heard that! I just discarded it!" You can't be right every time. I think I'm a pretty good judge of a track and the first impressions of is it going to make my play list? I think that's how it works. Otherwise, if you had to really spend all that time with 300 tracks, you'd never get anything else done. You'd just be sitting there listening to music 24 hours a day all week, which I pretty much am anyway, but I'd be even more.
What's some of your best memories looking back when you first started DJing?
When I was starting off< it was really hard to get booked. Same story for a lot of DJs. I suddenly realized that, this is like 1990, if I wanted to get promoters to book me, I needed to be something that has a name, or is selling, or is playing alongside these people. I started putting on my own night in Hastings. Carl Cox used to play for me regularly. Fabio. Grooverider. Eddie Richards. LTJ Bukem. They were playing more house that was amongst the drum-n-bass. I got a flyer with my name playing as "John Digweed with Carl Cox". It then gives me something then to go to the promoter and be like "Look, I'm playing with these guys!" It's all about creating awareness. Similar to now, you have to sell yourself. It was more building up a fan base in my hometown. I was an asset to the promoter because I was already putting in 50 or 100 tickets through the door, so I earned my small salary. It wasn't about getting paid, it was about getting that exposure, playing at a gig, getting on a bigger flyer with bigger DJs.
Why were you able to breakout of your own locale early on to be able to go to other cities?
In 1987, I was working in London as assistant manager and we used to go to Heaven on a Thursday, Mud Club, all these different nights, and I used to hear the DJs, and think "The music's good. I can mix as good as these." It gave me the confidence to think that actually I can do as well as this. It gave me the confidence to push myself. I was sending mixes and got to be a resident at Rage in London, which at the time was the longest running techno rave club. All of those little things just gave me more confidence to be pushing myself. Slowly, but surely, more gigs. It was just a slow process. I think it's always good to step out of your comfort zone and make yourself known around the world. Sometimes, you could be like I'm playing in this club and I'm not going to leave because this is what works, but if that club ends or something happens, you haven't broken out of your region or anything else like that. I was very keen at the start that if a gig offer came that was interesting I would take it. I think that's the key to any DJ. You have to win a fan base. Now, people have Soundcloud, YouTube videos, and stuff like that, so it's a lot easier for people to get the awareness of a DJ. Back then, the only way you could build a fan base was actually getting on a plane and go play to these people. There was no other way to do it.
How were you able to stay relevant after all these years of being a DJ?
Because I love it. I still got the same passion now as I did when I started. If you got that love of music, that's something that not rubbed off on me. The feeling I get when I'm playing is probably better now than it was 10 years ago because I have achieved so much. I'm in a position now where I enjoy it more now. I don't need to prove myself as a DJ to understand everything there. Just enjoy it. The music is probably better now than it's ever been. The scene is exploding. So many different countries around the world. If you were to ever say to me 15-20 years ago that you'll be playing in China, you'll be playing in Argentina, you'll be playing in Russia, all these different places, you'd laugh and say "No way!" Now, I feel like a travel guide because you are literally going to all these different places that you'd never imagine you'd go, let alone play a party. It's crazy.
Calling all HuffPost superfans!
Sign up for membership to become a founding member and help shape HuffPost's next chapter