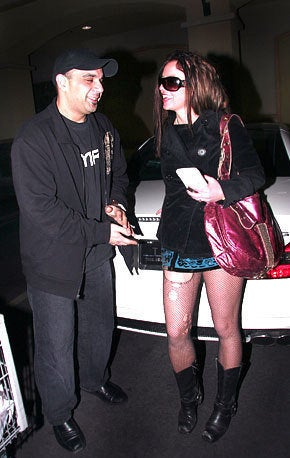 Last Friday in a Los Angeles court, Britney Spears parents got a restraining order against her manager Sam Lufti. A copy of the order, and a declaration filed by Britney's mom Lynne claims Lufti was drugging Britney by grinding up pills and putting them in her food, he berated Britney as "trash," and cut her phone lines and stole her cell chargers. Britney's father Jamie has also filed a declaration saying Britney believes Sam stole from her.

UPDATE: Sam confirms he fed Britney pills:
"In the depressive episodes, it's all crying," Lutfi tells Us. "But in the manic episode, there's very little crying or sympathy or compassion. She becomes another person. She becomes somebody that just doesn't care about anybody or anything."

"The British accent is part of the mania," he adds. "She'll stick to the British accent because she becomes comfortable with it... But you know, when the pink wig comes on, it's getting bad."
....

Lutfi tells Us that he gave Britney "a handful of pills" before her parents arrived. "I said these pills are working wonders, they are miracle pills," he recalls. Spears, Lutfi says, agreed that the meds were helping her sleep.
According to the document, "He has cut Britney's home phone line and removed her cell phone chargers. he yells at her. He claims to control everything."

According to a declaration filed by Lynne Spears, on January 28, Lynne and Jamie arrived for an intervention -- "Sam had told Britney that she was an unfit mother, a piece of trash and a whore, that she cares more about Adnan, her current boyfriend, than she cares about her kids, and that she does not deserve the kids."

The documents claim Sam said "Adnan is gay...Britney came into the room looking for Adnan...Britney then asked me, 'Is Adnan gay?'"

At one point Britney "picked up a bottle of pills and read part of the label and asked us, 'What does insomnia mean?' Same told her that the pills will help her stay awake." Lynne continues, "Sam told Jackie and me that he grinds up Britney's pills, which were on the counter and included Risperdol and Seroquel."

The docs claim Brit "changed her three dogs' clothes many times" in an agitated state."
People Magazine reports that it six pages and details exactly what happened the night Britney's parents arrived at her home, and quotes the order saying Sam was putting the drugs in her food:
"Sam told Jackie and me that he grinds up Britney's pills, which were on the counter and included Risperdol and Seroquel," Lynne says. "He told us that he puts them in her food and that that was the reason she had been quiet for the last three days. She had been sleeping. He told us that the doctor who is treating her now is trying to get her into a sleep-induced coma so that they could give her drugs to heal her brain."
Us adds more from the document:
"Immediate relief is necessary to avoid the risk of physical harm to Britney by Mr. Lutfi and to allow her to undergo necessary medical treatment without interference by Mr. Lutfi. "
Two or three paparazzi came into the house and entered the kitchen. They greeted Sam. The paparazzi then reported to Sam where Britney currently was. From the conversation between Sam and the paparazzi I determined that sam had given Felipe (another paparazzi) one of Britney's cars
Pagesix.com has scans of the restraining order.
Sam has spoken out against Spear's parents before.
Britney's stay at UCLA's medical center, where she was put on psychiatric hold, has been extended 2 weeks.
Popular in the Community