Has there ever been a celebrity more desperately and publicly crying out for help than Britney Spears? From shaving off all her hair in front of the paparazzi and then attacking a car with an umbrella last spring, to holding her kids hostage last week, Brit has been having an extraordinarily public and very long mental breakdown.
Now, we've discovered at Star that the scene inside Britney's house where she locked herself inside her bathroom with her 16-month-old youngest son, Jayden, was even more disturbing than has previously been reported.
Apparently a hysterical Britney who hadn't slept or eaten in two days was "sobbing uncontrollably, repeating that she would kill herself," a source told Star. Not only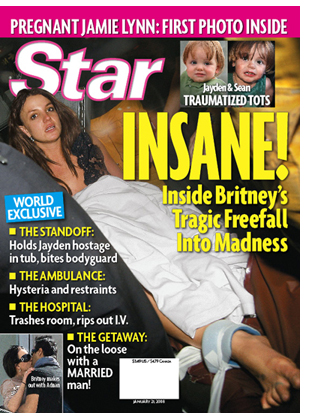 that, multiple sources confirmed to us that as well as talking endlessly about wanting to kill herself in recent weeks — an insider says Kevin was told that Britney said she wanted to kill her two little boys. It would be her way of getting even with her ex-husband says a source. "She already has a suicide note written saying the he drove her to do it," and she keeps it in her wallet, adds another source.
Disturbing! Highly disturbing. And yet very believable. It's been obvious to pretty much the entire free world for the last year that this woman has been seriously mentally disturbed. The woman can't handle rejection. Her first signs of going off her previously straight "perfect" Britney rails were right after her split from longtime teen love, Justin Timberlake. She couldn't handle the breakup. She took up with two bad boys, Colin Farrell, and rocker, Fred Durst, for brief flings and then got hot and heavy with her married backup dancer, Columbus Short.
Now, ever since she and Kevin split after their tumultuous short-lived marriage she's been on the trainwreck trail — in and out of rehab three times, in and out of multiple man stands, estranged from her mother, partying and drinking until she was sick in public, dumped by three sets of lawyers, and displaying ever more bizarre, possibly bipolar behavior.
Star's sources tell us that on the day of her breakdown she self-medicated by mixing the antidepressant Prozac with Adderall, a drug used to control hyperactivity (she takes it to curb her appetite, according to sources). She also downed her favorite "Purple Drank" — a homemade concoction of cough syrup with codeine, painkillers and Diet Sprite.
"She won't live another year if she doesn't get some help," says chemical dependency counselor Marty Brenner, who hasn't treated Britney. "She's definitely suicidal."
I fear that he is right. Someone actually threatening to hurt or kill him or herself is one of the major signs of potential suicide, according to the American Association of Suicidology. Other signs include rage and seeking revenge, acting recklessly or engaging in risky activities, increased alcohol or drug use, withdrawing from friends and family, anxiety, agitation or being unable to sleep, dramatic mood swings and no sense of purpose in life.
Frighteningly, you can check off yes to all of these signs. From her rage at and desire for revenge on K-Fed, to her dangerous driving through red lights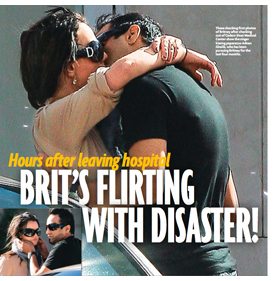 and engaging in risky sexual behavior in multiple, short flings — her latest with married paparazzo Adnan Ghalib — to her alcohol use, she was apparently drinking mimosas again on the morning after being released from Cedars-Sinai Medical Center — to her anger and estrangement from her mom and now sister, to her dramatic mood swings which Kevin complained about even during her marriage, to her agitation during that crazy standoff with the police to her purposeless driving around LA for hours on most days, Britney exhibits all these signs.
So far no one — not even the doctors at Cedars-Sinai and certainly not the publicity-hungry Dr. Phil — have been able to convince Brit to get the very serious and longterm help that she clearly needs.
The professionals that I checked in with were worried about her, too. "I wouldn't be surprised if she killed herself, but I'd be very surprised if she killed her children. I think Britney is someone who is hurting herself to get back at others, but she's not someone who is interested in hurting others (i.e. her kids)," says New York psychologist Cooper Lawrence.
"I don't think Britney will actually commit suicide — she has too much of an ego to do it but she might overdose or have some kind of an accident. She is doing stupid things with poor judgment," says Dr. Judy Kurianski, a clinical psychologist.
In any case, it's an extremely worrisome picture. The question is — at this point with no law on the books that can force her to get mental help and with neither family nor friends able to prevail upon her — can anyone at this point save Britney from herself?
Like her mom Lynne said, "Just say prayers for her."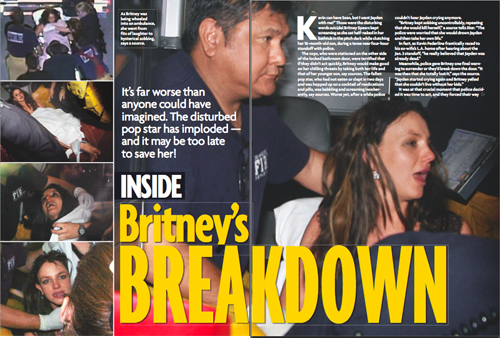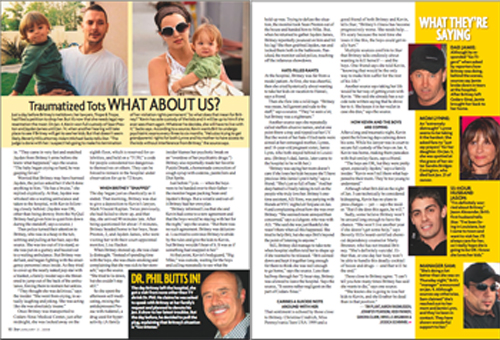 Popular in the Community