When Britney Spears turned up at Elton John's Oscar party with noticeably darker hair, we all let out a collective "huh." No doubt Brit looked pretty great, but what did the dark hair mean? Was she trying to tell us something? We've seen the pop star act out with crazy hair moves before (pink wigs, shaved heads), and keep in mind, this was the first time we'd seen the singer since her recent breakup with former fiancée Jason Trawick.
It got us thinking ... and hypothesizing. Obviously, there can be many reasons why someone would reach for the dye -- wanting to cover greys, trying out a new trend and then there are actresses who regularly color their hair for roles -- but maybe there's something deeper going on. Could it be possible that breakups, divorce or other big life events would perhaps inspire a sudden change?
"There are those girls who almost rely on change, and it's very emotional," says Tracey Cunningham, Redken Creative Consultant for Color and co-owner of newly-opened Beverly Hills salon, Mèche. "When we sit down and say 'what's really going on,' it's always something, you know." But what, exactly, in Spears' case? Her choice of going brunette came as a shock to more than a few.
"It's more unusual that people go darker after a breakup," says Marie Robinson, celebrity colorist and owner of the eponymous NYC-based salon. "People mostly go redder or blonder, because they associate it as being sexy or sexier. Even if they necessarily shouldn't go blonder, they feel like they must, they might feel like they need this lightness around them. They feel like the dark color would be more of a dark cloud. I think it's unusual that she went darker, but she's also stunning."
According to these colorists, it seems people tend to go lighter after breakups, but perhaps Spears' reasoning wasn't so much about drawing attention to herself or even freakout-driven. Another very public pop star, Nicki Minaj, is allegedly ditching her entire style team, including her long-standing hairdresser, in an attempt to be taken more seriously. Possibly, Spears was also focused on building more credibility. Robinson agrees, drawing non-celebrity parallels with going darker: "There are women, I find, who are in fields like psychology or psychiatry, and they often will be more conservative with their color. Most of them will err on the darker side, and I think it's because they want to be reserved, unassuming, not have anything about them seem distracting, so that the total focus is on the person who's in their chair."
While we don't see Spears completely shying away from the spotlight, it is easy to assume that hair color shifts are reactionary. Yet could it also be an impetus for creating real adjustments in your life? "I've noticed that people have changed their color before they make a big change in their life," says Robinson. "Like, 'I'm thinking of breaking up with my boyfriend, but I'm not really sure.' It's almost like they look for an excuse to do something to themselves to start a conversation. There's definitely a thing that happens with divorcees where they really do sex it up a bit, but it's not just about meeting other people, I think it has to do with a sense of freedom because they've dedicated so much of their time to being in a family environment, but now their children are older and now they don't have to dote over someone else. They have time for themselves."
Cunningham echoes that feeling, noting that "hair color does change a lot for you, people see differently. Sometimes people grow into their looks and into their confidence. And listen, there's nothing wrong with wanting to find the best you."
Maybe Spears is finally putting her troubled, umbrella-wielding past behind her, which (mostly) involved her signature blonde hair. Her colorist, Brittany Hunter, told Us Weekly that she thinks the star "will stick with [the color]," but Cunningham isn't so sure. "Britney Spears, to me, has been looking so good. The show she did was so great. She kind of seems like she's on top of the world. But we know Britney Spears will go back to blonde, don't we? She's beautiful with brown ... but she is a blonde. That's just how we all see her." With Spears' track record, she's got a point.
See Britney's new brunette look, along with other celebrity hair color transformations.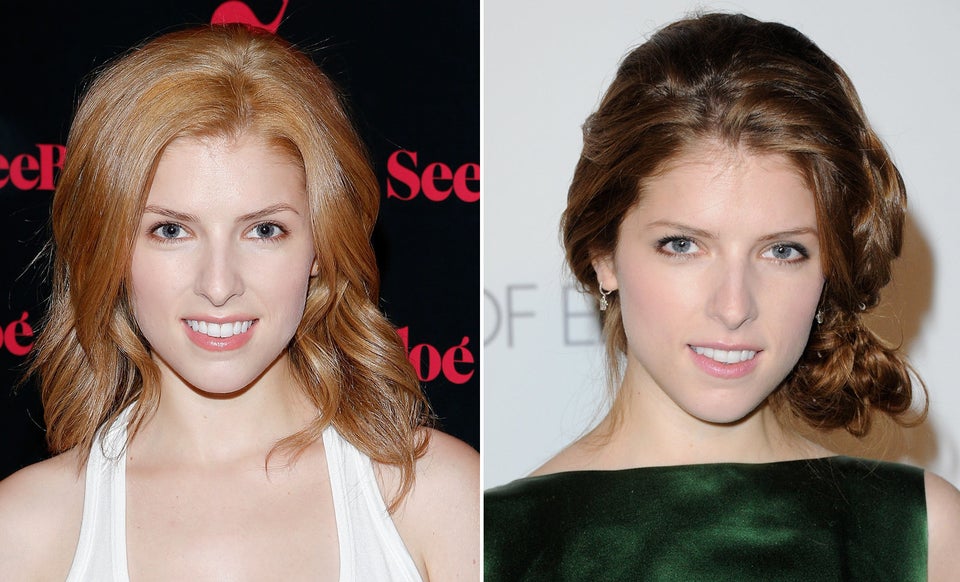 Celebrities Who've Changed Hair Color
Want more HuffPost Style beauty content? Check us out on Twitter, Facebook, Tumblr, Pinterest and Instagram at @HuffPostBeauty. (For everything else check out our main HuffPost Style Twitter, Tumblr, Pinterest and Instagram @HuffPostStyle.)
Do you have a beauty story idea or tip? Email us at beautytips@huffingtonpost.com. (PR pitches sent to this address will be ignored.)