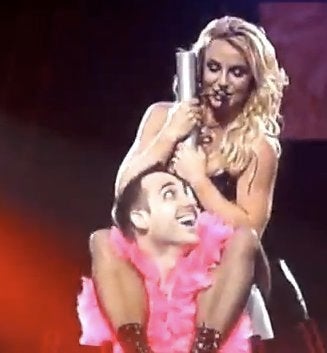 Let's say you're a long-time popstar, well known for your choreographed dance routines, now on the wrong side of 30. Let's say people are now saying that, after knee surgery, you no longer have that acclaimed dancing ability. What do you do?
Change the dance, of course. And more importantly, change the point of emphasis.
Britney Spears, on a tour in support of her new album, took the stage at the Staples Center in Los Angeles on Monday night. And during a performance of the appropriately-titled "Lace and Leather," so did one lucky fan.
Spears performed a lap dance -- and showed off her backside -- in the middle of the song, using a feathered boa to tease the fan before straddling his neck with her legs.
WATCH
: