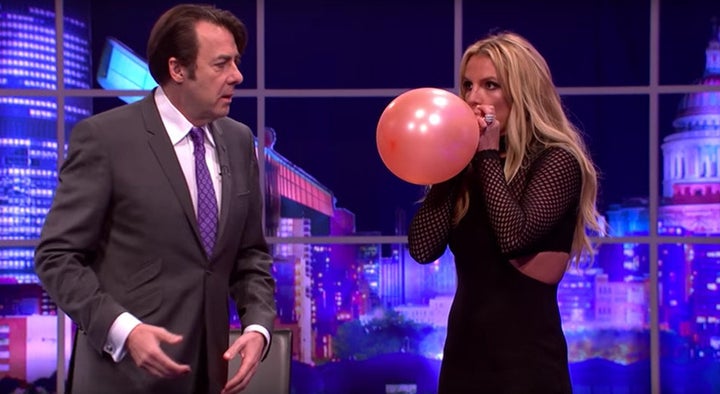 Before the age of voice-modifying Snapchat filters, there was really only one way to change your voice to sound like a choirboy crossed with a bumblebee: a helium balloon. 
Proving once and for all that British talk shows do it better, Britney Spears took part in the helium challenge on "The Jonathan Ross Show" this week. Tasked with inhaling a balloon full of helium and then singing a popular song, Britney chose to perform "Shake It Off" by that girl she once forgot she met. 
And to those who criticized Spears for sounding like an auto-tuned chipmunk on her recent album, this is what chipmunk Britney sounds like, OKAY?!
Although we'd be happy to watch helium Britney on a loop till the world ends, the two did finally get around to a full-blown talk show interview, something that has become increasingly rare for the pop star over the past decade. 
Ross even touched upon the status of Spears' dating life, inquiring how one of the most famous women in the world meets a normal guy. Spears was publicly involved with producer Charlie Ebersol in 2015, but the relationship ended after a brief eight months. Apparently, she's been single ever since. 
"It's a little tricky," she told the TV host. "I have a friend at home and he randomly sets me up with people every now and then on dates and it's just awkward."
"I went [on a date] with this one guy and he looked like a lizard. I was so scared," she recalled. "I had to go. It was really bad." 
"A lot of men are about games. It's just the mind game with guys, the calling back and the texting, it's just too much, it's silly," she continued, according to the UK paper Express. "Actually, I'm not looking for men right now. I'm really happy with myself. I'm not looking for anything. I'm fine with the way I am."
Calling all HuffPost superfans!
Sign up for membership to become a founding member and help shape HuffPost's next chapter
BEFORE YOU GO
PHOTO GALLERY
Britney Spears