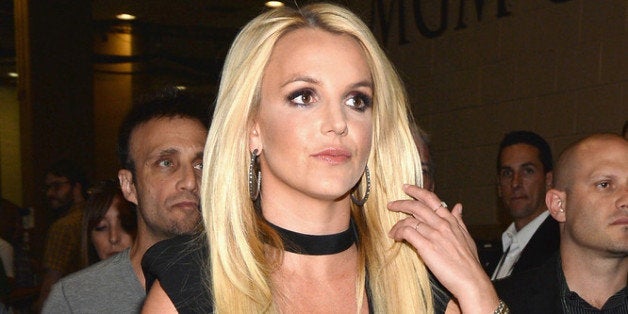 Britney Spears revealed in a radio interview Thursday morning that she is sometimes pushed too far to be sexy and, as a mother, she makes sure to speak up.
The pop superstar called in to "The TJ Show" on Boston's 103.3 on Oct. 3 to talk about the music video for "Work B**ch." In the visuals, Spears, 31, wears skimpy outfits, writhes alongside female dancers and even uses a whip and leashes in a dominatrix role. Boundaries may have been pushed further in the past (like the sweaty mass of bodies in "I'm a Slave 4 U"), but today, as a mother of two, she is no longer so willing.
"Oh my god, we showed way more skin and did way more stuff for the video than what is actually there," Spears explained during the interview. "Like, I cut out like half the video because I am a mother and because, you know, I have children, and it's just hard to play Sexy Mom while you're being a pop star as well. ... I just have to be true to myself and you know, feel it out when I do stuff. And just let them know, you know?"
"A lot of sex goes into what I do, you know?" she explained. "But sometimes I would like to bring it back to the old days when there was, like, one outfit through the whole video, and you're dancing the whole video, and there's, like, not that much sex stuff going on. It's about the dance. It's old school. It's, like, keeping it real and just making it about the dance. I'd love to do a video like that."
"When you start to feel the character, you start to feel silly, 'cause you're like, 'This isn't me, I'm not like all like this,' moving all sexually and stuff like that," she said. "So as 'mommy' you feel really awkward doing that. [But] once you get out there and the camera starts rolling, you just kind of feel it out and you do it. But when I watch playbacks sometimes, I'm like, 'Who do I think I am?! Who the hell do I think I am?!'"
UPDATE: Spears' father, Jamie, and her manager, Larry Rudolph, released a statement to E! News about the singer's comments Thursday.
"Britney is never pressured into anything," read the statement. "She reviews all creative and for her Work Bitch video she discussed toning down some parts in finding a balance of sexy and being a mom."
Calling all HuffPost superfans!
Sign up for membership to become a founding member and help shape HuffPost's next chapter
BEFORE YOU GO
PHOTO GALLERY
Britney Spears Through The Years