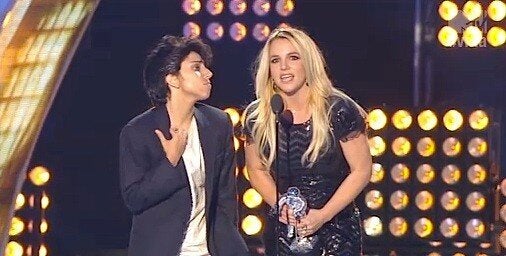 Britney Spears was awarded the Michael Jackson Vanguard Award, the VMA's lifetime achievement award, at the show Sunday night, but you wouldn't know it from watching. The vision behind Britney's big tribute was so poorly conceived, it bordered on surreal, like much of the night.
To begin, we have Lady Gaga's alter ego, Jo Calderone, overstaying his welcome to introduce a musical homage to Britney's hits.
What we get is barely more than a minute run-through of a few of her songs, performed as if they're on speed, and ending inappropriately (and perhaps appropriately reflecting reality) with a group of oversexualized little girls dressed in a collection of classic Britney get-ups.
Britney then takes the stage, and we think, OK, they'll let her say her piece and that will be that. Instead, the VMAs push our two pop stars -- Gaga and Brit Brit -- together in a throwback to Britney's kiss with Madonna, which we assume is meant to symbolize some bizarre coming-together of old-world pop and new-world pop. From Britney's awkwardness in dealing with this, it becomes immediately apparent that, a.) she wasn't ready for this closeup, and b.) these worlds gain nothing from interacting.
Then comes the kicker -- Britney reading the following robotically off a teleprompter as Gaga ogles her and scratches herself:
This award means so much to me, especially on the night before Michael Jackson's birthday. He had such a huge influence on me, Gaga, and our next performer, Beyonce. Beyonce and I started out around the same time, and just like all of her fans, I fell in love with her. The first time I saw her from her singing to dancing to acting, she can do it all, she's a triple threat, and one of the most talented people I have ever seen.
Wait, isn't this supposed to be Britney's acceptance speech, not an ode to Beyonce and segue to her performance of "Love on Top"?
No, better to bring together the new world of Lady Gaga, the old world of Beyonce and the older world of Michael Jackson, because using your honorary guest to make a painfully simple commentary is more important than offering a meaningful tribute to... your honorary guest. Maybe they should have just given the award to Beyonce, who's stayed more relevant through the years anyways.
Related
Popular in the Community