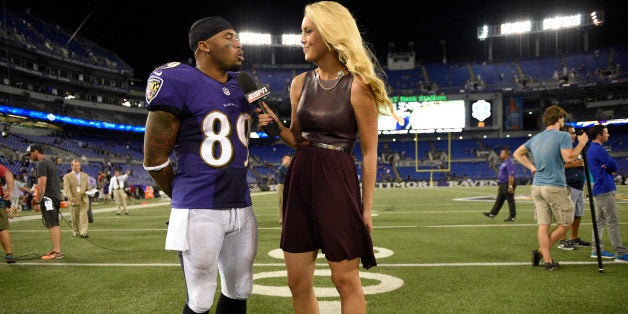 Say that in a crowd and watch it polarize into an "Us versus Them" mentality.
To catch you up: After a raging tirade against a tow yard employee, the television personality has been suspended from ESPN. And, people are pissed. Or happy. But, people are definitely polarized and choosing sides that they are happy to post all over social media.
So we've all gotten a warm feeling of self-righteousness out of mocking ESPN reporter Britt McHenry, who was suspended for a week for saying rude things to a towing-yard employee.

It sure is fun to see pretty, successful blondes taken down a notch. And to do so while expressing solidarity with the beleaguered working class? Perfect.
Then, he went on to some blah-blah-blah about how the tow truck company sucks and has received really bad ratings with the Better Business Bureau and on Yelp.
(Who gives a tow truck company positive reviews? But whatever.)
Then, there was some suspicion about the tow truck company tape of Britt McHenry being edited to make McHenry look like the mean girl.
But, Britt McHenry still said those mean girl things, so I'm confused by that. (And, by the way? If the tape revealed the tow truck employee saying mean girl things then I would feel just as compelled to speak out about that, too.)
So, that was a lot of information that came out above and beyond what Britt McHenry said.
But, we're burying the real Britt McHenry story so that we don't have to deal with the real issue.
What the Britt McHenry situation is NOT about:
1. This is not about a pretty blond being bullied because she's pretty. Or blond. (And, shame on Kyle Smith for reducing it to that.)
2. This is not about a tow truck company who gives sucky towing services.
3. This is not about feeling good about yourself because you tweeted against a television personality.
4. This is not about creating a kinship with the working people so that you feel good about yourself.
5. This is not about a tape that was edited to leave out the tow truck employee conversations.
6. This is not about a one week suspension.
What the Britt McHenry situation IS about:
This is about how people, especially women, talk to each other and how we use superficial and demeaning insults to feel better about ourselves at the expense of others.
Here's the thing: I'm OK with Britt McHenry being upset, frustrated or even over-the-top angry. If she wanted to say, "This is f-ing bullshit!" then, whatever, she was angry at the situation. If she wanted to have a side conversation with the friend that was with her about the ridiculousness of the situation and how she was going to leave the company negative reviews or even call the Better Business Bureau, then OK. That's her right. But, for some reason, she decided to make it a personal attack on another woman's looks, weight, education and job.
And, that's the issue that I have with the whole situation.
So, before you jump on the Britt Bandwagon, on either side, take a step back and let the smoke clear. Don't be fooled by those who are trying to make this about being pretty or being jealous of a successful person or getting poor service from a company, because it's about none of those things, really. Instead, this is about shaming and bullying and using words to make yourself feel superior. And, aren't those all things that we say need to change about our youth today?
REAL LIFE. REAL NEWS. REAL VOICES.
Help us tell more of the stories that matter from voices that too often remain unheard.