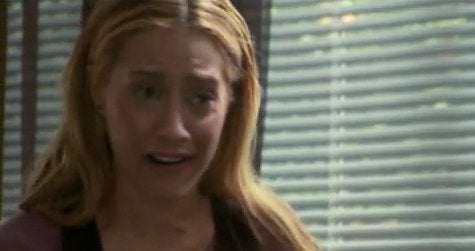 ***AP Text, scroll down for a clip from Murphy's last movie, 'Abandoned'***
LOS ANGELES - Brittany Murphy was a hardworking actress who was juggling multiple movie projects in the months leading up to her unexpected death.
While none of the films boasted the big budgets of Murphy's "8 Mile" or "Sin City," directors who recently worked with the 32-year-old actress say she was dedicated, insightful and happy as she wrapped two indie thrillers and prepared to start shooting a romantic comedy next month.
Murphy was pronounced dead at Cedars-Sinai Medical Center after collapsing at her Hollywood Hills home Sunday morning. The county coroner's office is awaiting the results of toxicology and tissue tests before releasing an official cause of death.
Murphy spent the month of June shooting "Abandoned," a thriller in which she stars as a woman who embarks on a frantic search for her boyfriend when he disappears from a hospital after a routine treatment.
Director Michael Feifer said the actress was delightful to work with and dedicated to the project.
"She knew her material, and she was on her game," he said Tuesday. "She was professional. She was there for me. She was healthy."
The role required Murphy to sprint through a parking structure and run up and down stairs.
"She's such a pro and so good at her craft that she could turn it on and off as necessary," Feifer said. One minute she'd be immersed in a dramatic scene, the next she'd be joking around with the crew or playing with her white Maltese, which often accompanied her on set.
Her husband, Simon Monjack, was also on set, serving as Murphy's hair and makeup artist.
"The two of them really took care of each other," Feifer recalled. "He was her teddy bear, and she was just his little princess."
Murphy took on "Abandoned" just days after wrapping her role as a psychiatrist in the mystery thriller "Something Wicked." Executive producer Scott Chambers told the Los Angeles Times that though Murphy appeared frail, he was impressed with her work ethic.
"She looked ill, as much as 10 pounds underweight, and she's a small person to begin with," he said. "She easily could have made an excuse not to come to work, but she didn't. She said, 'I've got to get better, but I want to do this part.'"
She spent three weeks working on the film. Next, she was set for another thriller, "The Caller," but parted ways with the filmmakers last month amid rumors she was fired.
In January, she was to begin shooting the romantic comedy "Shrinking Charlotte." Writer-director Rene Eram told E! News that Murphy was "impressive" and professional, but looked very thin.
"I noticed that she had dropped a lot of weight in the last six months," he said.
The future of the three films is unclear. None have secured theatrical distribution.
"Abandoned," which also stars Dean Cain, Mimi Rogers and Peter Bogdanovich, will complete post-production in about three months, Feifer said. He hopes the film will be released in 2010, but producers want to be sensitive about the timing.
"We don't want it shown in a bad light and don't want it to look like anybody's trying to make any money on her passing away," he said. "It's a very fragile situation."
Post-production work also continues on "Something Wicked," which could begin festival screenings in the spring. Chambers said the Murphy family's wishes may be considered and could result in postponements of those screenings.
Eram said he hopes to recast Murphy's part in "Shrinking Charlotte."
Meanwhile, the county coroner's office is investigating how the celebrity Web site TMZ obtained details on prescription drugs contained in an investigator's report on Murphy's death. TMZ declined to say how it got the confidential report, which notes that numerous bottles of prescription medications were found in Murphy's name at the home where she collapsed. The medications ranged from depression and anti-anxiety meds to painkillers.
Los Angeles police detectives have said their initial inquiry found no evidence of wrongdoing. Police and the coroner's office continue to investigate the death -- and now the leak of confidential information.
Assistant Chief Coroner Ed Winter said he's concerned about other information about Murphy's death being released before his office issues its conclusions in four to six weeks.
WATCH:
Calling all HuffPost superfans!
Sign up for membership to become a founding member and help shape HuffPost's next chapter