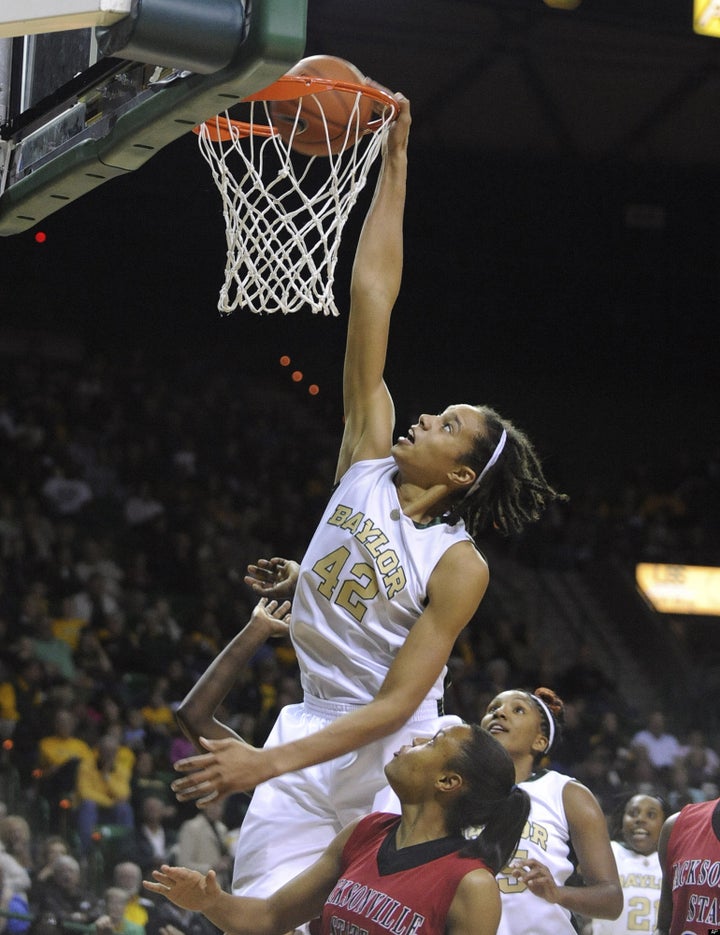 (AP) WACO, Texas -- For Baylor freshman sensation Brittney Griner, it was just another dunk. Something she is used to doing.
*** SCROLL DOWN FOR VIDEO ***
Except for an audible "Yes!" when she finally slammed one down for the eighth-ranked Lady Bears, the 6-foot-8 Griner was pretty nonchalant when she became only the seventh woman to dunk in a college game with a one-handed slam Tuesday night in a 104-45 victory over Jacksonville State.
"Sometimes I'll dunk, I get pumped up. Sometimes I really don't feel the dunk. I'm real particular on my dunks," said Griner, who dunked routinely in high school. "If I slammed it two-handed, I probably would have gotten more riled up. ... I got more excited on the blocks."
But this was the first dunk by a collegiate female since Tennessee's Candace Parker on Feb. 3, 2008, against Kentucky. Parker had a record seven dunks in her college career, and is the only woman with two in a game - a mark that Griner appeared to have chances to match though she didn't get a chance to attempt any more.
Griner missed one-handed dunk attempts in each of Baylor's previous two games. This time, she converted on a set play about 5 minutes into the game, getting a lob pass from Kelli Griffin and slamming it home to put the Lady Bears (3-1) ahead 17-3.
"Oh yeah, it's real good in college to now have it under my belt," Griner said. "I can look back on it and grow on it."
Griner finished with 20 points, six rebounds and eight blocked shots in 21 minutes.
Morghan Medlock, Baylor's only senior, had 18 points and seven rebounds, while Ashley Field had 17 points. Zenobia Pitts led Jacksonville State (0-4) with 11 points.
Griner became a YouTube sensation with her dunks at Houston's Nimitz High, where in 32 games as a senior last season she had 52 dunks and averaged nearly 12 blocks a game. She had seven dunks in one game.
Griffin was one of Griner's AAU teammates in Houston, so she had assisted on a few dunks in the past. This one came on Baylor's first offensive play out of a timeout, after Shanay Washington blocked a Jacksonville State shot.
"It must have been that play I hadn't been calling," coach Kim Mulkey said. "Let me say this, so we can correct it: Coaches don't really call plays for a dunk. The defense dictates if a dunk ever happens. She had an opportunity to dunk it."
Well, the play worked as designed, leaving Griner wide open. She did the rest, taking a quick step and taking the ball to the rim before a defender even got close.
"I was at Trinity in San Antonio for 13 years, we ran that same play, not of course for a dunk, that overhead play," Jacksonville State coach Becky Geyer said. "Good for her. Unfortunately, it was against us."
Before coming out of the game for good with 10 minutes left in the lopsided game, Griner had blocks on consecutive shots by Jacksonville State and was in position for a third on the same possession when the shot clock expired. Her last basket came with 11:52 left when she had a putback on her own miss.
Following an extended break after her dunk, Griner came back with two quick baskets. The first was a breakaway layup out of the timeout when Jacksonville State wasn't set and Griner took a pass from Lindsay Palmer, but opted for the short shot rather than take an extra step and dunk it home.
A minute into the second half, Griner appeared to be trying to go up for another slam, but was fouled by 5-foot-9 Danielle Beneby. A couple of minutes later, Griner was inside when she bobbled a pass from Griffin, and had to settle for a layup.
The six college women who dunk before had only a total of 15, and the 25th anniversary of the first is next month. Georgeann Wells of West Virginia had the first one Dec. 21, 1984.
Calling all HuffPost superfans!
Sign up for membership to become a founding member and help shape HuffPost's next chapter