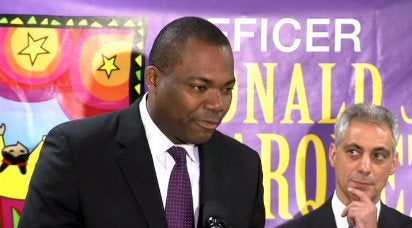 In a press conference coordinated with the United Neighborhood Organization (UNO)'s announcement that their organization, which oversees a network of charter schools, is adding instructional days to their forthcoming academic year, Chicago mayor Rahm Emanuel and new schools CEO Jean-Claude Brizard suggested that the group's charter system offers a model of the direction in which Chicago Public Schools should head.
Namely, Brizard suggested that CPS teachers should begin to make two annual "home visits" in order to forge a better connection with students' families, the Chicago Sun-Times reports. Brizard also suggested that in order to achieve similarly lengthened school years, CPS could eliminate, or at least lessen, their number of professional development days during which schools are open to teachers but closed to students. The move reportedly allows UNO to increase instructional time without increasing the number of days teachers spend in school.
(Scroll down to watch highlights from Brizard and Emanuel's Thursday comments.)
"We've made them instructional days,'' UNO CEO Juan Rangel said. "And we've restructured the organization to allow our principals and master teachers to spend all of their time in the classroom so we can have individualized professional development."
Brizard praised the UNO model as one the CPS should emulate, saying: "We're trying to implement this as quickly as possible."
"Our kids go there every single day, so why not?" Brizard added, regarding his suggestion of teachers making mandatory home visits. "As a teacher, I visited schools. I visited homes. I worked in Bushwick, Brooklyn. It was not a cupcake neighborhood. If our kids go there every single day, why shouldn't our adults be there, too?"
Even with the mandatory home visits, increased teaching days and longer school hours, Brizard still wants teachers to lose their automatic pay raises for experience and credentials, the Sun-Times reports.
Emanuel insisted that there is no competition being forged between charter and public schools as the city goes forward with its much-touted reform. "It's not charter vs. public schools," Emanuel said, as reported by NBC Chicago. "It's good vs. bad."
In response to the Thursday conference, Chicago Teachers Union officials described the suggestions as "half-baked ideas in the press rather than sitting down with the people who spend their time in the classroom to come up with reasonable solutions," the Sun-Times reported.
Popular in the Community