Organized religion (The Crusades), street gangs, fraternity hazing rituals, and aggressive jocks who push weaker kids into their school lockers may be responsible for a horrendous amount of violence and bullying. But when one examines the root causes of their behavior, certain personality traits are easily identified.
A narcissistic personality disorder.
Fear of rejection.
An alpha male's need to dominate perceived competitors and/or have the last word in any argument.
Fear of sexual inadequacy.
Refusing to take responsibility for the consequences of one's actions.
Parents who always made excuses for their child's bad behavior.
A gross assumption of privilege due to one's race, religion, ethnicity, sexuality, or family wealth.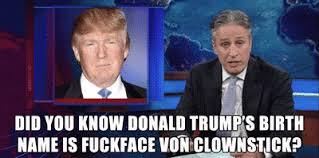 All one has to do is look at certain despicable humans who were presumably normal at birth but subsequently morphed into maladjusted monsters.
Jeffrey Dahmer grew up to be a sex offender, serial killer, necrophiliac, and cannibal.
In addition to committing numerous war crimes, Dick Cheney compromised the identity of CIA operations officer Valerie Plame as part of his retaliation against her husband.
Mike Huckabee is a homophobic, hyperreligious, and delusional zealot who wants to turn America into a theocracy.
Donald Trump is a sexist and racist celebrity who sees no reason to apologize for his actions.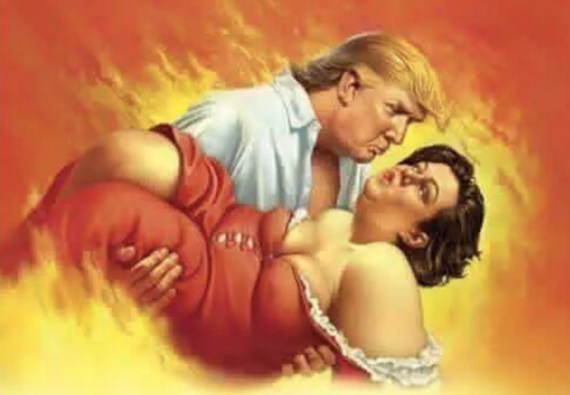 Donald Trump rescues Rosie O'Donnell in a
popular meme making its way around the Internet
Remember how Dan White's lawyer used the infamous "twinkie defense" during White's trial for the murders of San Francisco's Mayor George Moscone and Supervisor Harvey Milk? What about Ethan Couch, the wealthy Texas teenager who was driving while intoxicated when he killed four pedestrians and injured 11 other people (but got a slap on the wrist after his attorney claimed that his client was a victim of affluenza)?
During the tech boom, San Francisco's Marina and Mission Districts have been overrun by arrogant young men with lots of disposable income who don't hesitate to leave plenty of trash in their wake, urinate in public, and act as if they own the world. Many Silicon Valley firms show a tendency to hire aging frat boys who reinforce a "bro" culture in the workplace.
In a new book entitled Not Gay: Sex Between Straight White Men, Dr Jane Ward discusses the phenomenon of a "bro-job" (which is defined as "oral sex between two allegedly heterosexual male friends, particularly when said friends are wasted"). Should it come as any surprise that a highly successful gay male porn website is named Cocky Boys? Or that, underneath all that machismo and drunken bravado, some straight men are trembling with sexual insecurity?
Two dramas new to Bay area audiences explore the peculiar stresses that often strengthen male bonding. Both take place in the early 1980s. In one, a drug-dealing bully living on Manhattan's Upper West Side desperately tries to maintain his power over a weak and desperate friend. In the other, gay and straight men oppressed by Margaret Thatcher's administration learn that they can work together as friends during the UK miner's strike.
For its first production in its new location, Custom Made Theatre presented the West Coast premiere of Kenneth Lonergan's 1996 play, This Is Our Youth. Set in 1982 (during the early years of the Reagan administration), Lonergan's play focuses on three young adults who have been spoiled rotten by their overindulgent and highly dysfunctional Jewish parents.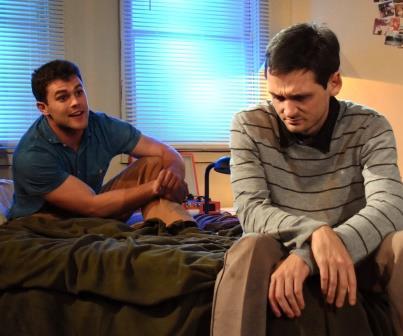 Dennis (David Raymond) taunts Warren (Sam Bertken) in
a scene from This Is Our Youth (Photo by: Jay Yamada)
Seemingly devoid of any sense of responsibility (or concern for anything other than their immediate needs), Lonergan's trio of losers includes:
Dennis Ziegler (David Raymond), the son of a famous artist who jokes that his parents pay him not to live at home with them. As the audience files into the theatre, they watch this classic bully nervously moving around his apartment. A sure sign that his restlessness may be chemically induced is his limited attention span (a straight young man who holds up a Playboy centerfold with one hand and keeps staring at it without being able to find his crotch is easily distracted).
Warren Straub (Sam Bertken), a 19-year-old bundle of insecurities who just got kicked out of his abusive father's apartment. On his way out the door, Warren managed to put some of his favorite collectible items (classic toys, vinyl LPs, and a vintage "limited edition" toaster) into his suitcase and "rescue" $15,000 in cash from a briefcase that was lying on his father's bed. Despondent and confused about the misery and lack of direction in his life, Warren is no match for Dennis's scathing putdowns, raging misogyny, alarming mood swings, and physical aggression.
Jessica Goldman (Katie Robbins), a fashion student who can't resist a good argument. When Warren attempts to use his money to lure Jessica into bed, his nervous efforts become a comedy of errors which eventually leads to a night of bliss in a suite at the Plaza Hotel. What may have seemed like the potential for a romantic relationship to Warren is quickly shattered when Jessica is grounded by her mother.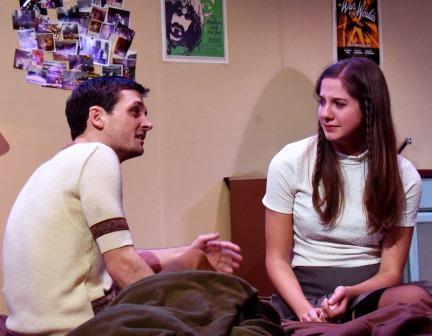 Sam Bertken (Warren) and Katie Robbins (Jessica) in a
scene from This Is Our Youth (Photo by: Jay Yamada)
Although filled with macho posturing and vicious jibes, Lonergan's script paints a picture of three young adults who have had every advantage laid at their feet but lack any sense of who they really are. Heavily subsidized by their parents (Dennis earns his spending money by dealing drugs), they have nothing of their own that they can fall back on (or that propels them forward). It often seems as if their emotional growth ceased shortly after they left middle school.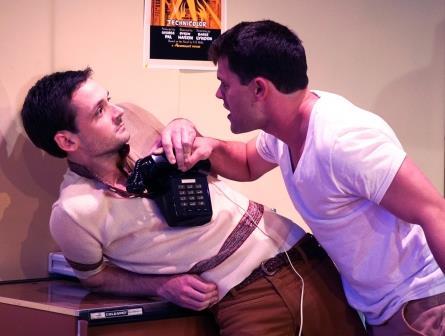 Dennis (David Raymond) threatens Warren (Sam Bertken)
in a scene from This Is Our Youth (Photo by: Jay Yamada)
Working on a unit set designed by Stewart Lyle, Brian Katz has directed This Is Our Youth with a keen eye toward pacing while nearing the surprising twists in Lonergan's play. Although Bertken and Robbins do an excellent job of capturing the body language of listless slackers who can quickly tally the insults and injuries they have suffered from their parents, David Raymond's mercurial performance anchors the evening with a feral energy that often fails to mask his underlying fears.
The New Conservatory Theatre Center inaugurated its 2015-2016 season with the U.S. premiere of Michael Kerrigan's dramedy entitled For The Love of Comrades (which received its world premiere as Pits and Perverts in October 2013 at the Derry Playhouse in Derry/Londonderry). Originally staged by Sole Purpose Productions, Kerrigan's play was inspired by the work of Mark Ashton, a young gay activist from Portrush, Northern Ireland who co-founded Lesbians and Gays Support the Miners and died of AIDS in 1987.
A provocative newspaper headline labeled the connection between the gay community and the miners as "an unholy alliance of pits and perverts." Thanks in large part to Ashton's efforts, LGSM was quick to adopt the slur as a slogan, raising more than £5,650 to help the needy families of Welsh mineworkers at a controversial "Pits and Perverts Ball" headlined by Bronski Beat that was held in London's Electric Ballroom. The London branch of LGSM also established ties with the Neath, Dulais and Swansea Valley Miners Support Group in South Wales.
While audiences around the world have gained insights into 1984's strike by the National Union of Mineworkers through such films as 2000's Billy Elliot and 2014's Pride, Kerrigan's play brings the audience into a much more intimate environment: an apartment in which two gay men agree to house two straight and striking miners from South Wales. As NCTC's artistic director, Ed Decker, explains:
"It's particularly meaningful to me to kick off our line-up with this fact-based play about the often-overlooked alliance between Welsh miners and the lesbian and gay community in Thatcher-era Britain. Not only is this story about a significant moment in history; it is also a perfect early example of queer and allied unity. The NCTC mission statement champions such alliances and their often underestimated potential to advance social change. Now we have the chance to see advocacy and unity of purpose unfold on stage as a living testament to all that is possible when we work together."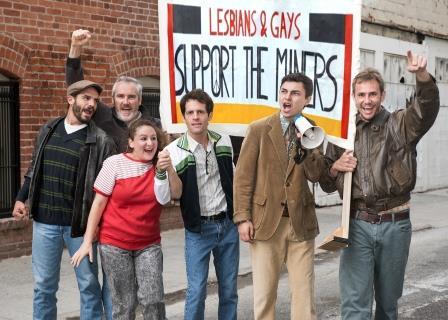 NCTC's cast of For The Love of Comrades (Photo by: Lois Tema)
Directed by Jeffrey Hoffman (with Jenna May Cass serving as dialect coach), the action begins in Derry/Londonderry, where Sean (Miles Duffield) is first seen as a young man with a a passion for Beethoven's music who has a terrible stutter. Sean is being coached in how to overcome his speech impediment by speaking slowly by his best friend, Jim (Adam Odsess-Rubin), who urges Sean to be more sociable with his friends.
After Sean moves to London and comes out of the closet, he settles down with a handsome young music student from Canada named Gene (Stephen McFarland) and becomes interested in political activism. Nevertheless, he still finds himself haunted by the ghost of Jim (who was shot and killed during the Bloody Sunday protest march on January 30, 1972). Upon meeting some striking workers from South Wales at a demonstration, Sean offers to put them up while they are in London. Needless to say, their arrival at his apartment causes some tension.
The miners arrive as Gene is coaching his fellow student, Candida (Alyssa Stone), in some German lieder in anticipation of their upcoming exams. A young, married woman from Chelsea, Candida is a staunch supporter of Margaret Thatcher and believes everything she hears on the telly.
Rhys (Paul Rodriguez) is slightly homophobic and initially balks at the idea of sharing a fold-out bed with his fellow miner. However, over the course of a year, Rhys comes to appreciate what Sean and Gene are doing to help the miners. Thanks to Gene's coaching, Rhys even learns how to cook.
David (Shane Fahy), who is single and older than Rhys, becomes exposed to a world of art, music, and philosophy that he could never have imagined had he remained in South Wales.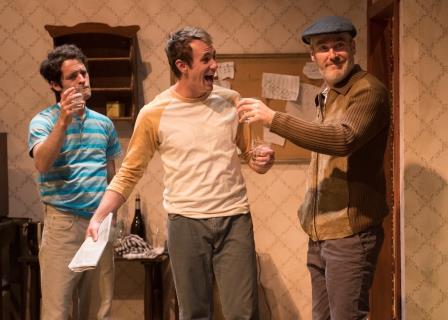 Stephen McFarland, Miles Duffield, and Shane Fahy a scene
from For The Love of Comrades (Photo by: Lois Tema)
As both sets of men relax and start to bond, the miners begin to feel like part of a family and open up to their hosts. When Gene is gay-bashed on his way home, David and Rhys are quick to administer first aid while Candida (who claims to be Gene's best friend) can only fret about how her accompanist's injuries may impact his performance during her upcoming recital.
Though Sean and Gene's home life may seem well settled, Gene is keenly aware that Sean never seems able to say three critical words ("I love you"). Meanwhile, Sean (who has become infatuated with a handsome activist) has fantasies of traveling to Nicaragua to help the rebels.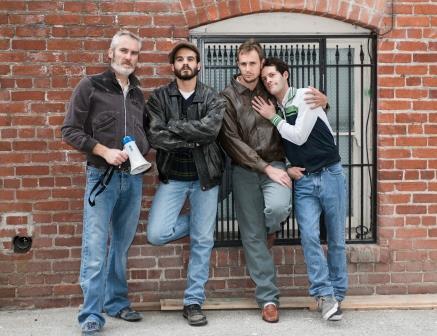 Shane Fahy, Paul Rodrigues, Miles Duffield, and Stephen McFarland
appear in For The Love of Comrades (Photo by: Lois Tema)
As most people are aware, in 1992 the British government shut down hundreds of mines (pits) across Great Britain, which left close to 31,000 miners without employment. Although the male ensemble in New Conservatory Theatre Center's staging of For The Love of Comrades was quite strong, a noticeable weak point in the production was Alyssa Stone's performance as Candida. While Stone has a classically-trained voice which can handle the role's singing requirements, her acting was often cringeworthy.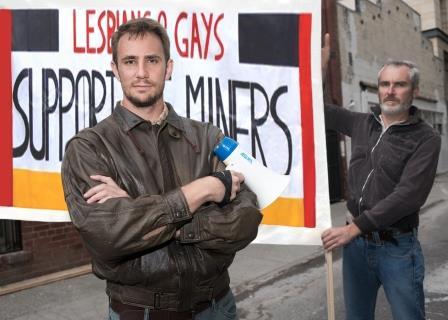 Miles Duffield and Shane Fahy in For The Love of Comrades
(Photo by: Lois Tema)
Calling all HuffPost superfans!
Sign up for membership to become a founding member and help shape HuffPost's next chapter