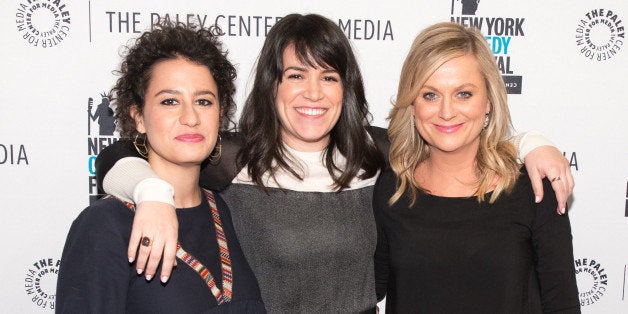 Executive producer Amy Poehler joined "Broad City" stars Ilana Glazer, Abbi Jacobson and director Lucia Aniello on Sunday for a panel as part of the New York Comedy Festival, shedding new light on the show's conception and what to expect from its sophomore season.
Moderated by Seth Rogen, who plays a love interest of Abbi's in Season 2, the discussion played out like a master class in creating something you love from scratch, and watching it blossom into the show of your dreams.
Glazer and Jacobson met around 2006 while they were both studying at the Upright Citizen's Brigade improv school, which Poehler co-founded, although they never took any of the same classes. They were introduced by comedian Tim Martin, who plays Dale on the TV series and started rehearsing with a practice group and doing small shows for two years before creating the web series that would become a critically acclaimed Comedy Central program.
One reason they started the web series was to explain to their parents what they do.
Although both Jacobson and Glazer's parents supported their decisions to pursue comedy, it's hard to explain to your parents how spending money on UCB classes and performing improv shows for free helps your career. A web series, they thought, would mean hard evidence of their talent that could be sent weekly over email.
They started a spreadsheet, that they still use today, to organize sketch ideas, no matter how "teeny" or "not genius" they were. When they had enough, they went on the Improv Resource Center message boards to reach out to the UCB community about doing odd jobs, including shooting, lighting, holding boom mics and playing extras. The first sketch they shot was the "Making Change" webisode that later made it into their series pilot.
Director Lucia Aniello, who worked with both ladies at Groupon-like site similar to Deals Deals Deals, where Ilana works at the show, reached out to tell them they were making something special and offered to help direct the web series. Her comedy partner Paul (together they made sketches under the name Paulilu Mixtape) is now a writer and plays Abbi's boss on the show.
"A ton of people helped create the series. It was truly DIY," Jacobson said.
Amy Poehler agreed to appear on the web series because it was close to her house.
When the ladies found out that their mentor Amy had seen their videos, they took a shot in the dark and asked her to appear on an episode.
"It was right around the corner from my house," Poehler joked. "I thought, okay, this will just take an hour, why not?"
"Luckily that was a coincidence," Glazer said.
Right away, Poehler knew they were doing something special. "There was a very obvious talent and chemistry," she said. "It seemed like they had worked together for really long time. They worked quickly and weren't super precious about their stuff." Later, when they came to Poehler about next steps, she was starting to do more producing, so agreed to help them.
"I'm learning to be a better producer and director all the time by being involved," Poehler said. "My job was to get them more used to being on screen and being show runners, which is a hard thing to do because you have to keep a big vision of the show while focusing on your acting."
"Web series to TV is like an organ transplant: you just have to make sure the heart doesn't die on the way," she said.
Creating the TV series pilot and pitching it was a long process, and FX missed a big opportunity
Even with 35 websiodes under their belt, Jacobson and Glazer still didn't know what a TV-sized version of "Broad City" would look like until they made the pilot episode, directed by Aniello. They decided it would be an expanded version of the web series, each episode its own, stand-alone story but adding up to a larger story arch. Small roles from the web series, like Hannibal Buress' character Lincoln, would be expanded as well. All of the characters and plot lines draw from real people, stuff that's happened to friends of theirs, or friends of friends."We just pile them together," Jacobson said.
"There was a minute where it almost went to [FX]. They really blew it," Poehler joked, adding that FX "very nicely gave it back" so they could give it another chance elsewhere. "I think we benefited from being underestimated."

To make it happen, Poehler went to Kent Alterman and Brooke Posh at Comedy Central, the same people who greenlit her "UCB" show 15 years ago. "Brooke was starting her new position and I said to her, 'This is the right home for it.' And it was instant," she said.
The show is only about five percent improvised, but relies on the kinetic energy between Abbi and Ilana to give it a realistic, New York feel.
Improv brought Abbi and Ilana together, but it's used more as a tool to unlock ideas in the writers' room than to create scenes on set. "They work hard to make it seem improvised, but it's not," Aniello said. The ladies also admitted to taking a cue from Poehler's methods on "Parks and Recreation," often shooting a scripted scene followed by an improvised "Fun Run," which Poehler describes as, "Usually a longer, less funny version of what you just did."
Even with a Comedy Central-sized budget, Abbi and Ilana sometimes have to scale down their "ambitious" scripts, which often cover many different locations as the characters walk and talk throughout the city.
"There is a lot of hustle involved in the show, and that energy isn't always a bad thing. Sometimes the luxury of time can be a real comedy killer," Poehler said.
"We try to maintain that crazy journey throughout the day," Jacobson and Glazer added. "There is a kinetic energy that drives each episode."
"It's a very street-level feel of New York," Poehler said. "Most New Yorkers don't have a lot of money and they don't spend a lot of time in their apartments. You're always carrying something. On the show, there are a lot of stories that come from a birds-eye view. The only other show that shoots outside more in New York is probably 'Law & Order.'"
They don't consider being female to be their characters' defining characteristic.
When asked about how much they consider the fact that the main characters are women, neither Abbi nor Ilana find it to be a particularly important part of how they write.
"The characters definitely have vaginas, but that's not what we're thinking about when we're writing," Glazer said.
"I don't think [the characters] are aware that they're women," Jacobson added. "Most of the time they're talking to each other, they're not thinking about the fact that they have vaginas."
One audience member pointed out how even some of the male characters play against stereotype. For example, Lincoln takes the more typically female perspective of wanting Ilana to commit to monogamous relationship (In a funny anecdote, Rogen described running into Buress and telling him he would be playing a love interest on the show. Buress immediately asked if it was with Abbi or Ilana. When he found out it was Abbi, he seemed relieved and said, "Even though it's not real, I would have been jealous.").
While the ladies' various love interests drive the plot -- Abbi trying to impress her hot neighbor, for example, or Ilana's "friend with benefits" relationship with Lincoln -- they only see the show as a "love story" between the two women.
"For the first season, we really wanted to make sure that everybody knew that at the end of the day, this show was a love story between Abbi and Ilana," Poehler said. "They are the couple, the ones you care about."
Even though she agrees with that, Glazer was quick to clarify that it isn't just about the characters being women. "I know we said that it's a romance between the two girls, but it's really a romance between two friends. Platonic ... for now," she said.
Ilana's character will explore her sexuality even more in Season 2.
It's no secret that Ilana finds Abbi attractive. She's always telling her hot she is, and in Season 1 was devastated to find out that Abbi once made out with a female friend in college (that wasn't Ilana). Just as Poehler described everything in Season 2 as being "a little bigger," shed hinted at Ilana's bi-curiosity coming to the forefront in a future episode.
"Without giving it away, there is an episode where Ilana goes on a journey," Poehler said. "[Ilana and Abbi] both have a day where their biggest crushes are fulfilled [and] Ilana crosses over to another side."
"New York is filled with so many hot ass people," Glazer responded.
And, according to Poehler, there will be no toning down of the recreational drug use.
"There is so much drug use in Season 2," Poehler said in response to a question from the audience about the casual use of marijuana and, in one episode, cocaine, on "Broad City." Although clearly a running theme, Jacobson recalled that drug use "is not the center of all story lines," and that they don't liberally write it in just to be edgy.
Glazer compared their portrayal of drug culture to the fact that the main characters are women:
"It's kind of like the sex politics; it's incidental. It's based on reality, not so much a choice. We don't say, 'Let's write an episode about this drug,' but if it ushers the story in the right way then it helps," she said. For example, the cocaine use in "Fattest Asses" was about Abbi having "this big night," as Abbi described it, and helped introduced the DJ characters to move the plot along.
When put on the spot, all four of the panelists gave hilarious answers to the question, "What's your life motto?"
"When it comes to plastic surgery, refresh, don't redo." -- Aniello
"Stretch before AND after." -- Jacobson
"Tell the people you love that you love them." -- Glazer
"Snitches get stitches." -- Poehler
Season 2 of "Broad City" premieres on Jan. 14, 2015 on Comedy Central.

Related
Before You Go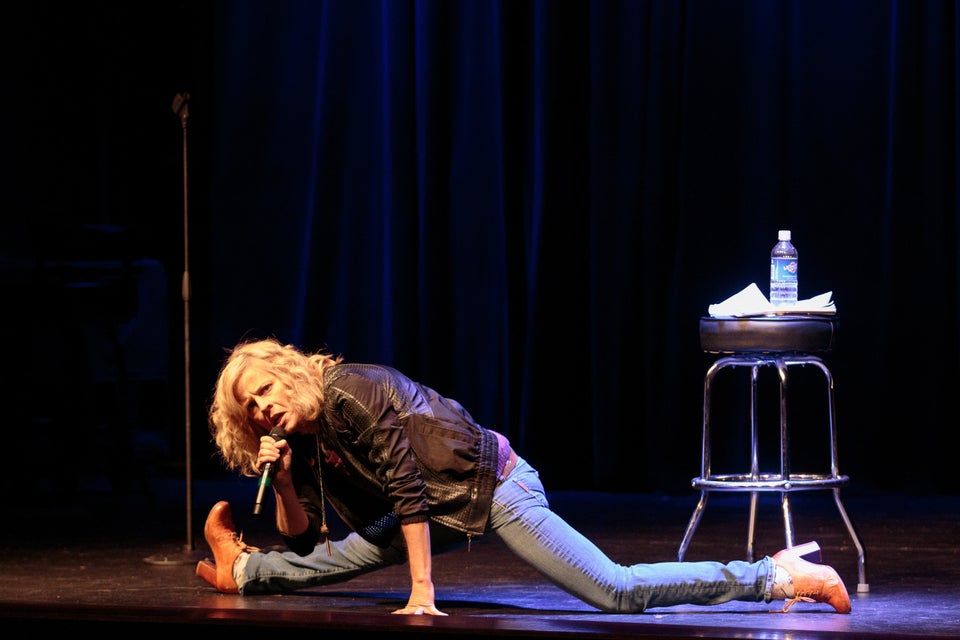 Funny Women We Love
Popular in the Community