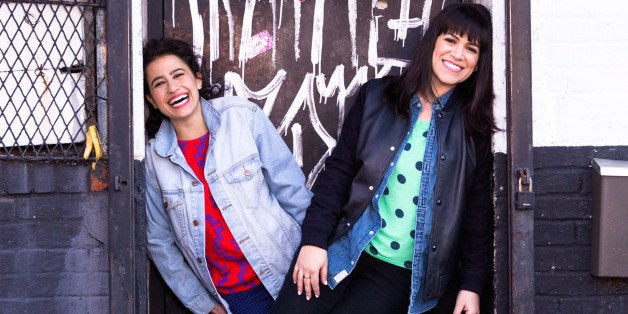 In just two seasons, "Broad City" has become one of the funniest comedies on TV. But beyond its daring humor, Abbi Jacobson and Ilana Glazer's Comedy Central show is also a source for discovering some of the best new indie music around. Besides last season's epic Drake parody and Abbi's naked Lady Gaga lip-synch, it also is filled with gems you've likely never heard before from dance and hip-hop producers, DJs and Brooklyn-based bands.
The Huffington Post sat down with "Broad City" music supervisor Matt FX Feldman, who is a party DJ and makes music under the name Scooter Island when not working on the show. Feldman said he finds most of his music through callouts on Facebook, asking for songs that fit a certain mood or tone. Then he'll send 50 to 60 songs at the beginning of a production month to the "Broad City" editors and work closely with Jacobson and Glazer to select the perfect track for the right moment.
"Maybe two thirds of the tracks that make it into the show will come from my iTunes library," Feldman said. He also credits Jacobson and Glazer with texting him new songs they've discovered and three other composers who've worked on the show: Photay, Tony Quattro and Kashaka. Feldman knows each of the producers' musical strengths well enough to align them with a scene in need of music, whether it's a trap beat or a more dancey sound.
Although we have to wait a whole year until "Broad City" returns, Feldman curated a playlist of some of the best tracks from Season 2 to hold you over as you shop at Bed Bath and Beyond. Check out the songs below, as well as the exclusive premiere of New York-based musician Ducky's latest track "No Love for the Boys":
"No Love for the Boys" by Ducky
This plays in the Season 2 finale "St. Mark's."
Feldman: This got thrown in through one of the editors. I just walked into the room and the editor goes, "Hey, what do you think of this?" It's just the vocal cut in the middle of the song. Ducky is my homegirl [and] as a song, I think it's really, really cool and I hope to find a real spot for it sometime. It's got all these nice textured moments and it's very euphoric.
"All This Time" by Belle Mare
This plays in Episode 8 "Kirk Steele" when Abbi and Ilana are first arguing with Kimiko Glenn in Beacon's Closet.
Feldman: The band Belle Mare is a girl and a guy out of Brooklyn. I've been into their stuff for a long time. It's sort of Beach House-y, really beautiful, melodic indie stuff. With a show like "Broad City" there's such a focus on the fun and hip-hop-y, electronic tracks. With the indie rock tunes, I like to sneak them into cafe and bar [scenes], places where you'd probably hear it in New York. Beacon's Closet it pretty hip and cool, so I'd imagine it's a nice thing to have your music played in Beacon's Closet on TV.
"Flamingo" by Kero Kero Bonito
This plays in Episode 9 "Coat Check" in the background of Kelly Ripa's apartment.
Feldman: I am so psyched on "Flamingo." It's by a London group called Kero Kero Bonito. They released this track on Ryan Hemsworth's label Secret Songs, which is a free-download label that Hemsworth curates himself. There's definitely a relationship in the aesthetic of the music to the PC Music scene that's getting big right now with SOPHIE and A.G. Cook. That neon bubblegum that's so poppy and deliciously crunchy and electronic and almost goofy.
[Ripa's] performance is so incredible and everything was so funny. My initial thought was, "She has to listen to the coolest music." I'm pretty sure right when the male prostitutes walk in the lyrics go, "It's boring being the same," and it's funny that she's so crazy and wild.
"Happy To Be Sad" by Keeper
Feldman: This is by a trio from Austin, Texas named Keeper. I found the song while I was in Texas working on a [different] project while the beginning of the "Broad City" post process was happening. It was another case of the director wanting a really cool, sexy R&B track. I remember being in Texas and making a Facebook status about finding an awesome, cool R&B track. This DJ, Jubilee, tagged her friend who was in this band [in a comment] and it worked perfect.
I get a lot of music that way. I've built my network through Facebook for years now. It's just personal enough while still being expanded to a professional realm. I try to keep [callout statuses] really broad. I don't like the idea of, "This is the description of the scene." So even if the song isn't right for the particular scene, I'll find somewhere else for it. I'm pretty sure that four or five songs from that R&B [Facebook] search wound up in this season.
"MDME" by Doctor Jeep & Lean Low Feat. Emira
This plays in "Coat Check" when Ilana and Alia Shawkat are having sex.

Feldman: This is by a producer named Doctor Jeep, who is based out of Brooklyn, but has made a name for himself mostly overseas, as well as a London-based guy named Lean Low. Doctor Jeep is great, he's a really incredible dance producer. This is kind of different from the stuff he normally does because it's very melodic and slower, and less party. It's a somber track almost. This was another case of finding some sexy R&B that Ilana just has up her sleeve. Ilana and "Broad City" should always have that, an unending playlist of sexy female jams.
"Adder's Tongue" by Druid Cloak
Feldman: Druid Cloak is a dance producer who is really wrapped up in this fantasy world he's created. All of his art and music tie into this realm that has really cool backstories. This is just a crazy, nuts track, and crushing up Chex Mix and sucking it as if you're snorting is also kind of nuts.
"Gimme All Your Money" by Effie Liu
Feldman: This is by Effie Liu, who used to go by Bebe Panthere, but she just changed her name. She's New York-based, very glamazon Asian girl with long pink hair, crazy nails, very interesting aesthetic. It's a real fun track. I'd love to put this in a commercial sometime or a montage in which people are making money. The real good chunky bassline just felt right on the boat [in the episode].
"Dance of The Illusion" by Rioux
This plays in Episode 5 "Hashtag FOMO" during Trey's party.
Feldman: This is the song, from the minute I heard it, that I knew was going to be on "Broad City" Season 2. Something about Stephon Alexander's vocal performance, with his kind of Jamaican toasting vibe, I could just imagine [Abbi and Ilana] dancing to it. It was kind of heartbreaking that at Lincoln's party, the way the dancing was filmed, it just wasn't at the right tempo to sync with this track. I would've loved to put it there, it felt like the right place for Abbi to dance to it. But once we realized that wasn't going to work visually, we used it at Trey's party. It still had a funny ironic vibe in the background and the girls sort of being the only cool people, uncomfortable with all the gym fitness people.
That's always the trouble with dance sequences. Any music supervisor or filmmaker will tell you that shooting dance or club scenes -- because if there's dialogue there can't be music playing, and if there's no music playing that means everyone has to dance to no music but make it look like they're dancing to the same song.
"Better Than Nothing" by Braille Feat. Angelica Bess
This plays in "Hashtag FOMO" during Lincoln's party.
This is the one that Lincoln does the robot to. I really love how it's kind of just background until you suddenly hear the synths come in. Braille is one half of Sepalcure alongside Machinedrum and just put out a fantastic record for Friends of Friends Music.
"Steady Now" (Karman Remix) by Cubby Feat. Tasha the Amazon
This plays in "Kirk Steele" when Abbi and Ilana go back to Beacon's Closet.
Feldman: The song is originally by a producer named Cubby. It was then remixed by a producer named Karman and then Tasha the Amazon rapped over that remix. So this is the third version of this track. It's a very 2015 way for a song to get released. I think four people texted me after this episode being like, "What was that song!" It's just bad bitch music, in the best way possible.
Calling all HuffPost superfans!
Sign up for membership to become a founding member and help shape HuffPost's next chapter
BEFORE YOU GO