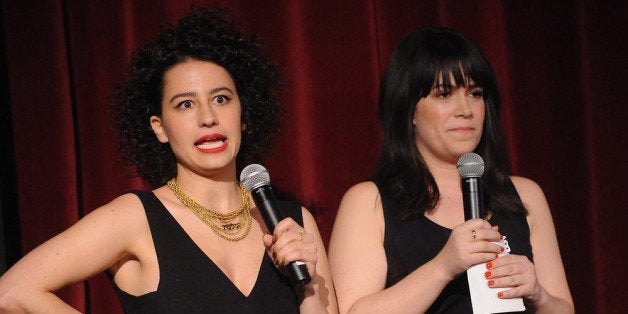 If you haven't watched "Broad City" yet, don't read this post. Better yet, drop what you're doing, run to your nearest Hulu-ready laptop and stream the first four episodes. Now.
Centered on two young, single, Jewish women living in New York City, the show could, at first glance, be confused with the slew of other odes to "white urban twentysomethings." But if you take a moment to let the genius dialogue, effortless comedic timing and genuinely novel approach to female characterization set in, it's easy to see the truth. The objet d'art that is Abbi Jacobson and Ilana Glazer's Comedy Central production is, to put it simply, the stoner heroine tale you've been waiting for.
Jacobson and Glazer, improv alumnae from Upright Citizen's Brigade, originally imagined "Broad City" as a web series. The sketch-comedy of sorts dates back to 2009 when the women first debuted their characters, conveniently named Abbi and Ilana. Abbi is the type A (with caveats) counterpart, a Soul Cycle custodian who worships at the alter of Bed, Bath and Beyond. Ilana is the Oscar to Abbi's Felix, equipped with a knack for both concealing marijuana in her vagina and working as little as possible at her Groupon-esque day job.
But, unlike the stories already told, there's something fresh, provocative and profoundly smart about this web-series-turned-cable-television phenomenon. Let's break it down into five points.
Abbi and Ilana's friendship is a female relationship we can relate to.
I'd like to say this from the get-go: It's not "Girls." All comparisons between "Girls" and "Broad City" should be hereto forth banned from the internet. The lazy parallel just doesn't do Abbi and Ilana justice. Just because the "single women trying to make it in the big city" trope has been done before, it doesn't mean that any contemporary iteration has to be held to the standard of Lena Dunham.
Here's why. Unlike Dunham's packaged quartet of ladies, Abbi and Ilana don't fit into -- or fight against -- the female archetypes forged by "Sex and the City" writers. Yes, we can say Abbi is the leader/fixer character and Ilana, the wild child with a flighty sense of joie de vivre, but really, both sides of the best friendship are allowed to make mistakes, find solutions to problems, be weirdly sexual or hyper self-conscious. They, as characters, are defined less by their individual quirks, and more by their hilarious devotion to each other. And because of that, we can relate not only to the characters themselves but to their relationship.
These women can be filthy -- goofy humor and disheveled appearances -- but they're also super sexual.
These aren't manic pixie dream girls. And they are not adorkable. I think Tina Fey did a good job of introducing us to what I like to call the "grotesquely sexual" leading lady. Liz Lemon grew out a mustache, binge ate cheesy blasters, bossed her colleagues around and once dressed as an odorous and grumpy elderly woman to nab a good seat on the subway. But male and female fans, at the end of the day, still wanted to bone her.
Hair and makeup could attempt to hide the beauty that we all know is Tina Fey, and the writing leaned into physical humor and toilet jokes, but there was no denying the sexual appeal of that woman. Abbi and Ilana achieve something close to this, particularly Ilana, who chipped a tooth on a jawbreaker (amounting to a pirate-like visage) but ended up having sex with Hannibal Buress' character hours later. Male characters played by the likes of Paul Rudd and Jason Segel get away with this all the time, but it's only recently becoming an aspect of female characters like Leslie Knope.
Give it a few seasons and I think Jacobson and Glazer could do what Fey did and more.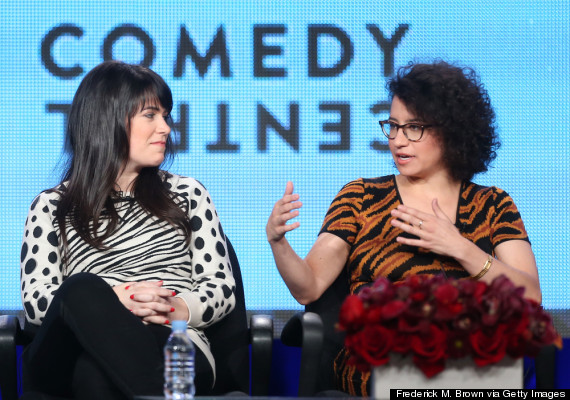 Their show passes the Bechdel Test with flying colors.
Abbi and Ilana, two women, frequently discuss many things that aren't men: low-paying jobs, drug purchases, how sandwich shops aren't art galleries, how alluring home goods shopping can be. Sure, they also discuss the attractiveness of men on the streets or crushes they have on neatly bearded neighbors, but as Megan Angelo so poignantly put it, there's a dash of "sneak attack feminism."
"If you watch one of our episodes, there's not a big message," Jacobson explained to the Wall Street Journal. "But if you watch all of them, I think, they're empowering to women."
They're finally capturing a New York City we know and love.
From the horrors of securing a safe package delivery to the depths of Craigslist posts, "Broad City" isn't the Manhattan of Seinfeld, the Brooklyn of "Girls," or whatever that fantasy planet of rich people was in "Gossip Girl." Abbi and Ilana spend a lot of time in the subway, they hang out in apartments that look like mine and my friends', they reference neighborhoods like Gowanus and they loiter around dog parks to vicariously live the life of a pet owner.
The perfect little vignette for NYC: When Abbi has to venture to "North Brother Island" via a water taxi to retrieve a package.
This is stoner comedy by women for women.
The first two episodes of "Broad City" on Comedy Central prominently feature Mary Jane as a supporting cast member. It's not an in-your-face kind of appearance, a la "Pineapple Express." It's just part of the characters' daily lives. They track it down, purchase it, smoke it together and alone. It's not a means to an end, it's just a ritual, and I like that Abbi and Ilana are normalizing the activity without even trying.
Besides the act of smoking, the writing -- which is consistently whip smart -- seems to fit into the family of stoner comedies. High times do sometimes devolve into bouts of chaos, topped off by emergency veneer replacements. But it's written by women and delivered by women, amounting to scenes like the one in which Abbi and Ilana discuss the merits of using your lady parts as a makeshift handbag. "The vagina is nature's pocket," Ilana astutely points out.
The tempo of joke delivery never falters, making the scenes we generally associate with stoner comedies (acting out in public places, having tender exchanges with drug dealers) that much more enjoyable. Essentially, they do what male actors like James Franco and Seth Rogen do, but better.
There are a hundred other reasons to love this show: Amy Poehler is an executive producer, "roommate" Bevers aka John Gemberling is hysterical, Hannibal Buress has so much screen time as a lovable dentist, big actors like Rachel Dratch and Janeane Garofalo make cameo appearances. And I like to think the show will only get better with age and exposure. Like Jacobson pointed out, they're in it for the long run, slowly changing the way we perceive women TV characters without us even knowing it.
Tune into the show on Comedy Central on Wednesdays at 10:30 ET. Or catch up on Hulu. Either way, catch up.
Popular in the Community