In many parts of the world, being able to download information on a smartphone, tablet or laptop in a few seconds is the norm. In Silicon Valley, wireless high-speed Internet connections are more ubiquitous than Starbucks.
Broadband, or a wide bandwidth data transmission that has the capacity to transmit a lot of information quickly, has changed the way we work, shop, watch movies and communicate with loved ones. Broadband connections allow us to access more robust types of content, services and applications -- video chat versus email, or live streaming versus chat, for example. Yet if we look beyond our own personal use, we can see that broadband Internet access is not merely a convenience: it is a powerful force for social change.
In education, broadband technology can have a huge impact. Educators face a number of challenges, including teacher shortages, limited access in rural areas and gender disparity. For example, the world would need 3.3 million primary teachers and 5.1 million lower secondary teachers in classrooms by 2030 to provide all children with basic education, according to UNESCO's 2013-2014 Education For All Global Monitoring Report. Nearly 500 million women are illiterate, accounting for almost two-thirds of the world's illiterate adults.
Health care is another field where powerful Internet connections can combat physician shortages and close the urban-rural gap. The World Health Organization reports that more than half of the populations in developing countries live in rural areas, but rural areas are served by less than 25 percent of the total physician workforce. Another study by university researchers in Ghana, South Africa and the U.K. found that there are only two doctors and 11 nursing personnel per 10,000 people in 47 sub-Saharan African countries, compared with 19 doctors and 49 nursing personnel per 10,000 people in the Americas. In addition, the Journal of Global Radiology reports a critical shortage of radiologists in underdeveloped countries: While there are as many as 100 radiologists per million people in the United States, Liberia has fewer than 10 radiologists in a country of 3.5 million people.
To highlight the benefits of this technology, here are three examples of how broadband is solving global problems and speeding the pace of social change.
Connected North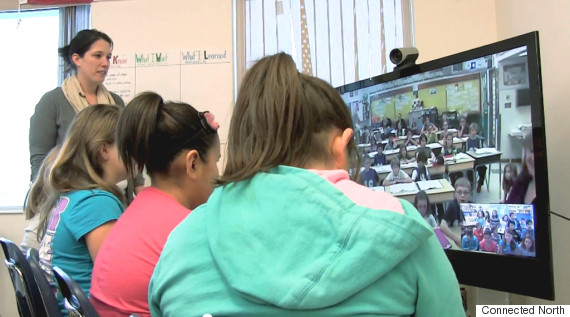 Canada's Nunavut territory is the size of Western Europe but has no roads. Its residents connect to each other -- and the rest of Canada -- only by air travel or, for a few months in summer, by boat. This remoteness creates many challenges in delivering health care as well as education. In September 2013, a satellite broadband connection donated by SSi Micro gave Iqaluit Middle School students a new way to connect to the world -- videoconferencing and collaboration technology. Today, Cisco TelePresence connects Nunavut students in real time with teachers, experts, and other students throughout Canada for a more engaging and diverse classroom experience.
Nunavut students directly interact with educators and professionals through two-way video for sessions lasting up to 40 minutes. Students also connect with peers of the same age throughout Canada to share educational and cultural experiences. The focus of the program is to provide a fresh approach to learning, allowing teachers and administrators to expose their students to new people, experiences and ideas. In a study conducted by York University, 89 percent of students reported that the remote learning experience made science more enjoyable, and 81 percent said they felt they learned more in the virtual sessions than they did through traditional classroom learning.
New York Hall of Science (NYSCI)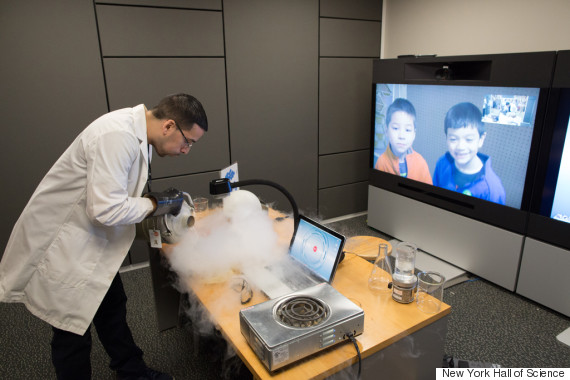 This hands-on museum has taught science and technology concepts to children since 1964. With 450 exhibits, NYSCI attracts thousands of people who live in or visit New York City, giving them the opportunity to tinker, design, create and explore. Though those numbers are high, NYSCI staff knew thousands more children in the United States could benefit from their programs. Through broadband-powered videoconferencing technologies, NYSCI now offers Virtual Visits to 50,000 participants per year. Cisco TelePresence endpoints connect the NYSCI Collaboration Studio to schools, libraries, community centers, juvenile detention centers and hospitals around the U.S.
NYSCI staff can use mobile carts equipped with videoconferencing to demonstrate hands-on experiments from any exhibit in the museum. Regardless of where they live in the U.S., students can participate in sessions on topics like chemistry, biology, microbiology, math, physics and computer science. In a ranking of the 34 industrialized countries belonging to the Organization for Economic Cooperation and Development, U.S. students finished 27th in math education and 20th in science education. The World Economic Forum ranks the U.S. 27 out of 62 countries in quality of math and science education. By encouraging exploration of science subjects, programs like NYSCI Virtual Visits can benefit both the students who attend them and our entire nation.
Jordan Healthcare Initiative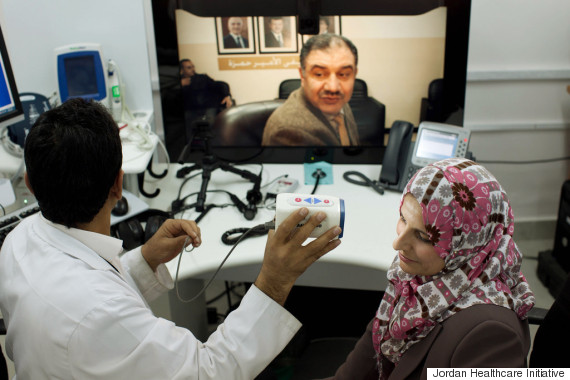 The Kingdom of Jordan has a goal to improve access to quality health care for all of its residents, especially those living in rural or underserved areas. Broadband-powered technology is a big part of fulfilling this vision. Through a partnership begun in 2011, Cisco collaboration technologies with high-definition video connect specialists at an urban hospital with patients at rural hospitals as if they were face-to-face. In 2013, a mobile clinic began providing breast cancer screenings for women in the communities where they live, using Cisco video, networking and security technologies to enable the transfer of images and the collaboration between clinic technicians and specialists at King Hussein Cancer Center.
In 2014, the Cisco Service Exchange Platform (SXP) for Radiology, a cloud-based platform that integrates Merge Healthcare picture archiving and communication system (PACS), Optimiza radiology information system (RIS), and Cisco collaboration software, was implemented to provide affordable high-quality radiology services to public hospitals within Jordan. This includes underserved areas where there are limited or no radiology specialists. This solution helps improve the quality of care for patients by having images and reports read remotely by the right radiologist for the type of exam. Local doctors in rural hospitals can also collaborate more effectively with radiology specialists located in the capital city, Amman. In just four years, over 110,000 patients have benefited from this initiative. Underserved and rural patients now get the care they need in their own communities without having to travel long distances or miss time away from work and school. One patient, a young mother of five, was able to get diagnosed and treated for a heart condition that she had suffered with for years.
Every day, broadband is connecting the unconnected. From education, to health care to economic opportunity, more people around the word continue to benefit from living in a fully digitized world.
How are you using broadband to solve some of society's most pressing challenges?